Masculine Interior Design Ideas and Compact Furniture for Small Spaces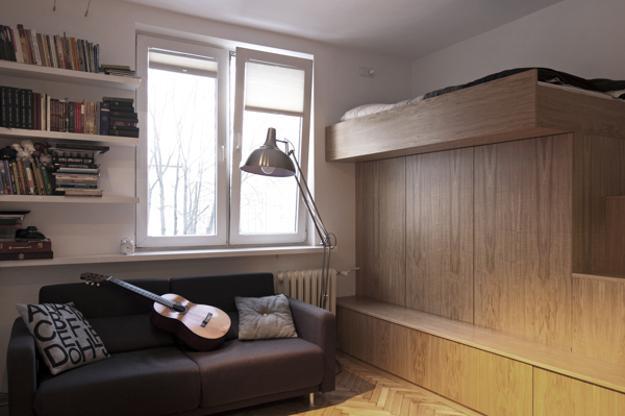 Space saving ideas for decorating small apartments and homes
Masculine and modern apartment ideas feel functional, powerful and comfortable. Decorating small apartments for a bachelor can be simple, but attractive, blending stylish and decorative elements with neutral room colors and inviting home decorating ideas.
This small apartment is designed and decorated by Polish interior designer Aniela Kowszyło, who transformed 22 square meters of small spaces into beautiful and modern rooms. Elegant interior design and space saving ideas are combined with neutral colors and functional furniture, creating functional and attractive masculine interiors.
The room colors include lighter and darker neutral colors, that bring simplicity and versatility into modern interior design and make small spaces look energetic and visually more spacious.  Elegant gray color shades and white decorating ideas look wonderful with a few color accents.
Black color elegance and classic style creating gorgeous masculine interior design
Interior design ideas, textures and colors for men and women
Masculine ideas for modern interior design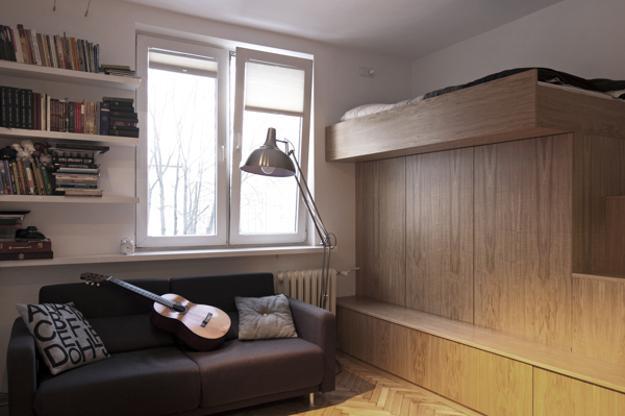 Functional space saving furniture is one of interior design ideas that turn these small spaces into comfortable rooms. Designer added convenient store spaces to create clutter free and comfortable interior design for modern lifestyle.
The small bathroom design features a modern sink, shower and toilet. Bedroom furniture creates a cabinet that enhance space saving interior design by adding a multifunctional wooden block to home furnishings.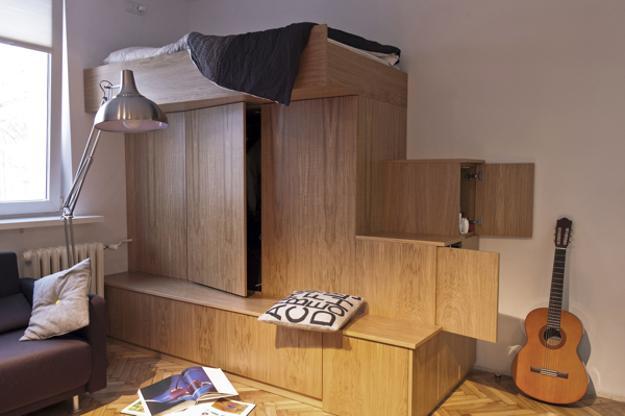 Living area looks unusual with this customized bedroom furniture. The unique sculptural wooden block with lots of hidden storage compartments is ideal for decorating small apartments and homes. The designer brought together a traditional wardrobe, bench, tables and storage shelves, creating this stylish and space saving furniture piece.
Unusually colorful modern interior design ideas with masculine vibe and bright look
Fantastic bachelor apartment ideas, unusual indoor swimming pool design
The apartment looks bright, providing comfort of a small modern home. The bed is designed to make the bedroom area more functional and small. The designer placed it under the ceiling, maximizing small spaces.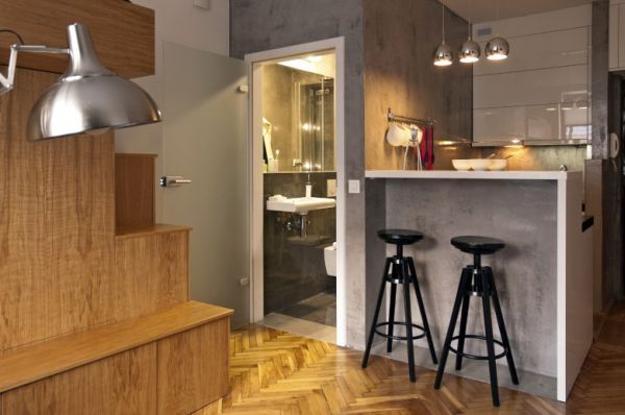 Small kitchen and bath look luxuriously ascetic, enhancing masculine interior design for a young man with practical, contemporary and simple decorating, ideal for elegant and stylish contemporary small spaces.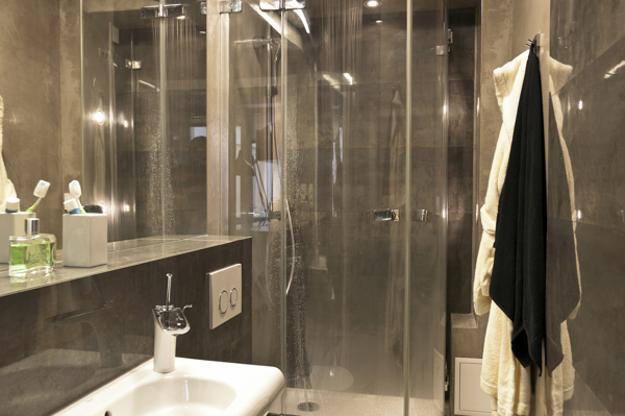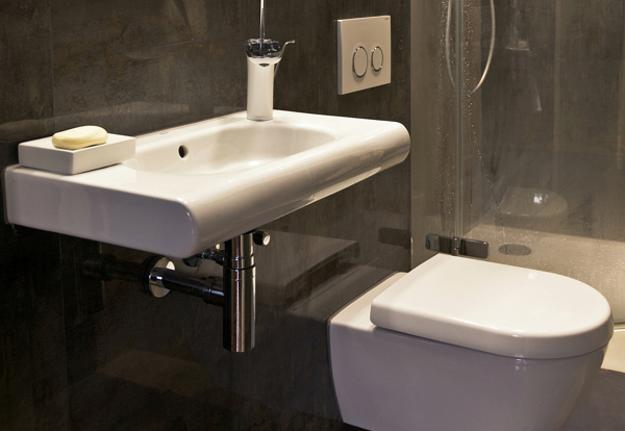 It is possible to find enough space for a small bedroom even in a tiny apartment or home. Here are smart...