Kids Bathrooms, Playful and Safe Bathroom Design Ideas

Bathroom Ideas

Kids Rooms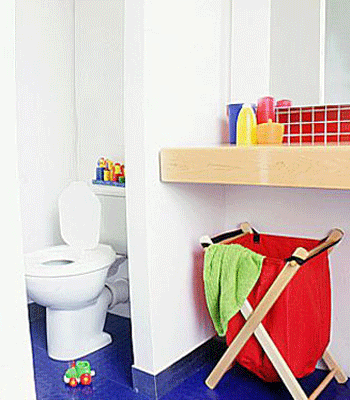 Small kids toilet seat and colorful decor accessories
interior decorating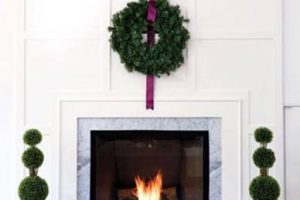 When thinking about bathroom design ideas for children, parents need to pay attention to safety and functional design principles. Modern kids bathrooms should be comfortable and warm. Colorful, energetic and interesting bathroom design ideas help create cheerful and dynamic atmosphere that children enjoy.
Contemporary kids bathrooms look attractive and have similar fixtures, furniture and accessories that adults use, except kids bathrooms fixtures and furniture can be brighter, smaller and have playful shapes. Modern decorating ideas for kids bathrooms include interesting children toilet seat and sink designs, bathroom cabinets and mirrors for children, made in different colors and shapes, looking like animals, boats or flowers.
An antibacterial coating in kids bathrooms fights harmful microorganisms that grow in humid places. Often contemporary kids toilet seats have a small unit for disinfecting the bathroom air also. Modern kids bathrooms fixtures can be adjusted to a child's height and age. Find and purchase furniture and fixtures that can be transformed, as a child grows, if you want to save money on kids bathrooms design and decorating. (Bathroom remodeling and choosing the best toilet design)
Modern decorating ideas for kids rooms
It is a good ideas to design a separate bathroom for small kids. Traditional bathrooms that are comfortable for adults and teens can be dangerous for young children. They can accidentally turn on hot water (kids have thinner skin that adults) or slip on the floor.
Modern kids bathrooms design offers safe materials, attractive and functional decorating ideas for kids to create a safe and pleasant environment for them. (Kids rooms design: 5 basic decorating principles)
Safe kids bathrooms design tips:
– Designing safe kids bathrooms requires purchasing both a bath and a shower for kids. Built-in temperature sensors are a nice modern features that make kids bathrooms safe without parents' supervision.
Young children bathroom design, bright bathroom colors
– Anti-slip tiles or anti-slip treatment for ceramic tiles and flooring material in kids bathroom, safe floor mats and furniture without sharp corners are another requirement for safe, functional and modern kids bathrooms design and decorating.
– Railings, in case a child slips, should be fixed on the wall near a bathtub.
– Getting rid of sockets, electrical appliances, extension cords and switches helps create a safe place for young children also. Lamps with touch or motion sensors offer wonderful modern features and comfort that all kids enjoy.
Sport theme bathroom design ideas, kids shower curtains, boys bathroom
– All sharp objects and chemicals should be removed from kids bathrooms. Bathrooms door should open from inside and outside.
– Shelves with kids accessories and towels should be arranged in accordance with children age and height, creating simple, functional and practical interior decor.
Playful kids bathrooms design ideas:
Color is an important element of interior design that kids and teenagers love. Select cheerful bathroom decorating ideas and use water-resistant paint that suits kids bathrooms.
Girls bathroom ideas, butterfly decorating theme for kids bathrooms
Color sets the mood. Bathroom design ideas that include bright colors are invigorating. Yellow feels joyous, red energetic and blue-green colors are the colors of health. (About turquoise colors for bathroom design)
Of course, selecting bathroom design ideas should depend on children preferences, room style and its size.  Dark, facing north bathrooms, that are lacking natural light, can be transformed with warm bright colors, dynamic bathroom design ideas and themes.
Kids love unusual interior design colors and impressive decorating ideas , but try to resist their requests for dark colors, like black, navy, dark purple or deep browns. Kids bathrooms should not feel depressing, and it will take many coats of paint to cover dark colors later, when children decide to explore light decorating colors.
Small kids toilet seat and colorful decor accessories
Many adults enjoy water and spend time for creating pleasant bathroom design. Kids deserve to enjoy their experiences too, so get inspired and design beautiful, safe and comfortable bathrooms for them.
Related to kids bathrooms:
Small bathroom remodeling and staging ideas
Kids room decor with playful shadows
Bathroom decorating with beautiful bathtub and space saving shower
Kids shower curtains, cartoon them, kids bathrooms

Here are great ideas for kids toys storage and wall decoration with small cars that everyone would love. DIY organizers, like...
and enjoy free articles sent to your inbox