Hand Painted Sushi Plates for Creative Asian Party Table Decoration
---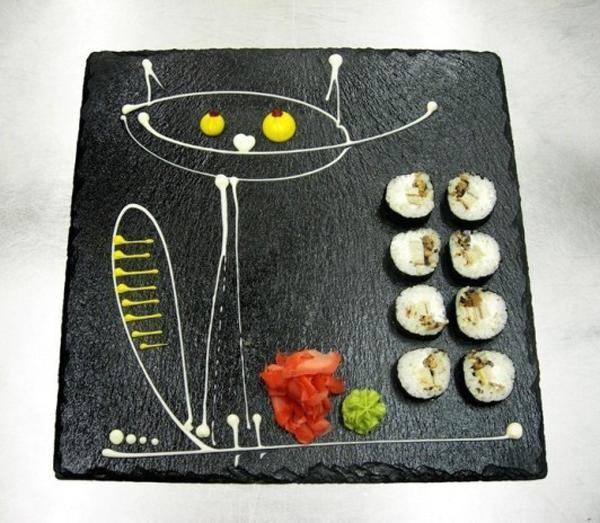 Creative painting ideas for plates, artistic table decoration and food presentation ideas
Unique hand-painted tableware items are great dining room decorating ideas for a special event. Using food for creating funny images on a plate adds fun to table decoration and shows your creative and artistic nature. These unique plates, designed for serving Japanese food, bring cute imaged into party table decoration in Asian style and demonstrate attractive, artistic and surprising food design ideas. The black plates adorned with simple but expressive images are created by Russian artist Alexei Platunov and look very inspiring.
The hand painted plates are perfect for unforgettable table decoration which can spruce up your Asian style party. You can try to paint your plates adding personality and an artistic touch to food serving. Using food, you can create amazing decorating designs on plates and delight guests with fantastic edible decorations.
A little art and creative painting  ideas can easily improve your party table decoration, food and drinks presentation. Painting with real paints can transform  a few other tableware items and create one-of-a-kind table decorations, like a vase for flowers or wine glasses that look similar to the plates. The hand painted plates are a wonderful idea, whether you will use food or non-toxic real paints. These inspiring and artistic ideas can be used for very special dinners or for big events.
Creative sushi plates for party table decoration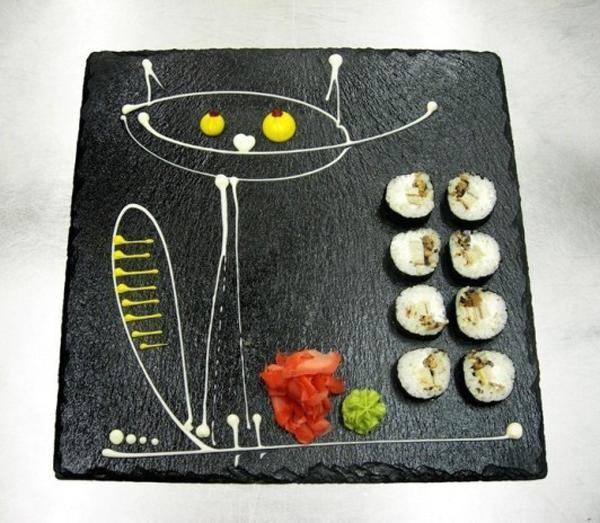 Painting plates with real paints make great items for sale. Hand painted plates and dining room decorating accessories are popular and expensive also. Using the best non-toxic paints you can create gorgeous plates  and home decorative accessories. The acrylic enamel paint is a good choice to envision your painting ideas.
Food decoration and presentation are an important part of enjoying meals. Japanese sushi has its own way of presentation. If you are a regular maker of sushi at home, than hand painted shushi plates are a good idea that will brighten up your table decoration and Asian food presentation in a creative and attractive way.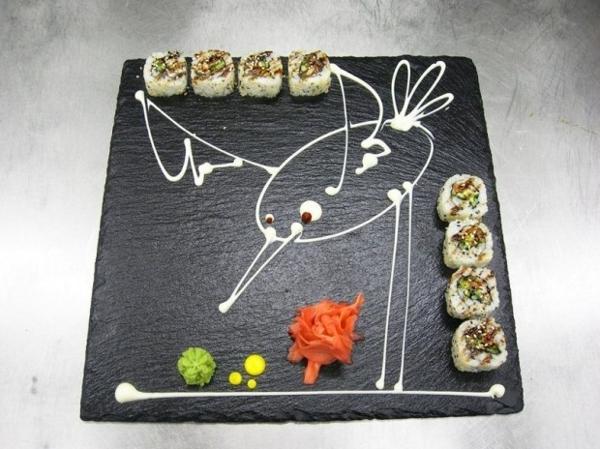 Along with unique sushi plates adorned with edible decorations created with food, you can add similar designs with real paint to other accessories which will then support the sushi plate set, – matching chopsticks holders, bowls and glasses can be decorated with real paints. Hand-painted bowls for keeping Japanese soy sauce and wasabi are appealing and original. Select the decorating theme, use food for creating cute designs on your plates, and enjoy sushi and table decoration in surprising and artistic style.
Top modern tableware design trends adding unique flavor to stylish table decoration
Spring flower designs on blooming ceramic plates, fun spring decorating ideas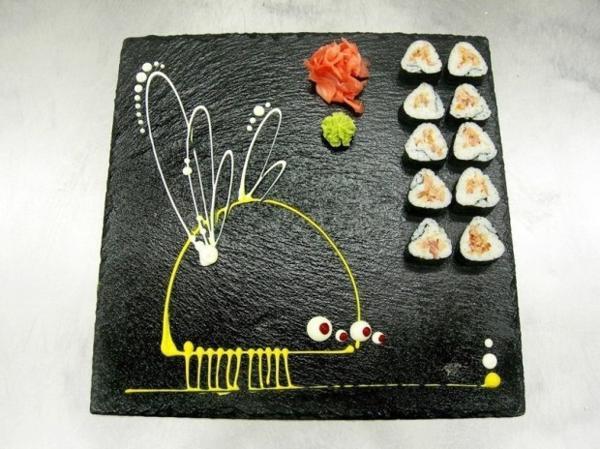 More from the art of decor

Fabulous designs take modern food decoration ideas to the next level blending innovative concepts with traditions and exploring new ways to...