Eco Friendly Pine Cone Decorations for Christmas Gifts

Holiday Decor

Neutral and Brown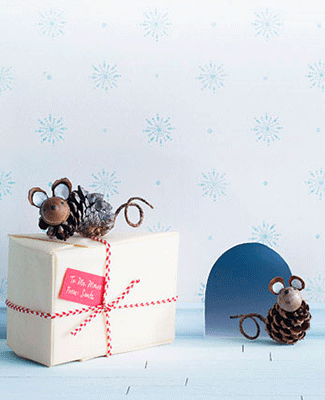 Homemade Christmas gifts and craft ideas, cheap decorations for Christmas
christmas ideas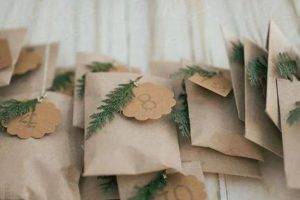 Pine cones are excellent natural material for crafts that can beautifully decorate a Christmas tree or a dinner table in eco style. Small eco friendly crafts, made of pine cones, make wonderful decorations for Christmas gifts also. Holiday presents, adorned with cute pinecones, make people feel special and excited to open special boxes.
There is no rule for pinecone crafts design. Whatever your do, your recipients will appreciate homemade Christmas gifts. Pine cones are attractive. Natural decorations for Christmas gifts that are made with pine cones and green branches have universal appeal and add chic to eco friendly gift decorating. (Chic eco friendly Christmas decorations)
White artificial snow or green needles create pleasant contract with brown colors of pine cones. Comfortable blown color matches all gift-wrapping paper designs, and unique texture helps create masterpieces of pine cone decorations for Christmas gifts.
Eco friendly homemade Christmas gifts decoration ideas
Eco friendly Christmas ideas:
Handmade Christmas decorations and cheap eco friendly gifts
The biggest Green decor idea for eco-friendly Christmas
Eco Christmas table decorations made of pine cones
Eco friendly decorations for Christmas gifts
1. Get a glue gun, double stick tape, pretty ribbons, interesting buttons, feathers, small sea shells, little toys or tiny Christmas decorations and you can make few nice handmade gifts or gift decorations with almost no effort.
2. Consider recycled gift-wrapping paper for eco style Christmas gifts. (15 eco friendly ideas for Green holiday decorating)
Green and purple decorations for Christmas gifts, pine cones and feathers
3. If you use gift-wrapping paper with white, green or brown pinecone images, it makes your Christmas present decoration even more elegant and attractive.
4. Glue small Christmas baubles to a pine cone. Round shapes and shiny colors feel festive and relaxing. You can use eco friendly felt, wool, cotton or stylish burlap and sisal twine pieces also. Select neutral colors or those colors that match your Christmas gifts wrapping paper colors and attach one or two stars, hearts, leaves or simple squares, made of eco friendly fabrics to Christmas gifts decorations. (Eco Christmas decorating with burlap and sisal twine)
Eco-friendly Christmas presents, pine cone decorations
5. Small things that may clutter your home can be used with pine cones for creating unusual decorations for Christmas gifts. Costume jewelry, pretty buttons, tiny ornaments, baloons and toys add interest and dimension to your Christmas presents designs. (Look at eco Christmas decorating ideas for design inspiration)
Feather and pine cone decorations for Christmas gifts
6. If you select neutral gift-wrapping paper color and Christmas theme, your pine cone decorations for Christmas gifts will look more impressive. Solid color, like off-white, cream, gray, silver, beige, gold or brown tones, abstract or geometric images, like snowflakes, snowballs, branches or triangular Christmas trees are perfect choices for presenting your decorations on Christmas presents. (Christmas decor trends, gold and brown)
Homemade Christmas gifts and craft ideas, cheap decorations for Christmas
7. Wrapping paper should be thick enough, especially if your Christmas gifts are soft or light. Craft paper is good for wrapping and arranging pine cone decorations for Christmas gifts. It is inexpensive and come in various colors, that make a nice background for your decorations and add an attractive decorative accent to your Christmas gifts presentation design.
8. Use Christmas ribbons to add elegance and softness to your decorations for Christmas presents. Colorful and festive ribbons are inexpensive, but make homemade Christmas gifts presentation fancy. ( Ideas for eco-friendly Christmas gifts under $10)
Eco friendly Christmas gifts decoration with pine cones
9. Wooden or paper Christmas boxes for presents are fun to make and decorate with pine cones. Combine different ribbon colors, styles, widths and textures, add one or two beautiful pine cones to create eye-catching Christmas decorations display.
10.  Make sure that the size of pine cone decorations for Christmas gifts is not much bigger than a gift. Also the box size should reflect the size of the gift inside. It can be disappointing, especially for children and pre-teens to receive a smaller gift than they expected.
Felt and pine cone decorations for Christmas, homemade Christmas gifts
Eco friendly homemade Christmas gifts
If you do not have enough presents for your friends and guests, it is easy to make simple homemade Christmas gifts of pine cones. Buy at a local store or collect outside pine cones, (clean them in medium hot oven for a few minutes to get rid of bugs,) get a craft glue and unleash your imagination.
Homemade Christmas gifts, unusual decorations for Christmas made of pine cones
Decorate pine cones with white, silver or gold spray paint, glitter or beads. (Look at 11 modern Christmas decor trends for inspirations) Homemade Christmas gifts made of pine cones make people feel special, and if handmade Christmas decorations are glued to gift boxes, your friends and relatives will be even more excited and happy to enjoy your gifts.
Natural decorations for Christmas, green holiday decorating ideas

Here are great ideas for kids toys storage and wall decoration with small cars that everyone would love. DIY organizers, like...
and enjoy free articles sent to your inbox