DIY Wooden Gazebo Designs and Decorating Ideas
---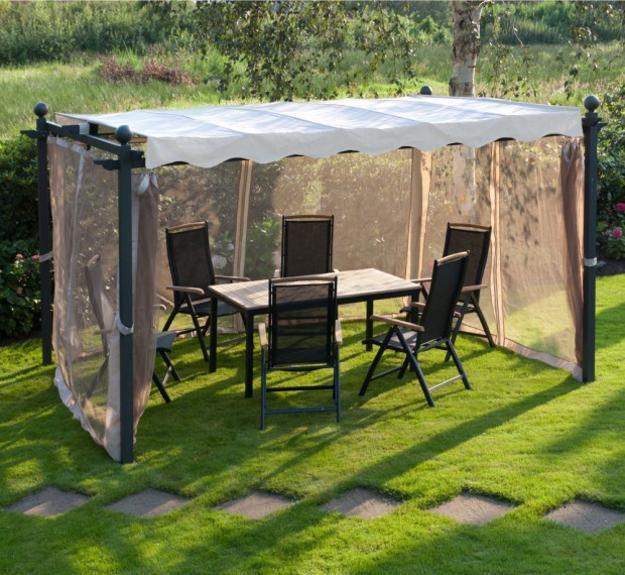 Garden pergola with outdoor fabric canopy and mosquito screens
DIY wooden gazebo designs and building plans offer great projects for enthusiasts. Considering various wooden gazebo designs and choosing the best building plan for a certain property type, style and size can dramatically improve yard landscaping and add charming character to a backyard.
Considering various metal and wooden gazebo designs and building plans are important but, before all of that, DIY enthusiasts need to choose the right place for the gazebo and think of it functionality, appeal and comfort. The right place for the gazebo change gardens and patios, bringing more comfort into outdoor living spaces and create more pleasant, inviting and modern homes.
Garden summer houses and light gazebo designs are versatile and multifunctional. They have so many benefits and uses. They can be designed and built in so many shapes and sizes, decorated with curtains and outdoor heaters, and placed among spectacular flower beds or lush vegetation. Even garden pergolas can be transformed into lovely shelters with outdoor fabrics. Lushome collection give just a few great inspirations for DIY wooden gazebo designs and their locations.
22 porch, gazebo and patio ideas creating beautiful outdoor rooms
22 beautiful metal and wooden gazebo designs
DIY gazebo designs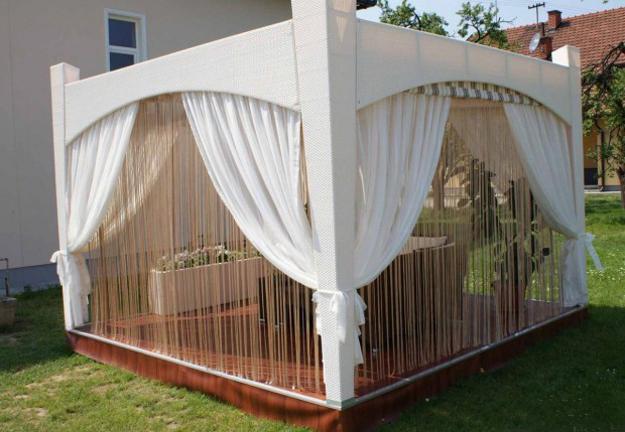 Metal and wooden gazebos are wonderful sheltered structures that are used as a place for quiet contemplation, relaxation and viewing gardens or gathering with family and friends in comfort and style. Metal and wooden gazebos are perfect for summer parties and special events in fall, winter and spring also.
DIY wooden gazebo designs are very popular in both America and Europe for a wide range of uses. These multifunctional and beautiful structures provide great shelters from summer sun, wind and rain. Easy to assemble metal gazebo kits and DIY wooden gazebo designs with building plans can be purchased by any homeowner.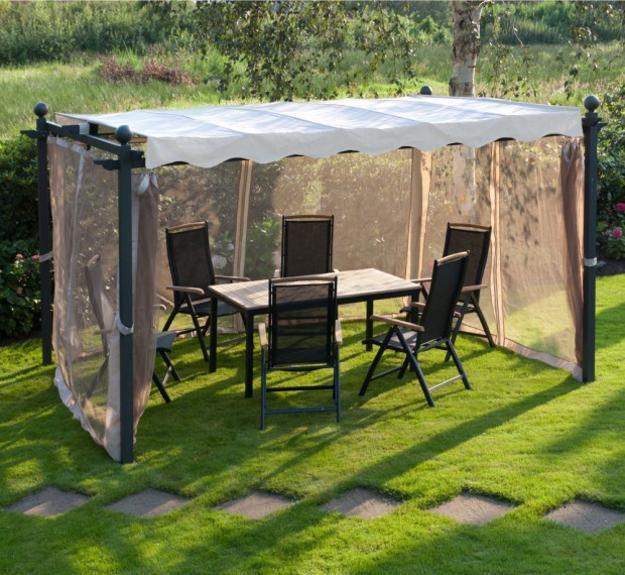 DIY wooden gazebo is a wonderful option. It is easy to customize wooden gazebo designs with attractive wooden materials, details, flower boxes, curtains and outdoor lights and create truly personal outdoor rooms the way people want it.
Thatched roofing for gazebo designs in eco style
Unusual wooden gazebo design adding contemporary vibe to yard landscaping
Ready to assemble metal gazebos or DIY wooden gazebo designs save a lot of money. Assembling metal gazebos or building wooden gazebos are great fun. Rectangular, square, round or octagonal shapes look fabulous, offering lots of space and adding beautiful structures to yard landscaping. Rectangular and oval shapes of modern gazebos add surprising elements and contemporary vibe to yard landscaping.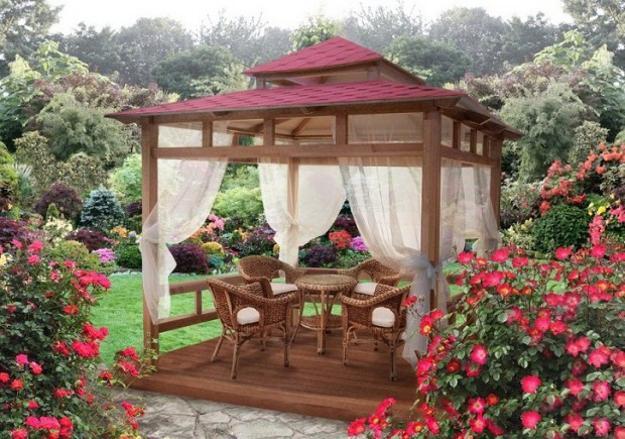 Versatility and elegance of metal and wooden gazebo designs make people use these gorgeous and multifunctional structures year around. Popular DIY gazebo designs come are perfect for family events and romantic dinners. Enhanced with outdoor heaters and mosquito screens, decorated with outdoor fabric curtains and creative lights, these structures are great for all seasons. Flower boxes, handmade garlands, rain curtains and outdoor lights help to personalize gazebo designs and add spectacular centerpieces to yard landscaping.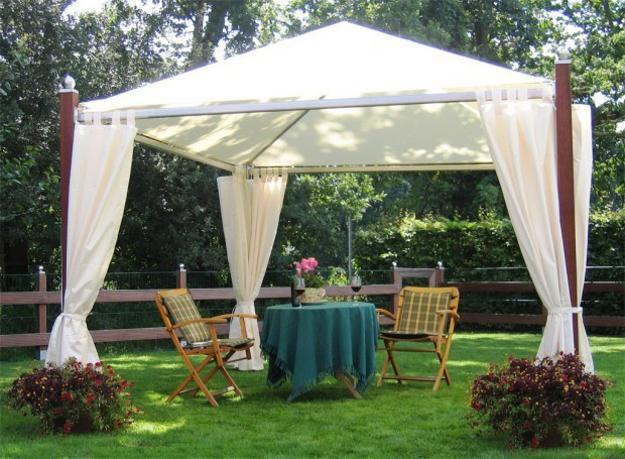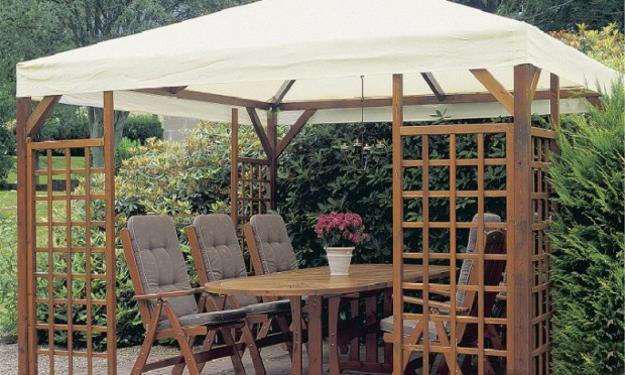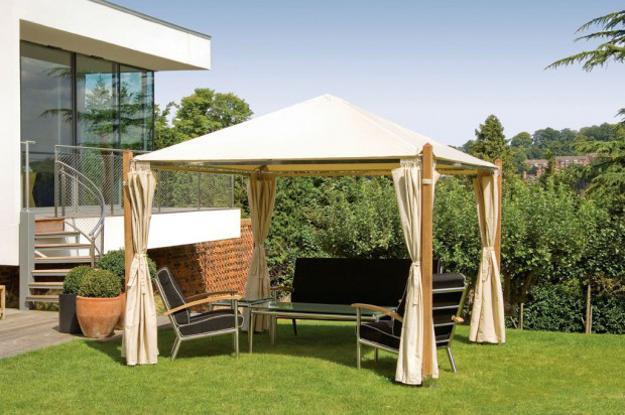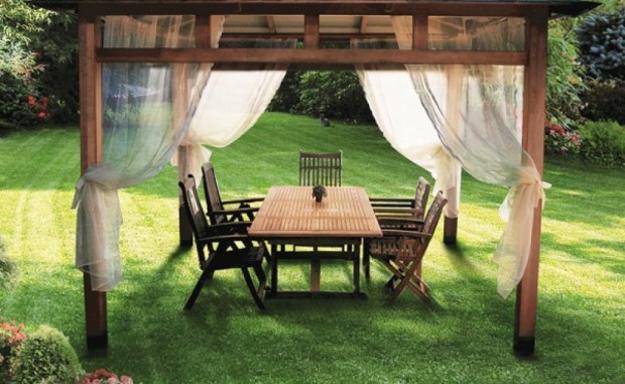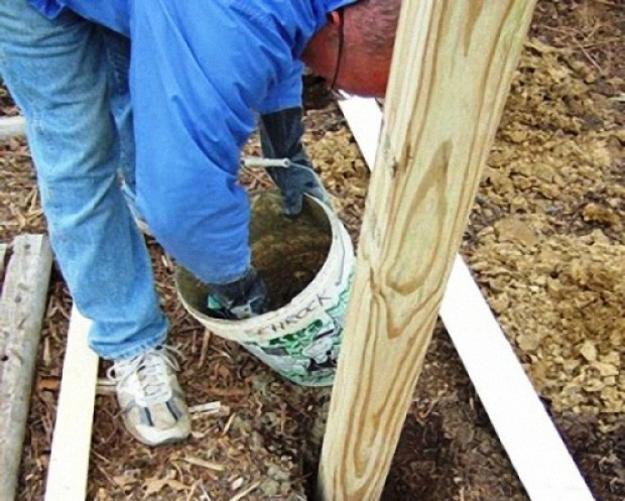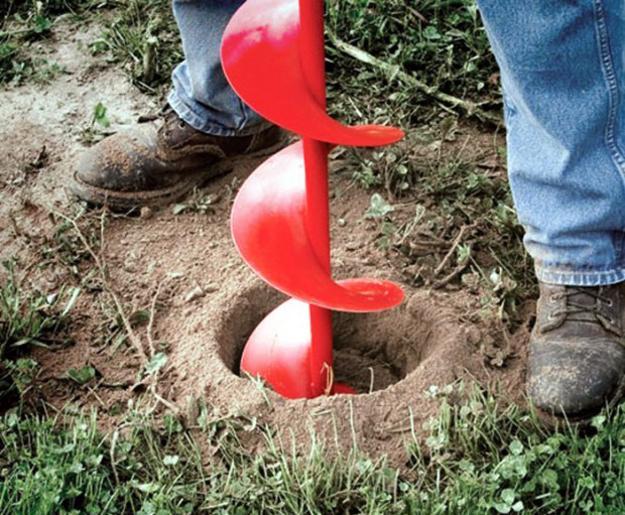 by Ena Russ
last updated: 21.10.2016