22 Beautiful Metal Gazebo and Wooden Gazebo Designs

Fun Rooms

Interior Design Ideas

Outdoor Living
Contemporary wood gazebo design with outdoor furniture
wooden gazebo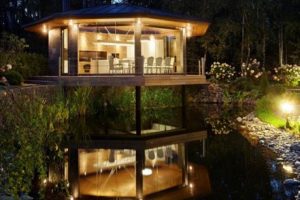 A wooden gazebo makes backyard landscaping look more attractive, adding a useful structure to your garden or patio design and offering a beautiful shady place for dining and rest.  A wooden or metal  gazebo is a very good investment, which brings more comfort into your backyard design and increases your home sale price.
Wooden or metal gazebo designs vary in sizes and shapes, adding unique decorating details to backyard landscaping. A screened gazebo  can provide your family more outdoor spaces, bringing more fun into your life in spring, summer and early fall.
The location of your wooden gazebo is very important, because it will affect how much you can maximize the use of your outdoor gazebo for enjoyment or leisure. Make sure that your gazebo is placed in one of the most beautiful areas of your backyard and away from walls and fences.
Wooden and metal gazebo designs
Traditional wooden gazebo design with lights and flower beds around
Round and hexagonal wooden gazebo designs, beautiful backyard ideas
If your gazebo is not blocked from the view, you and your guests, can appreciate the beauty of your backyard design with wrought iron or wood gazebo design. Convenient location maximizes the use of all the sides of the gazebo and makes your gazebo design more attractive and functional.
Make sure that your wood gazebo is easy to access. If you choose a narrow place for building your gazebo, you can end up having a difficult time putting it up. An outdoor gazebo is not only your backyard or garden decorations, a wood gazebo design is a strong and highly purposeful structure that can be used very often, if it is conveniently located.
Wrought iron work, metal gazebo design
Wrought iron gazebo design
The outdoor gazebo size depends on how big your garden or backyard area is. Small gazebo designs are great for smaller backyards and gardens. Large or small gazebo designs look gorgeous with good backyard landscaping around them, so you need to save existing landscape and flower beds while building a gazebo.
Summer kitchen, outdoor rooms, modern backyard ideas
15 outdoor shower designs, modern backyard ideas
10 x 10 metal or wooden gazebo designs are perfect for small spaces. If you have a large backyard, you can have  a 12 x 12 gazebo or bigger gazebo design to house more guests.
Unique wooden gazebo design with outdoor furniture
Wrought iron or wooden gazebo designs come in different shapes. Square, rectangular, round or hexagonal gazebo design can be selected in accordance with the layout of your garden or backyard landscaping ideas, adding more harmony to your outdoor spaces.
Backyard ideas for spring decorating, 6 tips to make backyard landscaping more fun
Backyard swimming pools ad small ponds, beautiful backyard ideas
Wrought iron or wood gazebo designs look natural and most attractive. These types of gazebo designs are strong and durable also. Once you build a metal or wooden gazebo, you will discover that you can use it for many different occasions and celebrations any time of the year.
Unique wroght iron work, metal gazebo design
Screened gazebo design is a wonderful garden addition that can serve you and your family in a lot of pleasant ways, from a quiet peaceful time alone in summer to a jolly celebration with friends. Metal or wooden gazebo designs allow you to enjoy all seasons and do not worry about the sun or rain.
11 Feng Shui garden design tips, backyard landscaping ideas
Water fountains, front yard and backyard designs
A screened gazebo design protect from bugs, offering comfortable outdoor room for enjoying your hobbies or having parties. Metal or wooden gazebo design will serve you for many years to come and in many ways possible, adding fun, comfort and joy to your backyard design and increasing your home values.
Contemporary wood gazebo design with outdoor furniture
More from backyard designs

Outdoor rooms with fireplaces are a beautiful trend in creating comfortable outdoor living spaces that stretch home interiors, make houses feel...
and enjoy free articles sent to your inbox