15 Outdoor Shower Designs, Modern Backyard Ideas

Decorating Ideas

Outdoor Living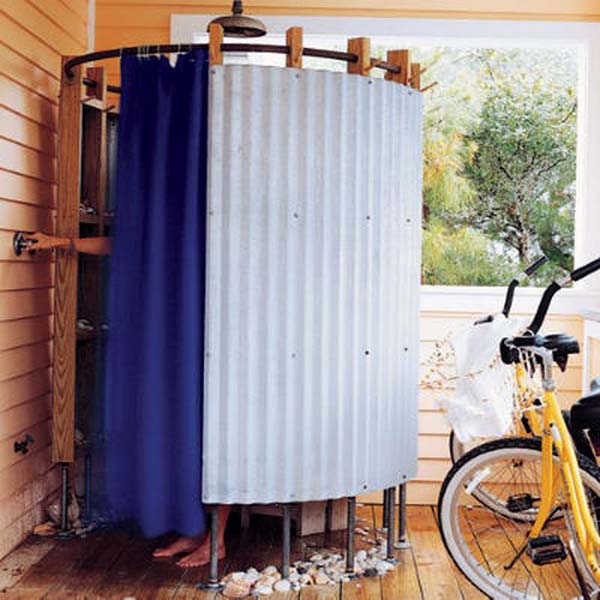 Simple summer shower with blue shower curtain
shower designs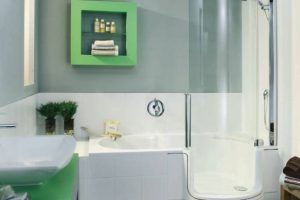 Outdoor showers are convenient additions to modern backyard designs. Outdoor shower design can become a great focal point of your backyard decorating, adding bright color, functional structure, unique decor  items and planters with flowers that beautify your outdoor living space.
Taking shower outdoor is a different experience that connect people to the nature and make backyard design more comfortable and lifestyle more relaxing. It is very nice if your home or summer cottage has an outdoor shower, which gives the owners an opportunity to freshen up and stay longer outside. Less comfortable backyard designs without a sink or shower make people go inside more often. Summer showers are great for homes with young kids also.
Summer shower designs are not only functional, the structures can be attractively decorated with flowers and ornaments, adding unique flavor to your backyard ideas, creating relaxing, inviting and fun atmosphere that delights kids and adults.
Outdoor shower designs
Outdoor shower designs vary in prices, materials and sizes. Outdoor showers can include a simple structure with a faucet and a water tank on the top or fully equipped cabins with heated water that add luxury and chic to backyard designs.
Simple summer shower design may not include the water heater, unless you want to swim and take a shower early in the morning or at night.
A water tank for a primitive summer shower is usually made of plastic or metal alloy with the capasity of 120 to 240 liters or 30 – 85 gallons. Tanks painted black heat the water faster. Frame outdoor showers can be made of aluminum, wood or steel, offering strong, safe and durable summer shower structures.
Summer kitchen and outdoor rooms, modern backyard ideas
Outdoor shower location
The best location for your outdoor shower is the sunny spot. You will always take a shower enjoying warm water, while saving time and money on heating the water.
The second important factor in choosing a site for a summer shower is your backyard design and landscaping ideas, that determine the show placement and the flow of the water. By placing an outdoor shower on a hill you can direct the water flow as desired. Depending on the location of your site, you may need to dig a small ditch to drain the water.
Ergonomic hammock fro indoor and outdoor living spaces, relaxing backyard ideas
Backyard swimming pools and small ponds, beautiful backyard ideas
Outdoor shower DIY project
Building a summer shower is a nice DIY project that will make your backyard design more pleasant and welcoming. The simplest summer shower design includes a small wooden or metal structure that supports a water tank, a faucet and shower curtains. A single wooden pole may work well for creating functional outdoor shower design also.
Money saving tips
You can build a small summer shower structure or a luxurious cabin of metal, plastic and wooden parts. Made of wood summer shower is the cheapest DIY project, because it allows you to reuse and recycle wooden boards that you probably already have at home.
Tsukubai water fountains, Japanese garden design ideas
Water fountains, front yard and backyard designs
You can build the frame and hang few shower curtains around, or build three walls and leave the entrance open. You can use old closet doors for outdoor shower walls and decorate them with nautical decor items and flowers, saving money and creating an amazing focal point for backyard decorating.
There are many different outdoor shower designs and creative backyard ideas that are comfortable, easy to make and beautiful. The collection of summer shower designs from around the world will help find the best ideas for your backyard design.
More from decorating design

Colorful handmade birdhouse designs look beautiful on green branches and garden posts. Creative painting ideas turn wooden birdhouses into bright yard...
and enjoy free articles sent to your inbox