Designer Lights, Nepa and Candor Lamps from Giles Godwin Brown
---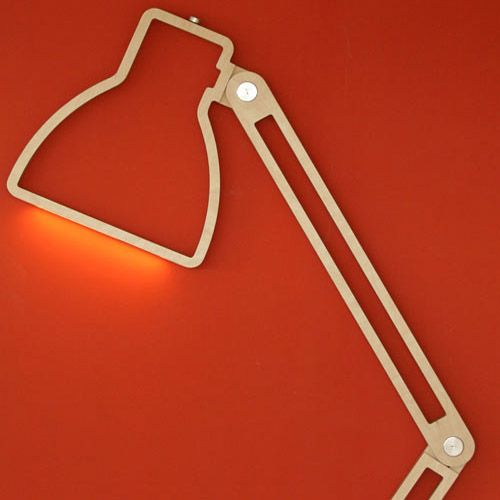 Creative designer lighting fixtures add gorgeous home accents for unique interior decorating. Nepa Lamp and Candor Lamp were exhibited at Designersblock London and offer unique lighting fixtures and functional decorative items for modern interior decorating.
Designer Giles Godwin-Brown is a young designer who offered interesting and fresh two dimensional lighting ideas, developing wall mounted modern lighting fixtures that are made of birch wood and shaped like traditional table lamps and retro lamp shades.
Nepa Lamp design is a two dimensional lighting fixture that add charming table lamp silhouette and light neutral color of birch wood to wall decorating.
Wall mounted designer light, unique lighting fixture design idea
The Nepa Lamp has friction hinges that allow the designer light to pivot away from the wall also, making interior decorating more functional and comfortable.
The combination of birch wood elements, stainless steel and aluminum parts add contemporary spirit to modern lighting fixture, energy saving LED lights increase the effect.
Lamp made of birch wood with a strip of LED lights, designer lights for modern interior decorating
Charming and playful designer light from Giles Godwin-Brown is a large and impressive home accent that make interior decorating unique and surprising.
Door handle flashlight, Ledoor Handle lighting idea
Table lamps, inspired by forest and wet grass, modern lighting ideas
The Candor Lamp design is wall mounted also. Constructed of timber and cotton fabric, it is wired with LED lights that bring pleasant glowing light into the room, enhancing modern interior decorating ideas and emphasizing the simplicity of contemporary style.
Lamp shade shaped wall light, unique lighting ideas for modern interior decorating in retro style
The transparent part of the designer lamp is shaped like a retro lamp shade, making the Candor Lamp an excellent decorative accent for adding retro charm and nostalgic feel to vintage interior decorating.
Modern lighting ideas, charming shadows for interior decorating
Contemporary lighting fixtures, modern interior decorating with shadows


Bright home interiors and amazing views of the ocean make this beach house a dream place. Large windows, light, neutral room...