Crocheted and Knitted Floor Rugs, Poufs, Baskets and Pillows, Modern Home Accessories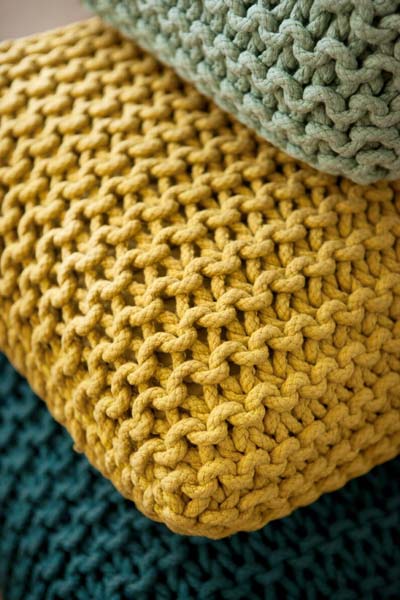 home decorations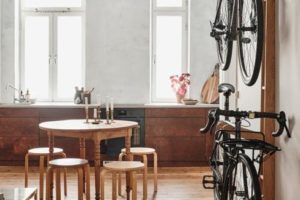 Crochet and knitting crafts bring unique texture of soft yarns, warmth and charm into modern interior design. Crocheted and knitted floor rugs, poufs, baskets, lamp shades, furniture cushions and decorative pillows make room decor more feminine and tender, cozy and comfortable.
Knitted floor rugs and puffs, designed by Christian Meindertsma, are perfect for adding chunky knitting patterns to modern interior design and decor in any style. These knitted poufs in various colors work well as decorative accents, brighten up room decor and conveniently providing additional seats.
The Aran Rug by Christian Meindertsma, www.christienmeindertsma.com/ is a beautiful floor decor item that adds soft texture and light neutral color to modern interior design. Handmade floor rug is created with extra chunky yarn and huge needles.
Knitting and crochet home decor, handicrafts trend in modern interio design
Piano decorating, ancient craft for contemporary interior design
Knitted home accessories, floor rugs, poufs, baskets and pillows
Handmade home accessories, colorful knitted poufs
Handmade home accessories, knitted floor rug in white color by Christien Meindertsma for modern interior design
Charming knitted baskets in mustard yellow and deep turquoise colors, playful knitted pillows in oval shape from Ferm Living, www.ferm-living.com/ are modern home accessories that are functional, interesting and very decorative.
Handmade home accessories are a nice way to add personality to room decor, adding your favorite colors and shapes to modern interior design.
Colorful handmade pillows from Ferm Living
Crocheted home accessories, lace floor rugs and bed throws
Crocheted floor rugs and throws from Hooked Design, www.hookeddesign.com/ are stylish home decor accessories, perfect for adding unique interior design products in Scandinavian style to your rooms.
Scandinavian style bedroom decorating in white color, crocheted bed throw in black color
Their beautiful collection consists of ecological  hand-made crochet lace carpets and small floor rugs, created of recycled material.
Knitted furniture and decorative pillows by Melanie Porter
Modern furniture design by Claire Anne O'Brien, designer chairs and stools with lnitted cushions
Crochet lace throws and floor rugs in classy white and black colors are excellent for stylish interior design.
Modern interior design with handmade crochet lace floor rug in white color
Round and square crochet lace floor rugs and throws in white and yellow cream colors add more light to room decor, brightening up modern interior design with home decorations in Scandinavian style.
More from decorative accessories

Bright home interiors and amazing views of the ocean make this beach house a dream place. Large windows, light, neutral room...
and enjoy free articles sent to your inbox