Concrete Rocking Chair with Bright Bio Leather Upholstery Fabric
---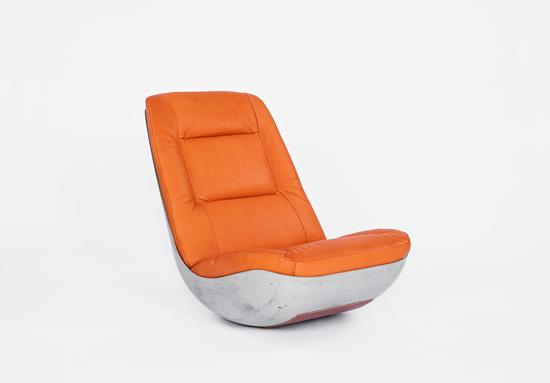 Concrete and Bio leather rocking chair
Rocking Chair Swing is  the first in the world luxurious and comfortable rocking chair made of concrete. It features a luxurious leather seat in orange color and looks inviting. The rocking chair in not just a piece of concrete furniture, its simple and elegant shape, stable and comfortable design create a striking contemporary furniture item that looks very impressive.
Just 5 mm thin, the structure of this rocking chair is made of carbon fiber-reinforced concrete and bio leather upholstery, which makes this chairs design eco friendly and perfect for Green living in style. The contemporary materials show high finesse. Ergonomic seat and soft cushions guarantee great comfort.
The Swing  chair weighs 30 kg. At the bottom part, the rocking chair has a leather pad to protect the floor. The concrete rocking chair is handmade and available within a limited edition of 100 pieces.
Concrete rocking chair design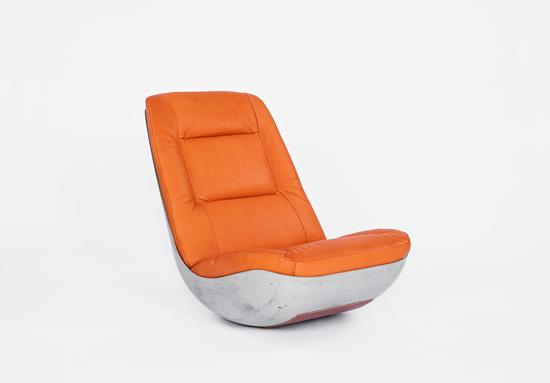 The Swing is designed by German studio Paulsberg, www.paulsberg.co/  and represents the newest concrete furniture made of reinforced concrete. The rocking chair is playful and cozy, bringing an amazing contemporary furniture design into modern homes.
The concrete rocking chair is fun, blending wonderful design ideas and materials into a functional and appealing seat. The dimensions are W 60 cm, H 80 cm and D 80 cm.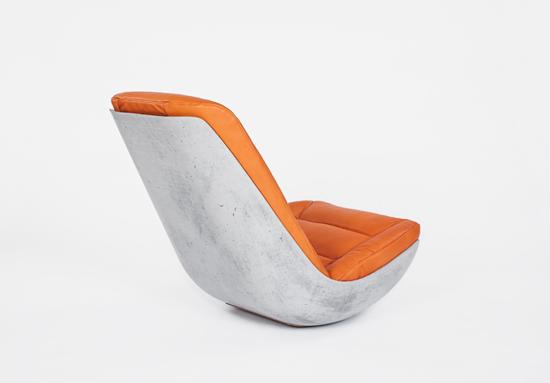 These unusual, innovative and attractive rocking chair makes wonderful addition to contemporary home furnishings, bringing creative furniture design and bold orange color into modern interiors.
Amazing handmade home decorations recycling leather scraps
Modern interior design with contemporary leather and fur
Bio leather upholstery fabric
In the world of eco design, using animal products is unacceptable. New alternatives for upholstery furniture fabrics, like fur, leather and feathers, are being discovered all the time and yield some pretty interesting results. Most contemporary furniture upholstery fabrics are created from plants or animal fibers. The most innovative and eco friendly upholstery fabrics are grown.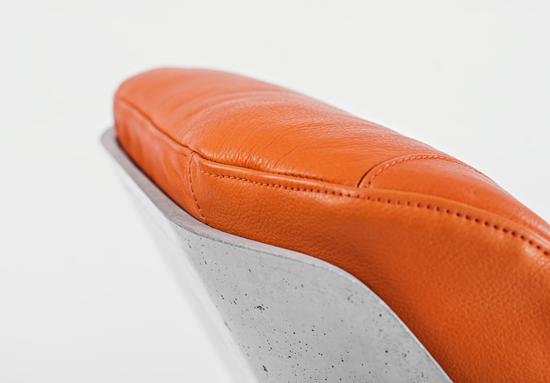 The bio textiles are thick and flexible materials that emulates leather. These upholstery fabrics are easy to be dyed and printed on, and they use much less dye than other natural fibers normally would.
12 fabulous design ideas recycling leather belts for home decorating
15 rocking chair designs, contemporary furniture design ideas
The eco friendly contemporary furniture upholstery fabrics are no-waste materials, and they can be safely composted when no longer needed.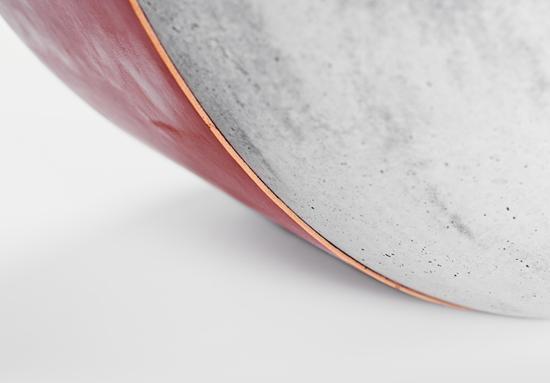 by Ena Russ
last updated: 08.10.2016