The Art of Decor, Amazing Collection of High End Furniture Organically Blending the Opposites
---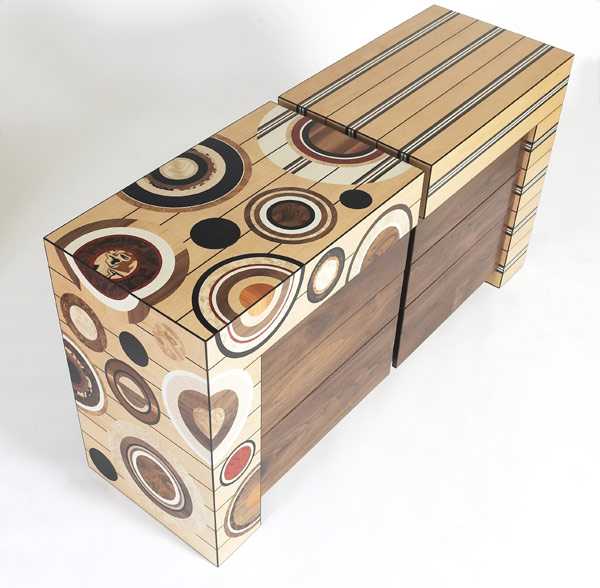 Impressive unique furniture collection from Christine Meyer-Eaglestone and Chris Tribe organically blends the opposites and is created for domestic customers with a strong sense of design. The Circles and Stripes sideboard, Marquetry screen and Marquetry chest, adorned with dynamic colorful geometric pattens, make gorgeous focal points for artistic and exclusive modern interior decorating.
Unique furniture items offer stunning centerpieces for an exclusive and elegant room design. If it is good to startle people sometimes, these modern furniture designs grab your attention. It is furniture design without compromise. Gorgeous look, elegant forms and the quality of its workmanship create a rare blend.
Striking furniture decoration patterns turn these pieces into fabulous elements of spacious interior design. Beautiful and unusual, they are suitable for contemporary and traditional interior decorating. are not mutually exclusive. The bold colors and energetic geometric shapes create attractive contrasts.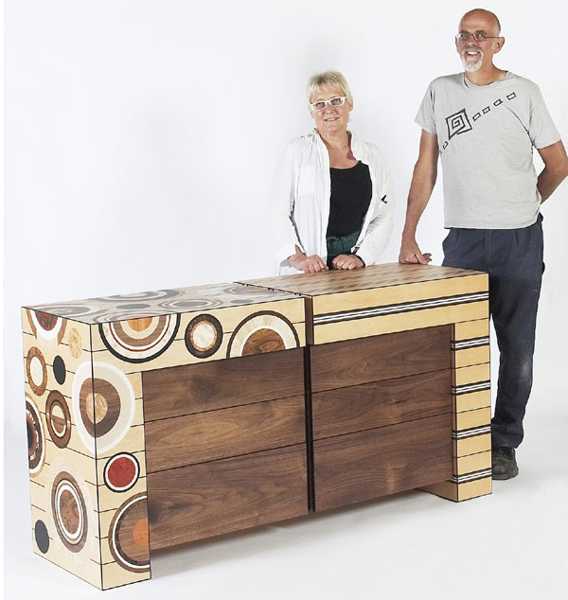 The sideboard is composed of a central carcase holding six walnut fronted, push-to-open, hand-dovetailed oak drawers. The dark walnut contrasts with the maple wood of the surrounding parts, celebrating the majestic beauty of natural wood.
Christine Meyer-Eaglestone , www.cme-art.co.uk/ is a contemporary marquetry artist. Chris Tribe, www.christribe.co.uk/ is a highly skilled furniture designer who has exhibited nationwide. They are currently collaborating on a series of furniture entitled Opposites, a range of high-end, one-off, exciting furniture designs that is instantly recognizable, compelling and unforgettable.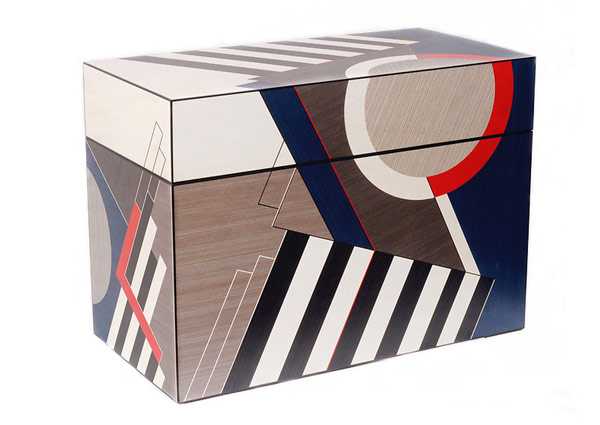 Circles and Stripes is the first in the series. Designers harmoniously work together, creating stunning furniture items, blending the opposites, designing a mix of beautiful ideas that celebrate the art of decor.
Latest trends in decoration patterns, modern interior trends in decorative fabrics
20 kids room decorating ideas, kids furniture to revamp
 Modern furniture design ideas, striped interior design trends
Christine, who is trained in fine art, uses her extensive collection of both natural and reconstructed wood veneers as a palette for creating unique furniture designs. Her method of hand cutting allows the design to evolve organically under her knife. Once Christine has laid her veneer design on to a man-made substrate, Chris then takes over to joint the panels to form the structure.