Alternative Christmas Tree, Holiday Decorating Trends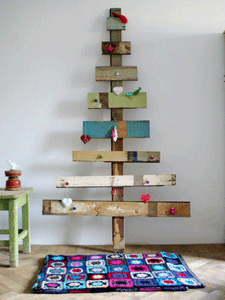 Unique alternative Christmas tree, eco friendly Christmas holiday decoration, empty wall decorating ideas
christmas tree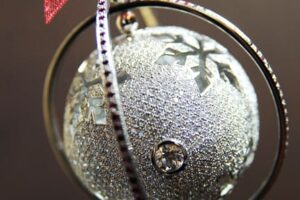 Many people prefer to buy artificial Christmas trees instead of real Christmas trees for winter holiday decorating. Artificial Christmas trees are practical. Decorated artificial Christmas trees save people time and effort. No need to buy a real Christmas tree, recycle it after holiday and organize Christmas tree decorations every year. Also artificial Christmas trees were invented as alternative Christmas tree ideas to support the ecology and save our forests. It takes about eight years before a spruce tree becomes five feet tall.
Alternative Christmas tree design trend is very popular also. Designer Christmas trees are getting more interesting every year.  Unusual and impressive Christmas tree design only reminds the traditional symbol of Christmas holiday, can be made of various eco friendly and recycled contemporary or traditional materials and have a living Christmas tree silhouette. This year alternative Christmas tree design, one of 11 modern Christmas decor trends, celebrates the softness of eco friendly contemporary fabrics, like cotton, wool, fur and felt, the lightness of feathers, the strength of wire, the flexibility of paper, the shine of metal and the warmth of wood.
Christmas is a time for peace, harmony and creative decorating ideas. Why not use our creativity to save precious trees in the forest and design an unusual Christmas tree for unique home holiday decorating, using eco friendly, natural or recycled materials and energy saving LED lights. (Read about the biggest Green decor ideas for eco friendly Christmas.)
Wall Christmas tree design, dining room decorating ideas for winter holiday, empty wall decorating ideas
Unique Christmas tree design, eco friendly Christmas holiday decoration, empty wall decorating
Alternative  trees can hold decorative surprise gifts and help create contemporary holiday atmosphere. Beautiful and unique holiday tree designs may not even have a living Christmas tree look and can be very simple.
Unique holiday trees can be in various modern decorating colors, – white, silver, golden, blue, green, red, brown, pink, purple or black. Alternative Christmas tree design is an opportunity to experiment and learn contemporary decorating ideas, to experience the art of design and enjoy fun holiday atmosphere.
Upside-down holiday decorating ideas, alternative Christmas tree design
Cushions and ribbons, easy time saving alternative Christmas tree design
Recommended:
Eco-friendly Christmas decor: recycle and edible decorations
Decluttering after Christmas in two simple steps
Artistic Christmas tree: from spontaneous to golden image
Creative holiday decorating ideas, LED Christmas lights, easy to make bottle miniature tree design
LED lights for unusual empty wall decorating design, easy to make holiday tree design
More from holiday decorations

Creative Easter ideas offer many quick and easy techniques for spring eggs decoration. Instead of dyeing eggs, try decoupage turning Easter...
and enjoy free articles sent to your inbox