5 Loft Living Space Design and Decorating Ideas by Sarah Richardson Staging Home Interiors in Style

Decorating Ideas

Staging Home Interiors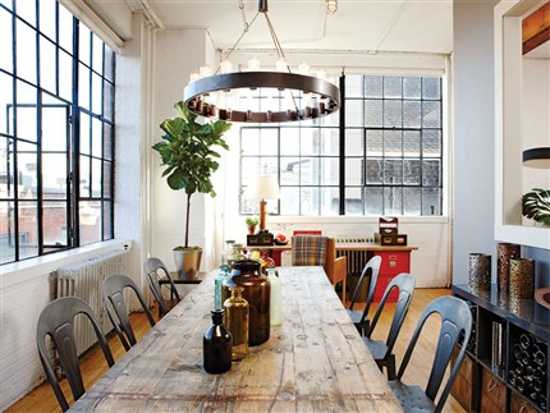 Large wooden dining table and unique chandelier for decorating the loft living space
kitchen backsplash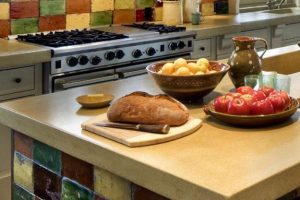 Gorgeous interior design and home decorating ideas created by Sarah Richardson styled a loft living space with comfort, creating a beautiful place with high ceilings and large windows. Industrial loft living space was blended with coziness and warmth when Sarah Richardson and her interior decorating team got their hands on it.
Creating a stunning art wall with everyday snapshots can dramatically transform loft living spaces. Handmade wall decorations look stunning. All of these images are close-up details of urban graffiti. The frames are ready-made and used for favorite shots, creating a fabulous gallery wall decor at a price you can afford.
To get the best results with a salon-style wall decoration, keep the width and height between selected picture frames consistent to make the wall decoration collection appeared unified and professionally designed.
5 tips for loft living space design and decorating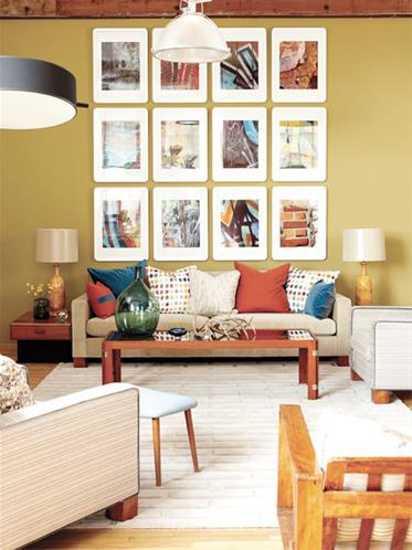 Modern kitchen backsplash design of painted wood
Modern kitchen backsplash does not have to be made of tile or stone. Creative and impressive kitchen backsplash is designed of painted wood pieces in varying widths glued together. Kitchen backsplash colors that complement the loft living space decor harmonize the spacious place.
Lightly sanded wood brings beautiful texture and playful stripes into loft living spaces and add a charming distressed look to modern kitchen design. Treated with urethane and finished with a piece of tile edging at the top, the kitchen backspash looks stunning.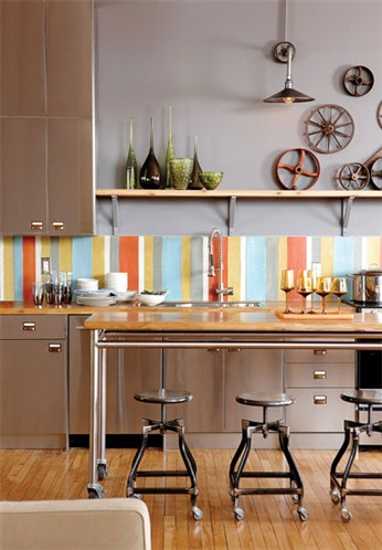 Modern kitchen island and stools on wheels
Extra counter surfaces always come in handy, but installing a kitchen island can be pricey. For the most affordable way to add counter space, consider a stainless steel prep table on wheels from a restaurant supply company. Casters allow easily relocate the table for entertaining, adding more functionality to modern kitchen design.
5 tips for you kitchen redesign creating celebrity style modern kitchen
33 amazing backsplash ideas add flare to modern kitchens with colors
Modern kitchen backsplashes, 15 gorgeous kitchen backsplash ideas
Modern dining room decorating ideas
A giant dining table made from reclaimed wood creates a striking focal point of dining room decorating, staging a comfortable and stylish live and work space. The double duty large table is perfect for work and gathering with friends and family.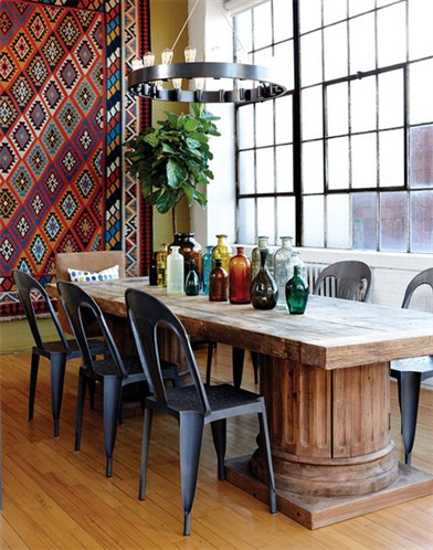 With ingenious storage doors camouflaged in the column-shaped bases, it is easy to hide clutter or extra supplies and make that quick change from work to live on weekends. An interesting table decoration, created by grouping together vintage inspired colored glass bottles beautifies the loft living space, staging interiors in style.
Modern home decorating with reclaimed wood, 14 artistic salvaged wood ideas
Dining furniture for kitchens, 30 modern kitchen design ideas
The most unique rooms generally showcase a mix of old and new treasures. While you want to invest in a new sofa, why not hunt for some affordable decor pieces to add a touch of soul and unique character to your interior design and decorating ideas. Sculptural deco wood chairs, transformed with new fabric and cushions, look fabulous, giving the loft living space personality.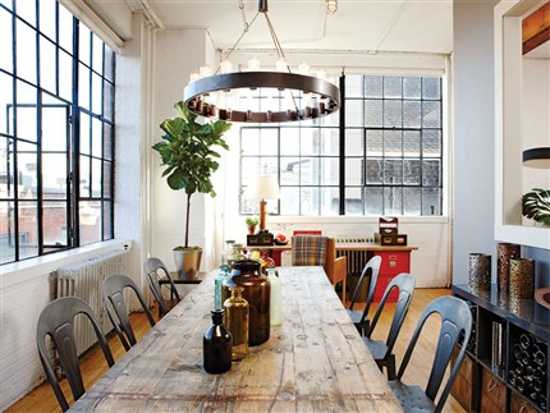 Interior decorating colors
Interior decorating color schemes can include bold bold paint and light neutral color shades. Applying an intense paint color to a single wall and decorating the rest of the room in neutral color tones create a beautiful accent wall and keep home interiors relaxing and comfortable. Using bright and rich room colors in moderation creates an effect that is impressive but not overpowering.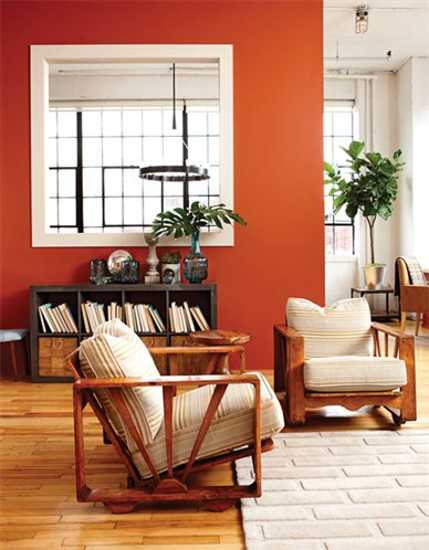 A piece of butcher block placed on top of brightly painted utilitarian filing cabinets is an easy and inexpensive way to create a big, colorful work surface. Wood pieces can always be re-purposed separately in your next home.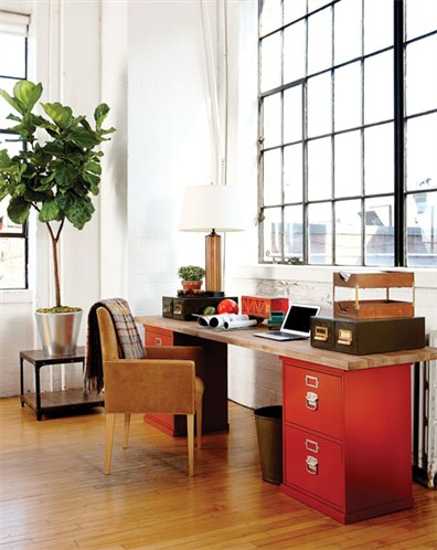 Efficient storage ideas
Interesting storage furniture and unique home organizers create functional and beautiful living spaces. The old index card file drawers in vintage style are perfect for pens and supplies. Second-hand shops may surprise you with cheap storage furniture and storage ideas for your desktop that add more interest to your work space.
More from apartment ideas

Unusual interior design is exciting and inspiring. We can wonder how people get their ideas for creating an original interior design,...
and enjoy free articles sent to your inbox