22 Composite Flooring Ideas to Bring Contemporary Style into Outdoor Rooms

Decorating Ideas

Home Staging

Outdoor Living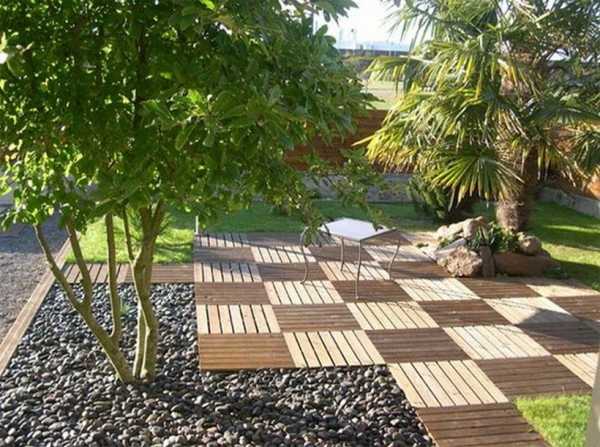 flooring ideas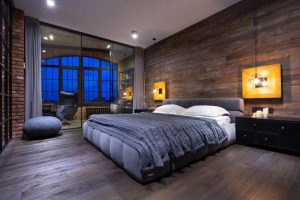 Stylish composite flooring ideas bring gorgeous patterns, created with outdoor deck tiles and boards. These contemporary flooring and decking materials are great for bathrooms and outdoor home decorating. Attractive and practical, composite floor tiles and boards vary in materials, colors and designs, giving a contemporary touch to house exterior and backyard designs and offering great alternatives to traditional wood for decks and patios.
Composite means that the decking is molded or extruded from a mixture of wood and plastic. The wood part of outdoor flooring tiles and boards is various wood flour of various grinds. The plastic part is often polyethylene or vinyl.
There are different ratios of wood to plastic mixtures of recycled and virgin plastic, which affect the strength, durability and all other performance characteristics.
4 stylish outdoor flooring materials present contemporary outdoor home design trends
Wood flooring ideas from Belotti for modern bathrooms and outdoor rooms
Composite outdoor flooring products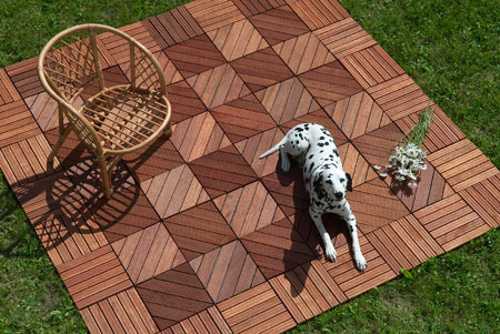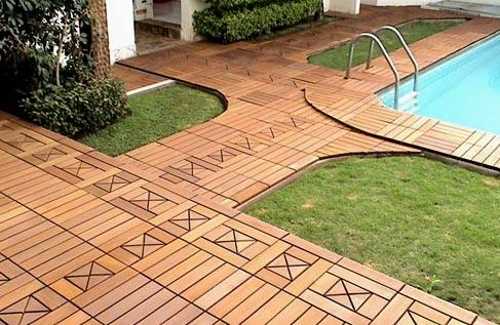 Wood and polyethylene mixtures create outdoor flooring products marketed under the brand names Elk, Epoch Evergrain, Geodeck, Nexwood, Tendura, Trex, TimberTech, Veranda, and at others. ProCell flooring products are made o fiber and PVC mixtures. Composite profiles are mostly plank, a few channel profiles and some with lap joints are available also, like outdoor flooring boards from TimberTech or Geodeck.
Most composite deck flooring materials are textured with wood grain or grooves, but some outdoor tile and boards feature a smooth surface.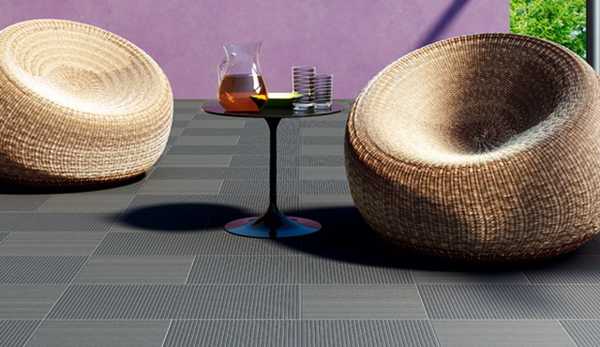 Composite outdoor flooring tiles and boards are functional and allow to create unique decoration patterns, giving a fresh look to traditional patio designs, swimming pool areas and balcony decorating. Composite outdoor flooring materials add a contemporary touch to front yard and backyard designs, improving house appeal, which is perfect for home decorating or home staging.
Metal tiles modern curve from Karim Rashid

Grass Tile designs by Causas Esternas, modern floor decor ideas
100% plastic decking tile or board designs are pretty rare. Plastic deck flooring materials show textures with grooves or wood grain also. Several manufacturers offer plastic deck flooring products, like Brock Deck, Veka, Eon, ReNew and Leisure Deck. Fiberglass deck flooring profiles are also available.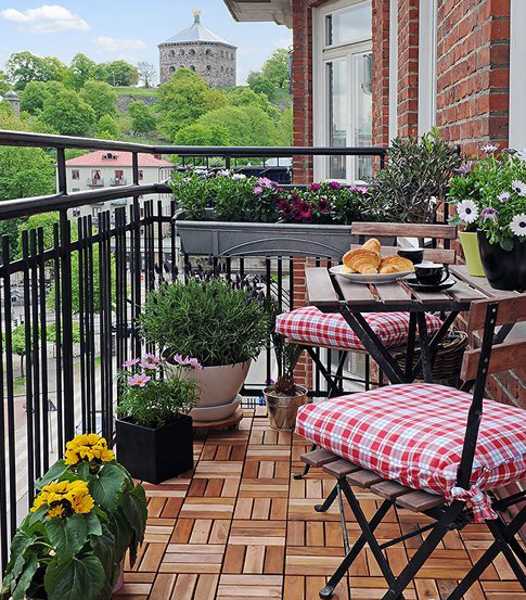 Some plastic deck flooring, like outdoor flooring products from Dura-Dri and Gorilla, has joints and allow to design watertight floor to protect the area below from rain.
Composite deck tiles and boards

Remodeling bathroom interiors is an essential part of creating a modern home. A beautiful, functional, well-planed, and modern bathroom design affects...
and enjoy free articles sent to your inbox