14 Kitchen Decorating Ideas, Modern Kitchen Decor Inspirations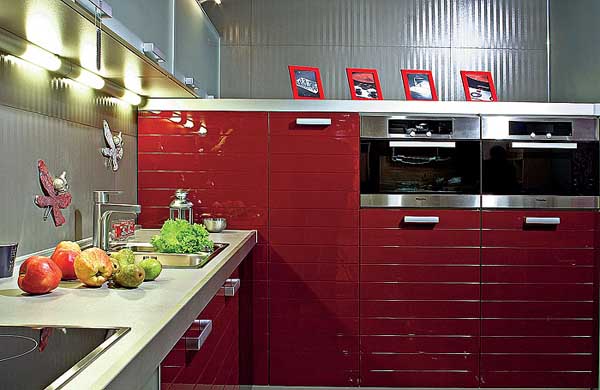 Contemporary red kitchen cabinets with lighting and stainless steel appliances
DECORATING SMALL APARTMENTS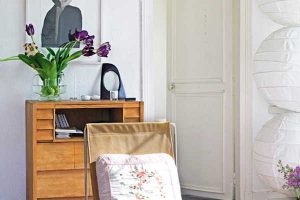 Modern kitchen decorating ideas vary in styles and allow to use your favorite color combinations, materials, interior design ideas and decoration patterns for creating pleasant and comfortable kitchen decor you and your family will enjoy and admire.
Modern kitchen decorating and home staging blends traditional and new materials, tiles, wall paint and wallpaper patterns, classic and stylish colors, various styles and designs, making kitchen interiors look unique, attractive and functional.
Modern kitchen design combines the look and functionality. Modern kitchens are comfortable and bright places for cooking and entertaining, which match the entire home decor, adding harmony and beauty to modern homes.
Modern kitchen backsplashes, 15 gorgeous kitchen backsplash ideas
Stylish kitchen countertop materials, 18 modern kitchen ideas
Modern kitchen decor ideas
Hand painted ceramic tiles for modern kitchen decorating
Practical and durable, traditional ceramic tiles can be combined with contemporary lighting fixtures, stylish wall paint colors and stainless steel appliances. Traditional tiled walls and impressive contemporary backsplash designs look gorgeous with sleek kitchen islands and elegant contemporary dining furniture.
Black and white decorating ideas add the Scandinavian flavor to modern kitchen decor, celebrating dynamic color contrasts and simplicity of Nordic designs. Attractive black and white decorating color combination look balanced, giving the classy look to modern kitchen design.
Black and white decorating ideas, contemporary lighting with exposed bulbs and black kitchen cabinets, modern kitchen design in Scandinavian style
Natural decorating materials, like warm wood and ceramic tiles, combined with indoor plants and wrought iron items, create elegant kitchen designs with functional contemporary lighting fixtures in minimalist style.
Dining furniture for kitchens, 20 modern kitchen design ideas
Small kitchen designs, 15 modern kitchen design ideas fr smal spaces
Traditional materials and kitchen decor accessories in retro style create softer ad more inviting atmosphere. Wooden dining furniture and creative wall designs enhance this effect.
Contemporary red kitchen cabinets with lighting and stainless steel appliances
Unique, personal and comfortable modern kitchen design can successfully combine interior decorating ideas and objects in different styles, creating a beautiful and functional mix in eclectic style.
Kitchen design with peninsula, 20 modern kitchen designs for large and small spaces
21 modern kitchen designs, contemporary wood kitchen cabinets and dining furniture
Rustic kitchen decor and appliances in retro styles, combined with stainless steel and glass surfaces are modern kitchen decorating ideas that make home interiors feel interesting and luxurious.
Creative kitchen wall with decorative plates and wood dining furniture
Contemporary kitchen appliances and cooking accessories are attractive, ergonomic and functional decorations, offering excellent ways to refresh old kitchen decor. Kitchen appliances in retro styles and vintage decor items are excellent for creating the right mood and beautify modern kitchen design in retro style.

More from interior decorating

Home textiles and fabric prints are stylish ways to personalize modern interiors and give a touch of style to any room...