Winning Modern Kitchen Desgn by C3studio for Condo Canal Lachine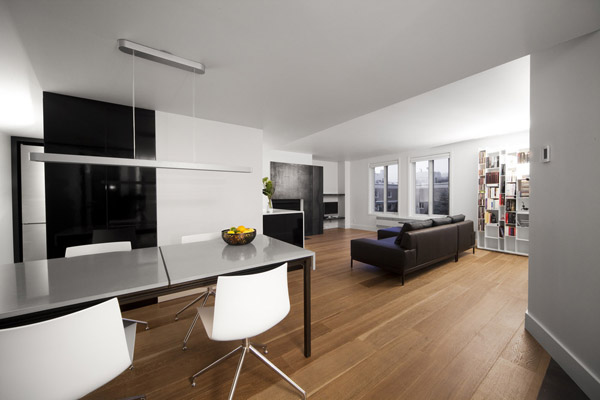 Open dining room, contemporary apartment ideas
Modern interior design by Canadian c3studio offer spacious contemporary living spaces and black-n-white decor. Designed for Condo Canal Lachine in Montreal, Canada, these apartment design project won top honors in the residential kitchen design category in the annual Quebec competition Grand Priz du Design 2011.
Simple and airy, modern interior design ideas reveal a visual personality ad good sense of space, evoking an impressive sculpture rather than an ordinary living space. Apartment ideas are designed by Mario Painchaud, the founder of c3studio, c3studio.ca/
Modern kitchen design is based on opening the kitchen and dining room to living room, using a single column to separate the kitchen interior from the dining room. Modern kitchen design appears as a long, functional corridor, equipped with contemporary appliances, lighting fixtures ad kitchen cabinets.
Black and white living room design, spacious contemporary apartment ideas
Mario Painchaud has given each area its own identity by choosing certain architectural elements and materials. A parallelepiped-shaped dropped ceiling visually defines the space of the kitchen and dining room.
The lacquered laminate surfaces energize the kitchen by creating plays of light and perspectives. A glass panel isolates the entrance way, defined by a hot-rolled-steel floor. On the other hand, to preserve the unity of the space as a while, a light wood floor is used throughout, including in the kitchen.
By systematically using cube shapes, in both the design and the furniture, Painchaud gives the impression that the space was excavated from the material, giving it a strong visual personality. Inspired by a cave dwelling, the architecture distills a feeling of enveloping intimacy.
Kitchen decorating and design trends
Modern kitchen design trends, redesigning kitchen interiors
This visual approach to the space is particularly well illustrated in the kitchen. By composing this room simply around two symmetrical volumes, "hollowed out" to accommodate counters and appliances, Painchaud gives the illusion of a monolithic sculpture excavated from an enormous block of raw material.
To reinforce this illusion, the designer has ensured the purity of the lines of this "cut-out" monolith by hiding all the storage in customized cabinets and integrating the appliances and equipment (sink, cook top, recessed lighting, and so on) into the different surfaces.
Modern kitchen design, simple and seek masterpieces
Artesio kitchen design, best contemporary kitchen designs for eco homes
Project: Condo Canal Lachine
Location: Montreal / (Petite-Bourgogne), Quebec, Canada
Surface: 700 PI² / 65 m²
Carpenter / kitchen designer: Espace Cuisine
Photographer: Steve Montpetit
More from modern kitchens

Golden colors are the symbols of expensive, warm, beautiful designs. Golden kitchen cabinets and backsplash designs look glamorous and high-end. Yellow...