Unusual Sinks for Stylish Bathroom Design
---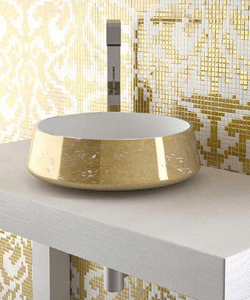 Luxury bathroom design ideas, gold plated round sink, small bathrooms decorating design
Effective bathroom design is a part of functional and comfortable homes. Stylish bathroom sink and fixtures are an important element of attractive modern bathroom design that reflect people's lifestyle and preferences. The smallest rooms in the house, bathrooms should look and feel stylish and comfortable, offering functional interior design ideas, modern bathroom furniture, beautiful bathroom fixtures and pleasant interior design color scheme.
Only you know how your bathroom design should look and feel, only you know your and your family needs and preferences. Today manufacturers offer so many stylish and comfortable bathroom design ideas for large and small bathrooms, that sometimes it is difficult to choose the right bathroom sink, fixtures or storage cabinets for your bathroom design or home staging. However, contemporary modern and stylish bathroom sink and fixtures, especially new unusual sink and fixtures designs, can turn even small bathrooms into exciting places that awoke positive emotions.
Pleasant and stylish bathroom design ideas, including attractive or impressive bathroom sink and fixtures, help relax and enjoy your modern, comfortable and beautiful home design. The choice of the sink material and style is very important part of modern bathroom design. Unusual contemporary bathroom vanities, modern sink materials, stylish interior design colors and fixtures designs define contemporary interior design style of large and small bathrooms.
Contemporary bathroom design ideas, round stainless steel sinks design
Modern bathroom stainless steel sinks, small bathroom design
Traditional bathroom sinks are associated with ceramics, but there are many modern bathroom sinks made of other materials. New bathroom design ideas include antique copper and stainless steel sinks,  inexpensive acrylic and glass bathroom vanities and sinks.
Italian company Glass Design presented new modern bathroom sinks and accessories, made of glass, stainless steel and other metal alloys, including luxurious silver and gold plated stainless steel sinks.
Silver-black bathroom design ideas, glass bathroom vanities and sinks for stylish small bathrooms design
Luxury bathroom design ideas, gold plated round sink, small tiles, small wall tile mosaic, modern bathroom design
The company manufactures contemporary glass bathroom vanities, stainless steel sinks, contemporary mirrors and accessories, made of new materials for stylish modern home bathroom design.
Italian bathroom design company is specializing in innovative technology, advanced materials and modern bathroom design ideas. The collection of unusual glass and stainless steel sinks is complemented by stylish color glass bathroom vanities, small round sinks and mirrors in stainless steel frames.
Oblong black sink with modern inlays, contemporary glass sinks design
Rectangular green glass vanity tops and sinks, stylish modern design
Stainless steel sinks can be shiny and matte.  Round, single bowl stainless steel sinks design for tiny-small bathrooms are compact and light. Sleek contemporary shapes of Murano glass bathroom vanities with gold and silver plated sinks and stylish inlays are impressive, but expensive.
Oval sink with modern inlays for stylish bathroom design
Glass sink, stainless steel frame and fixtures, modern color scheme
Elegant modern bathroom design colors, like purple, green, red, golden, black, white and silver, and elegant golden-black, golden-white, silver black, silver-white color combinations help create stylish design even in small bathrooms.
Recommended:
Bath accessories for luxury decorating and staging
Metal tiles modern curve
Bathroom decorating with beautiful bathtub and space saving shower
Stylish gold plated small round sink, black vanity and mirror, modern golden-black interior design color scheme
Modern silver-black color scheme, retro style luxury bathroom vanity, stainless steel sink, fixtures, accessories and mirror
More from bathroom decorating

Modern bathroom accessories add chic style to room design. Buying a contemporary towel rack beautifies even a small bathroom with a...