Transforming Tea Bags that Improve Mood, Modern Food Design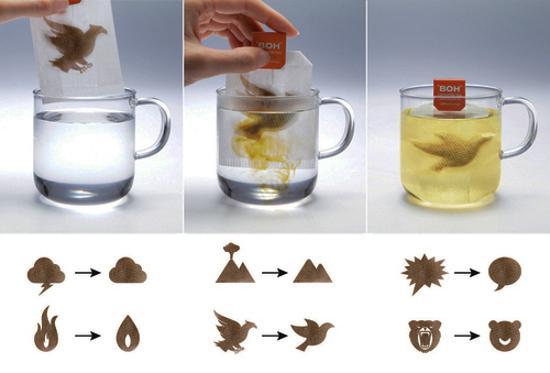 Transforming tea bags
Modern food design change our life, offering interesting and creative ideas that help fight stress and bring joy. Creative tea bags add a nice tough to a cup of tea and increase this drink ability to help people suffering from depression, fatigue and insomnia. A pleasant daily routine of drinking healthy tea and watching how a tea bag transforms into an interesting object improves mood and relaxes people.
Lushome looks for creative food design ideas, and these charming tea bags are one of them. Modern food decoration and design ideas increase the appeal of meals, drinks and treats, while giving aesthetic pleasure and relaxing muscles, encouraging people to enjoy the beauty of life and improving mood. Using creative tea bags is a wonderful way to unwind and calm down while drinking a cup of herbal tea.
Interesting food design ideas, like these creative tea bags, set a wonderful atmosphere for drinking herbal teas, which are soft, natural and pleasant sedatives that can help relieve irritability and excessive nervousness. BOH Tea Company from Malaysia designed these expressive tea bags for chamomile tea that makes people calmer and healthier.
Skull and bone sugar cubes, creative food design ideas
Edible flowers and blooming table decoration with flowering tea
Delicious food design idea turns glasses into chocolate treats
Tea bags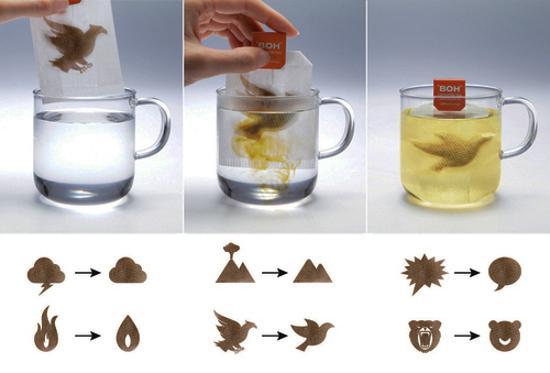 Changing the shape tea bags add a surprising element to the simple ritual of drinking teas. Transforming tea bags bring a contemporary vibe into food design. Each bag is symbolic, showing various negative emotions that tea helps to get rid of. Anger, fear and chaos are presented by a growling bear, erupting volcano or storm clouds.
When you put the tea bag in hot water, the images change, transforming into more calm and peaceful. A viscous bear becomes a smiling teddy bear, lightning and thunderstorm clouds disappear and turn into a rock-solid volcano and picturesque mountain top.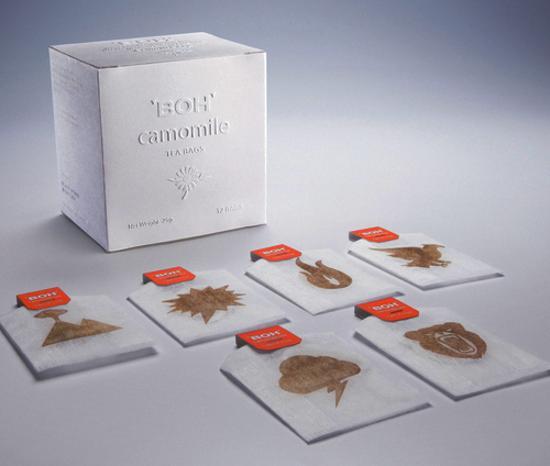 The creative visual effects add interest to ordinary drinks and food design. These tea bags allow people to concentrate on the changing images and enjoy the pleasure and a relaxing effect of herbal teas. The transforming tea bags prepare a person for the ritual. The stress melts away and all worries disappear by the time a person is taking the first sip of tea.

Warm metal accents are easy to incorporate into modern kitchen designs. Metal lamps, hardware, metal tiles, elements of kitchen designs will...