Three Story Mobile Contemporary Modular Homes, Modern House Designs and Green Building Ideas
---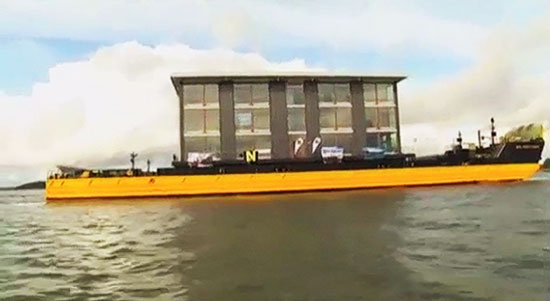 The first in the world three story mobile home is built in Turku, Finland. Modern house design and eco friendly materials, used for green building, make the mobile home unique and interesting. The modern house is built with a steel frame and steel panels. It weighs 220 tons and has three floors with the total area of ​​9300 sq ft (2834 sq m) offering comfortable and spacious eco friendly house design.
Contemporary modular home is 32.4 m long and 12 m high. The new modern house design and green building technologies, developed in Finland, allow to move contemporary modular homes from place to place. Modern home designs are earthquake resistant, which is especially relevant for areas that suffer from strong earthquakes, like Japan and Asia.
Modern house design and new green building technology make it possible to build contemporary modular homes at the shipyard and then transport them on the ferry. The first of mobile modular contemporary homes, build of steel panels in Finland, was moved from Turku to the southern coast of Finland, near Hirvensalo.
Sustainable architecture, house design and green building ideas
Green roof, sustainable architecture and rooftop gardens
Eco friendly green building with old empty bottles
Sustainable architectural design for urban lifestyle
Sustainable architecture, floating Archology concepts
Mobile modular contemporary homes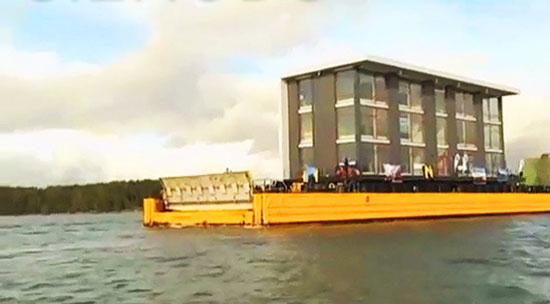 House design ideas and green construction technology for this type of contemporary modular homes is based on using new steel panels. Unique galvanized steel profiles and triple weld technology create strong and light steel panels for mobile contemporary modular homes.
The low weight steel panels are able to withstand enormous loads and demonstrate high resistance to corrosion. Unique steel panels for mobile contemporary modular homes are made of recycled and eco friendly materials in compliance with all requirements of green building design, green construction and international environmental standards.
Modern house designs and green building ideas for eco homes
Empty container house design, cheap and durable modern house designs
Modern home interiors, cottage like contemporary homes
How to build an eco friendly home on a budget
Finish steel panels for modern home designs offer a cheap alternative to concrete and unique eco friendly materials for green building. New steel panels are as strong as concrete, but five times lighter.
New green building technology and modern house designs with unique eco friendly materials, Finish steel panels, can make a revolution green construction. Mobile contemporary modular homes can be easily constructed and delivered to any location. Durability of steel panels makes it possible to move already assembled contemporary modular homes. Interior design, even tile decorating can be finished before the transportation also.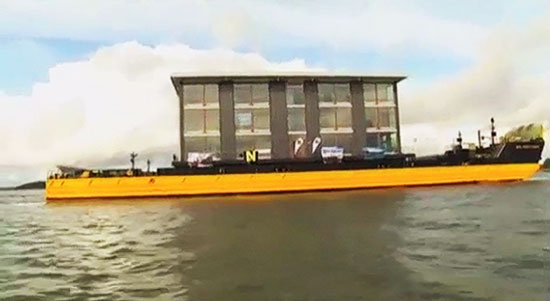 New steel panels reduce the time for modern house design and construction, which no longer depends on the weather and seasonal factors, and minimize the environmental damage, which is inevitable when  conventional construction methods are used, Finish specialists say.
More from contemporary design

A herb infuser is a handy thing to have in your kitchen. Playful design ideas and bright colors turn the tea...