Stylish Apartment Ideas from Russian designer Galina Mikulik, Artistic Home Decor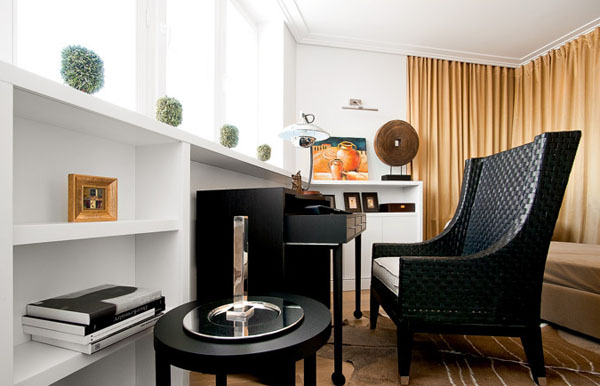 Stylish apartment ideas and strong contrasting color palette, combined with gorgeous decorative accessories make rooms look gorgeous, beautiful and pleasant. Artworks, black and white, rich blue and warm orange color tones and green house plants add elegance, style and life to modern apartment ideas, creating luxurious atmosphere.
Artworks add unique character to living spaces, adding an artistic flavor to bright and dynamic apartment design and decorating. Retro decor accessories add the charm of vintage design to room decor. Marble fireplace in the living room increase the effect.
Rich furniture pieces and designed in art deco style look gorgeous, bringing the chic of exclusive home interiors into this apartment design and decorating.
Parisian penthouse interior design and decor, apartment ideas
Scandinavian style apartment ideas from Alvhem Makleri Interior, white decorating ideas
Elegant and artistic apartment ideas
Living room furniture and marble fireplace, modern apartment ideas and beautiful decor
Oak wood and marble, luxurious furniture upholstery fabrics and colored glass decorative accessories are blended into simple and elegant apartment design with decorating ideas that feel soft and inviting.
Apartment owners travel a lot and like to use exotic and unique decorative accessories in their apartment decorating. They wanted their apartment design reflect their romantic lifestyle, – says the designer.
Dining room decorating with modern furniture, blue rug and orange curtains, stylish apartment ideas ad decor
That is why there are many works of art and interesting decorative accessories used for interior decorating.
Wall painting and unique decorative accessories add artistic touch to apartment ideas
Modern artworks, exotic souvenirs Eastern countries, custom made furniture pieces and lighting fixtures, black and white, rich blue and warm orange colors, elegant decorative accessories and paintings by Georgian artist M. Dzhmuhidze make apartment decorating ideas expressive and exclusive.
Space saving apartment ideas, room dividers and interior design for small rooms
Home redesign ideas, House A design, apartment ideas from Laura Alvarez Architecture
More from home decorating ideas

Bright home interiors and amazing views of the ocean make this beach house a dream place. Large windows, light, neutral room...