Staging Home Interiors, Fridge Door

Staging Home Interiors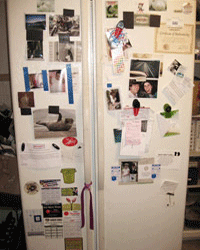 Fridge door decorations that should be removed while staging home interiors for sale
modern kitchens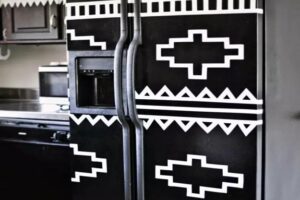 Kitchen is the heart of the home. Modern kitchen decor and functional design sell homes fast for better prices. Clutter free fridge door has a large surface that helps create more spacious and inviting kitchen interior. Decluttering your kitchen fridge door and smart kitchen decorating ideas are important parts of staging home interiors and preparing your property to meet prospective buyers.
It is a good idea to plan spending some money on your kitchen renovation, if you have old fridge or broken cabinets. Kitchen interiors are areas where you will see the greatest return on your investment. If you do not have money, declutter your fridge door, cabinets and countertops, clean and decorate your kitchen for sale, creating light and bright interior that feels functional, clean and comfortable.
Kitchen is an area of vital importance for selling your home fast and for good money. Fridge door is an important surface that visitors see right away, although proper home staging means staging all home interiors, all surfaces and furnishings.
Modern kitchen decor, staging home interiors for sale, clutter free stainless steel refrigerator
Thorough kitchen staging, right home staging colors, clean surfaces, including a fridge door, and simple elegant kitchen decorating ideas ensure fast and successful sale.
Fridge door decorations and home staging tips
1.Take pictures of your kitchen. It is easier to see om photos, what to remove from your kitchen and what to add , when you prepare your home interiors for sale and redesign your kitchen.
2. Remove kitchen stickers from your fridge door, when you decide to declutter and stage your home for sale. If you take a picture of your kitchen interior again, you notice that a clutter free fridge door makes your kitchen look much brighter. (Virtual staging technique can help you visualize your kitchen staging redesign also)
Fridge door decorations that should be removed while staging home interiors for sale
Modern kitchen decor, vinyl stickers, kitchen decorating ideas before home staging
3. Get rid of clutter, fridge door decorations, hanging house plants that can be on the fridge top, all distracting elements from fridge door and walls near the fridge. (Unique and attractive fridge door decorations can be particularly distracting.) (Fridge door decorating ideas, delightful vinyl stickers)
4. Magnets with useful info, family photographs and kids drawings should be removed from the fridge door, when there are buyers going through the house.
5. Clean the fridge door with baking soda or soap. Clean and shine fridge door makes kitchen interior feel welcoming. You want to create an invitation and help potential buyers imagine how comfortable they will feel in your kitchen and how wonderful their kids drawings will look on the fridge door.
Home staging tips:
Staging home interiors for quick sale, kitchen ideas
Staging house exteriors to sell home fast
Kitchen organization for home staging
Home staging redesign for quick sale, clutter free fridge door, modern kitchen decor
More from interior design

Bright home interiors and amazing views of the ocean make this beach house a dream place. Large windows, light, neutral room...
and enjoy free articles sent to your inbox