Spectacular Tree House Designs Offering Romantic and Intimate Living Spaces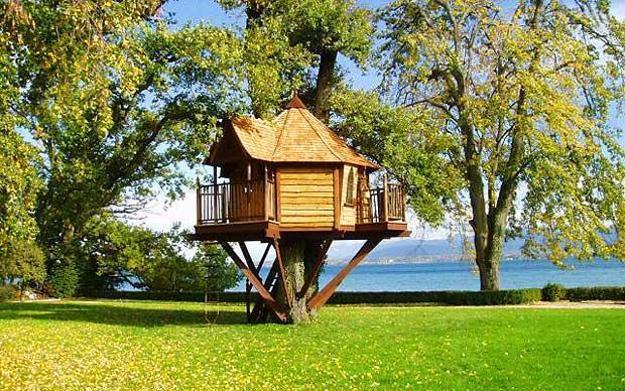 Secret Lair is the treehouse build by Joel Allen, the former software developer. The tree house features an egg-shaped structure, called HemLoft. It is built on government-owned crown land in the woods outside of Whistler, British Columbia. This unique tree house design is crafted with salvaged wood and free materials claimed from Craigslist ads.
Young designer Joel Allen, who lives in this amazing tree house part time, created a romantic and intimate, functional and comfortable living space with built-in benches, shelves and a wooden deck. The tree house is decorated with meaningful photos and sentimental objects, offering a true retreats in the woods.
A spiral staircase designs leads to a hinged window for scanning the forest scenery. A top-hinged window opens allowing to water a house plant on a ledge outside.Located deep in the woods, the HemLoft treehouse features a sliding glass door to the wooden deck, where the owners cook meals and enjoy the views of the forest.
Unique treehouses in Sweden merging eco exterior and interior design with pine trees
Unique tree house designs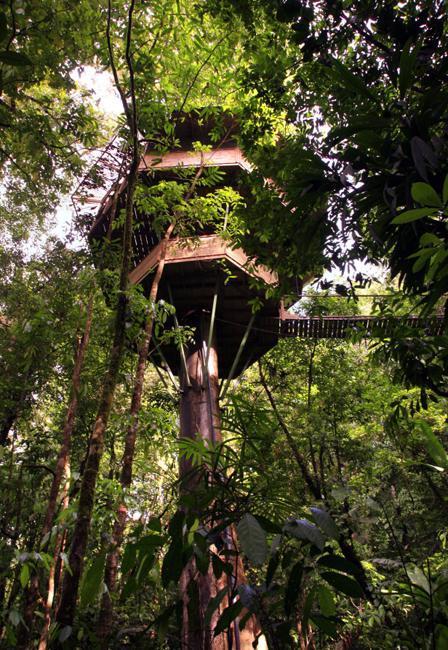 Live-In Treehouse in Oregon
The live-in treehouse is built by Oregon-based company Greenwood Engineering and designed by architect Charles Greenwood who spent 12 years building treehouses for others.In 2006 he took some engineering risks by building his own live-in treehouse supported by poles. The studio living space is fully equipped for modern lifestyle.
The tree house design features an east-facing tea deck and a west-facing drink deck that allow to enjoy the gorgeous sunset and sunrise landscapes. The kitchen design by Charles Greenwood personalize the treehouse, adding a sophisticated space fully equipped with Corian counters, mahogany wood drawers, custom hardware and a steel kitchen hood. Simple and functional home furnishings, a quaint coffee bar and a variety of finishes bring color and spruce up tree house design created with wood.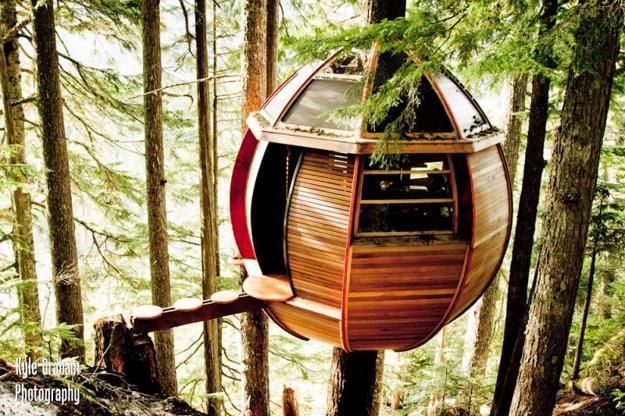 Round House design
North London based treehouse design is envisioned by Henry Durham and built by High Life Treehouses Ltd, www.highlifetreehouses.co.uk. The tree house is known for classical architectural hallmarks, enhanced by various wood tones and gorgeous architectural details. Found throughout Europe, octagonal or round treehouses look beautiful and unique.
Shanty Treehouse
Created by Henry Durham of High Life Treehouses Ltd., the Shanty Treehouse shows off n amazing vibe, stunning two level design and fabulous decor. Tartan-covered cube ottomans, an antler sconce and a makeshift fireplace create cozy and unique living space. The wooden walls show beautiful natural texture connecting the living spaces to the nature. The second-level loft adds a playful place to original and creative tree house design.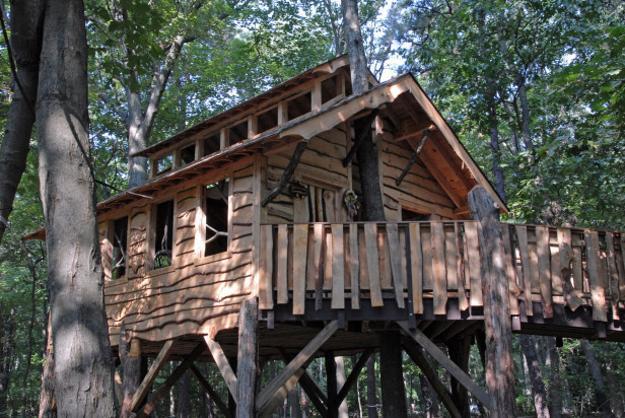 Reclaimed Wood Treehouse
Susan Fairbanks LeCraw completed her amazing treehouse design a decade ago when she was living in the Southern city. Located close by the governor's mansion, it perches over a lush fern garden and looks fabulous in all seasons. Constructed entirely of salvaged wood and reclaimed materials, the tree house feature 25 windows that brighten up home interiors and beautify wooden walls. A bridge from the main house extends to the space, where an upstairs loft has a king-size bed which extends, offering a comfortable place to sleep.
Modern tree house designs bringing back romantic backyard ideas
Two floor kids tree house design, inspiring DIY backyard ideas
The tree house decorating ideas are romantic and feminine. With handmade pillows and curtains created by LeCraw from collected home fabrics, the living space feels like home. Sunlight streams through its numerous windows, creating intricate shining patterns on tattered rugs, antique quilts, wicker chairs, stained glass. Shabby chic decorating with a sofa bed, mosaic tables and Moroccan lanterns add eclectic vibe to tree house decorating. Enjoyed by children as much as the adults, the fanciful tree house design invites gatherings morning till night, season by season, providing beautiful and intimate living space.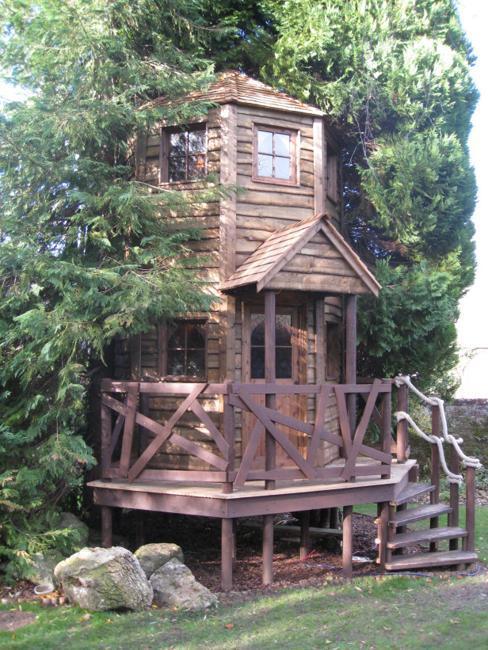 Cedar Shake Treehouse
Photographer, designer, artist, industrial designer and handyman Nelson Chan of 2Chan Design designed this stunning treehouse, located in Oakland, California. He got the job on referral from fellow builder John Lionheart, and designed it with cedar siding and a wraparound deck.
Treehouse for All-Ages
Built in Oakland, California, this treehouse is great for all ages. Built by treehouse newbie Nelson Chan, the tree house features a built-in bench, a skylight and a deep window sills that makes the 6 x 7 foot living space appear more spacious and bright. Simple home furnishings, a table and chairs for coloring, a camping lantern, make it feel like home. Painting clouds onto the ceiling and built-in storage shelves that the owner plans to add will improve the tree house design and make the living space charming and more functional.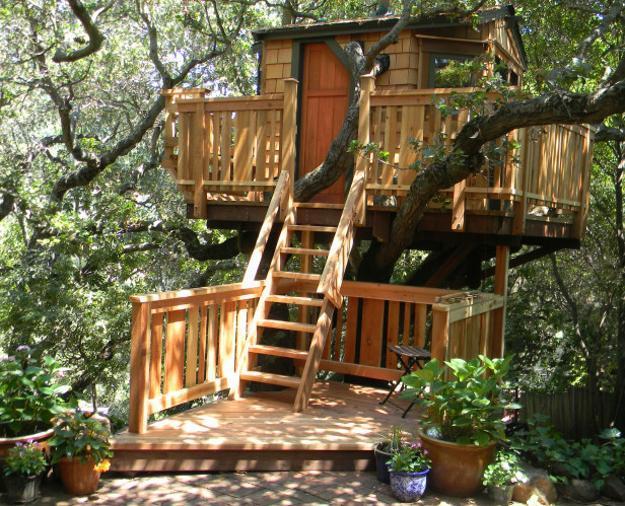 Brooklyn treehouse
Artist Alexandra Meyn built this treehouse behind her Bedford-Stuyvesant, Brooklyn home on a small budget. $400, which encouraged her to be creative and resourceful. Salvaged wood and recycled materials were used in abundance for building and decorating this treehouse. The porch of the treehouse provides a fabulous hangout spot, decorated with used rocking chairs, dangling window frames, radial floor boards, an elegant second-hand table and a lighting fixture designed from antique ice block tongs. A sturdy ladder leads to the upstairs lounge.
Castle like treehouse design in Texas featuring charming vintage decor
DIY tree house design allowing to watch nesting birds
Colorful aesthetics take center stage, creating a beautiful room for sleeping, working, reading or relaxation. Attractive prints, pink floral fabric walls, a vintage coffee table, lace draperies, string lights, crafts and candles create charming, spectacular and cozy living space.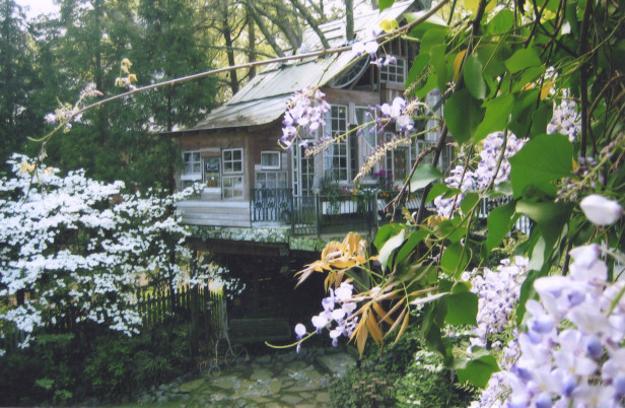 Jungle tree house design
Located in Costa Rica, this fabulous residence is called El Castillo Mastate. The rounded structure is outfitted with tiger strand. Its bamboo floors, a platform bed, tiki-style woodwork, a vessel-sink vanity with a seashell faucet and tropical shades in red and green colors creates exotic and romantic living spaces available for renting.
Tropical treehouse
This treehouse is located in Finca Bellavista, a sustainable treehouse community in Costa Rica. The 600-acre property with lush vegetation features private treehouses connected by bridges and zip-lines. Its owners rent out their unique and romantic living spaces of the fine Shangri-La Resort nightly or weekly.
Unique treehouse exterior design ideas

Treehouse interior design ideas

Red Creek House is built on the shores of the picturesque Peconic Bay in Long Island in California. The fabulous, luxurious...