Spectacular Gazebo Design with Glass Floor in Dining Area

Decorating Ideas

Outdoor Living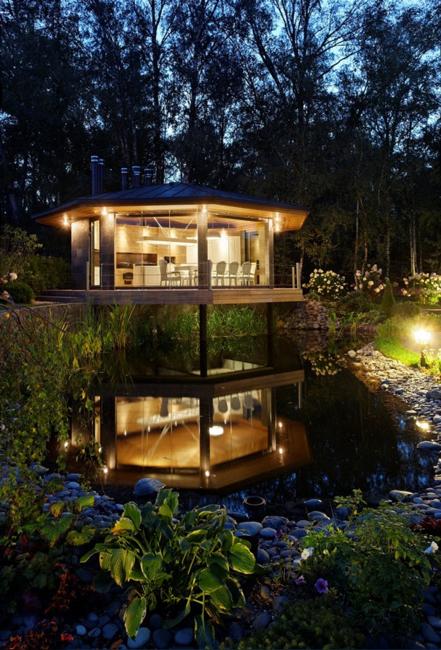 Garden gazebo with lighting
VALENTINES DAY IDEAS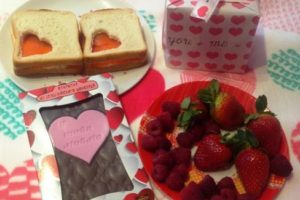 A glass floor is an original and fabulous idea that can add character and futuristic vibe to gazebo designs, create stunning summer kitchens and dining areas raised above beautiful rivers, waterfalls, lush hills or ponds. Lushome presents a luxurious gazebo overlooking the water. It serves as a summer kitchen and has a beautiful dining area with a glass floor.
Space saving layout, glass elements, white colors and natural wood turn the outdoor kitchen into a luxurious, bright, and exclusive place to spend time with family and friends. Small spaces are not a problem for creative yard and gazebo designs. Raising the structure above the ground allowed developing the fantastic solution and add visual interest to the backyard landscaping.
Glass walls improve the functionality of the garden gazebo and allow using the interior a year around. The pond and green surroundings look picturesque any time of the year providing gorgeous views from the contemporary kitchen and dining area.
Fabulous outdoor home theater with a fireplace and a glass canopy roof
Beautiful fences and wall design ideas
Outdoor kitchen wrapped in glass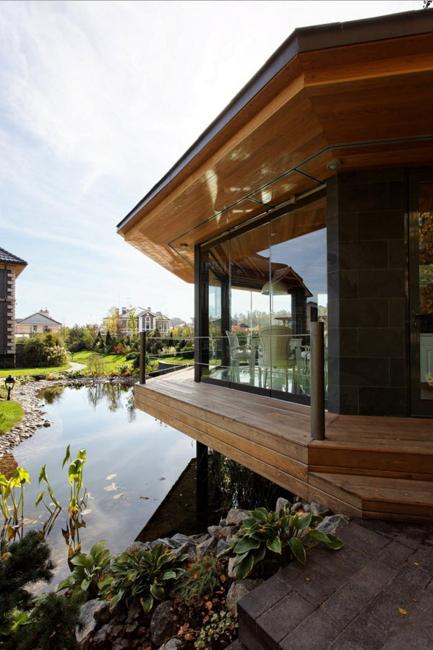 Perfect for entertaining the outdoor kitchen looks beautiful. Glass walls and white kitchen furniture add brightness and lightness to the interior design. Panoramic views are breathtaking. The wooden structure blends harmoniously with the garden utilizing less appealing parts of the little pond.
Expensive design materials, elegant details, and soft curves create a classy look and blend the luxury and functionality of the outdoor kitchen. Glass floor is an original, unique, and chic element of the gazebo design that can surprisingly entertain kids and adults.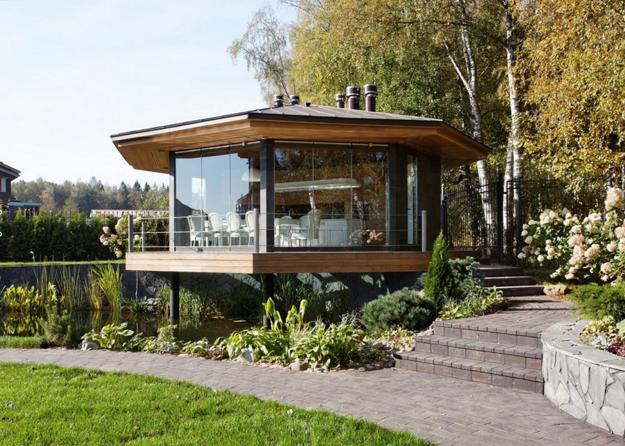 1. Interior design
Gorgeous wooden ceiling, lighting, and glass floor under the dining table create this exclusive addition to the garden which brings a fusion of styles and novelty into the luxurious and contemporary design.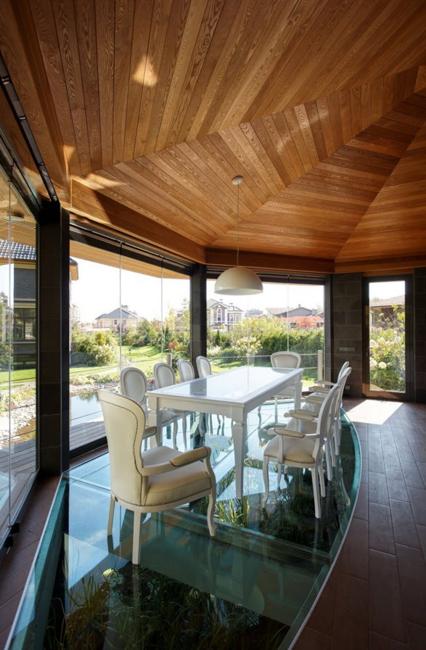 The outdoor kitchen is inspired by classic gazebos overlooking lakes and rivers. All design elements come together to emphasize the harmony of the organic design ideas and enhance the natural appeal.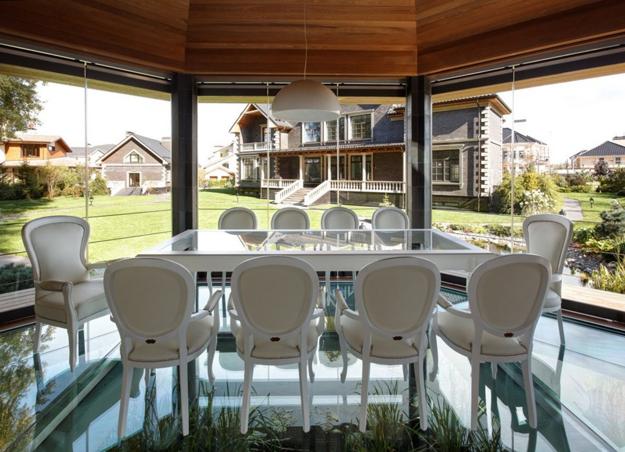 2. Lighting design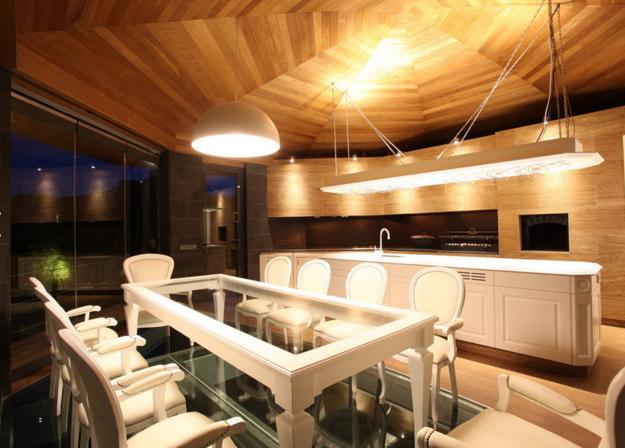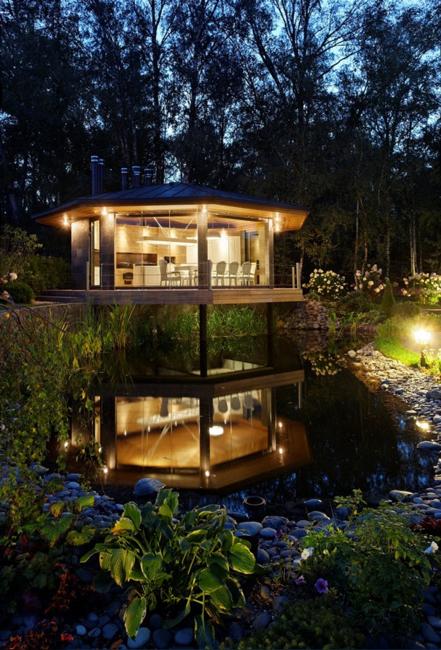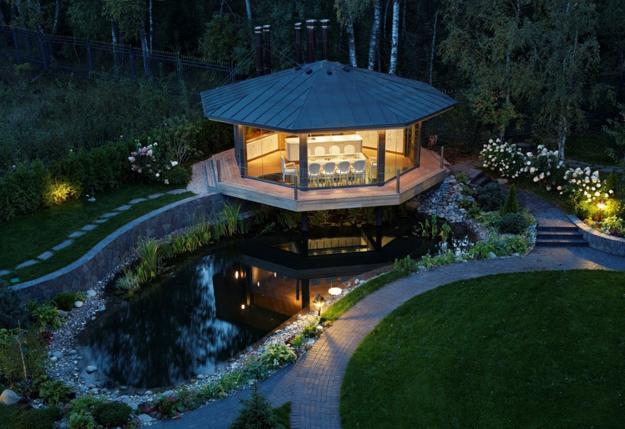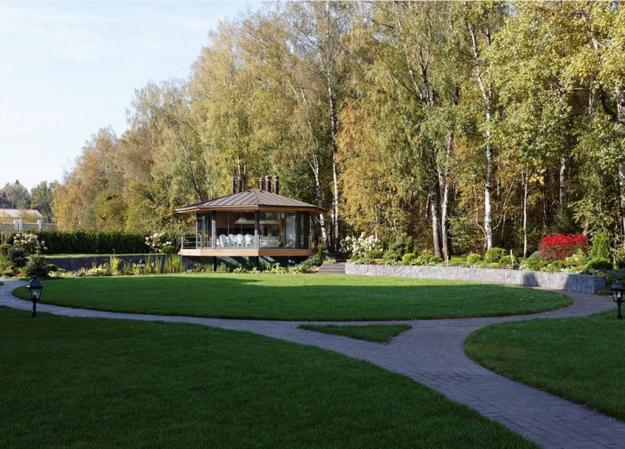 Outdoor rooms with fireplaces are a beautiful trend in creating comfortable outdoor living spaces that stretch home interiors, make houses feel...