Blue and Purple Flower Arrangements, Symbolic and Elegant Table Centerpieces
---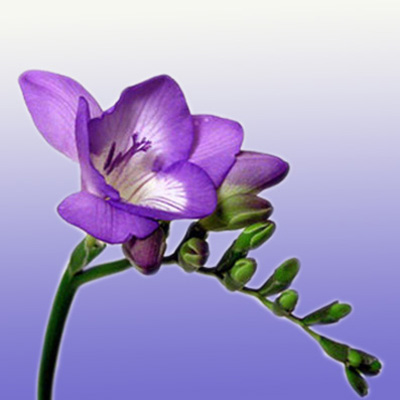 Two beautiful flower arrangements, made with freesia, orchid, astrantia and muscari flowers look gorgeous. Professionally designed flower arrangements offer elegant table decoration and striking centerpiece ideas for special events. White, blue yellow and purple flowers create a charming color combination that can be used as an inspiration for holiday, birthday or wedding table decoration.
The first flower arrangement with a green ball with chopped leaves  in the center looks youthful and energetic, adding more texture to table decoration. The creative and playful flower arrangement with orchid and freesia flowers makes a great, unique and stylish table centerpiece.
The second flower arrangement, that includes an ostrich egg, decorated with grape hyacinth flowers in tender blue color look more formal, symbolic and impressive.
Yellow and purple flower arrangement, table decoration with orchid and freesia
Graceful flower arrangements for spring decorating
Beautiful flowers for table decorations, orchid and freesia flower arrangement from M. Kozhuhovski, florist
The first flower arrangement, designed with chopped green leaves, white orchid, yellow and purple freesia flowers, will add joy and playful mood to festive holiday table decoration. The second table centerpiece, created with charming astrantia and muscari flowers will add calming blue and green color tones to more formal table decoration.
Blue and purple flower arrangements are low and will not interfere with conversations at the table. Shiny glass texture, combined with flowers and green leaves look striking and harmonious. Sunny yellow flowers add warmth to light purple, blue, green and lilac colors, creating balanced and very decorative table centerpiece.
Blue flower arrangement, table decoration with grape hyacinth and great masterwort
Meaningful table centerpiece ideas, pale blue-purple flower arrangement for special event and holiday table decoration
Metal texture of candle holder, combined with soft and beautiful flowers add luxury and mystery to holiday table decorations, offering glowing centerpiece ideas. The flower arrangement is made with great master wort and pale blue grape hyacinth flowers that feel calm and solemn.
Modern flower arrangements, unusual table centerpiece ideas and gifts
Edible flowers for blooming table decoration
An ostrich egg  is a curious, impressive and symbolic ornament, common in ancient cultures. Greeks and the Muslims used an ostrich egg for decorating their religious buildings. An ostrich egg is the symbol of resurrection and life. The egg is the natural symbol of creation also.
All holidays and special events have their unique flavors and meaning. A ball, the central element of composition, is the symbol of the future, while the cross is the symbol of the past. Holiday table centerpieces and flower arrangements, that include a ball, add the symbol of Providence, eternity and power to table decoration.
Organic flowers for dinner table decoration
Edible flowers for romantic table decoration
Holiday table decorations with a ball in the center imply stability and happiness, while decorating with tender petals of yellow and purple flowers add beauty and style, creating meaningful and charming flower arrangements for special events.
by Ena Russ
last updated: 01.12.2011