South Yarra Pool House Design Offering Open Architectural Interiors, Modern Houses
---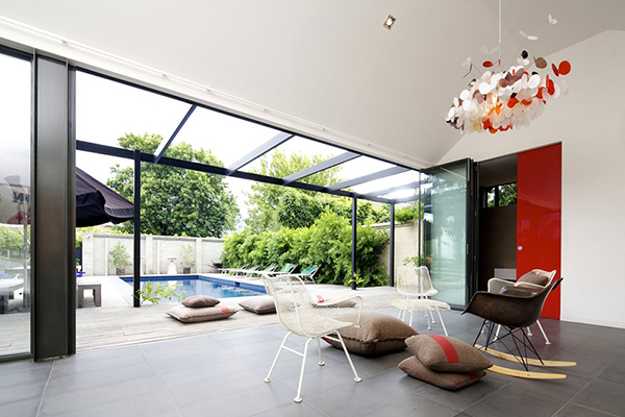 Glass wall design, modern living room with floor cushions
South Yarra Pool House design demonstrates open living spaces merging beautiful outdoor rooms with modern home interiors. Spectacular architectural design features a large deck, stretched to a terrace with a swimming pool, and offers bright and modern interior design with huge glass walls.
The modern house was built in Melbourne, Australia and designed by architectural studio Artillery www.artillery.com.au . The modern house exterior and interior design ideas, natural materials, elegant architectural features and glass wall design are combined into a gorgeous contemporary home that provides a unique place to live.
Attractively open indoor and outdoor living spaces create a sense of freedom, while offering enough privacy for complete relaxation. The living room design with a huge glass wall is enriched by a beautiful view of the trees, attractively-lighted deck and swimming pool, adding a romantic feel to this pleasant, welcoming and modern house design.
Open modern house design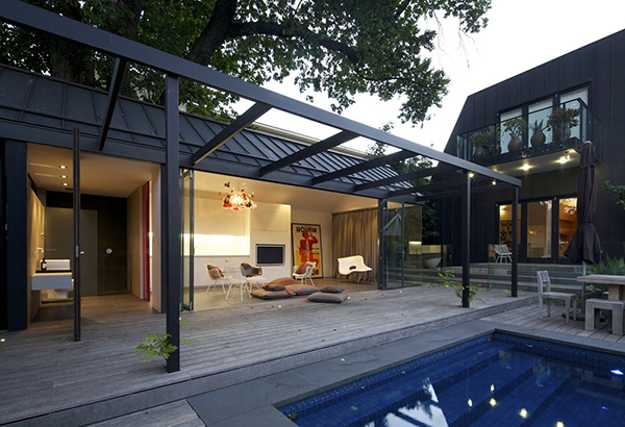 Interior design explores decorating with glass and develops the theme of the freedom, functional luxury and relaxation. Decorative cushions on the floor provide an alternative seating area. Combined with traditional chairs, large pillows make living room design look inviting, comfortable and clutter-free.
The modern house is furnished with furniture and decor accessories collected by the owners while living in New York. These home furnishings add comfort and a cozy look to modern interior design, spiced up by meaningful and unique items.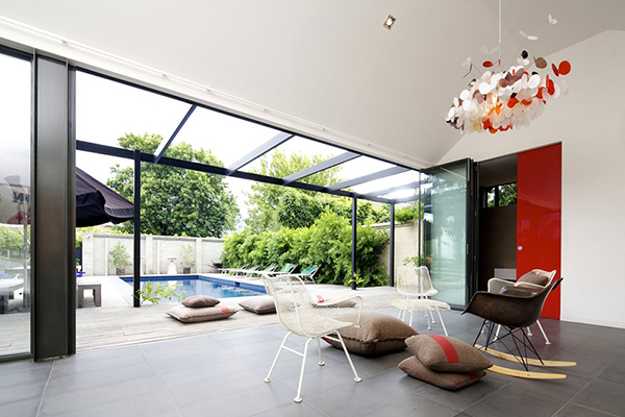 The amazing glass wall design with folding and sliding glass panels merges the living room with the outdoor living spaces, stretching interior design to wooden deck, terrace and stone patio around the swimming pool, increasing the living area and creating a functional and stylish, welcoming and modern architectural design.
Luxurious glass house with impressive glass walls and lighting design
Modern house with glass walls and rooftop terrace
Spectacular glass wall house design, modern houses
Glass wall design and eco decor in Japanese style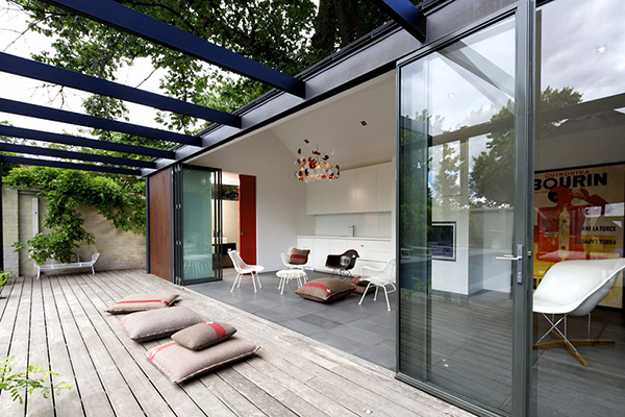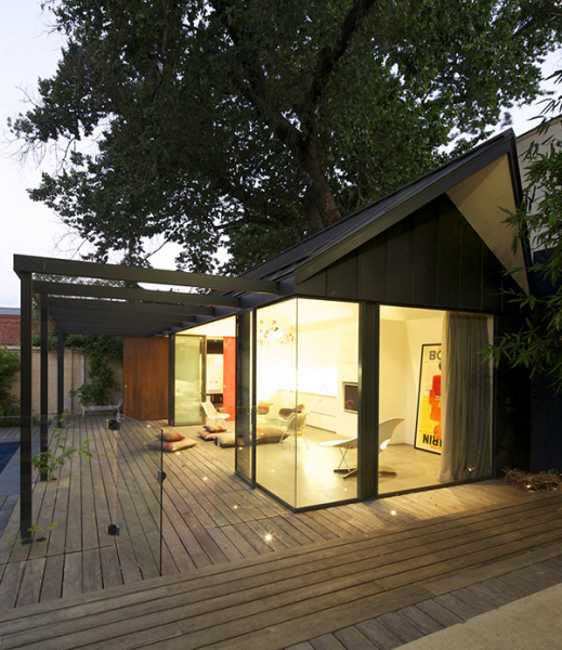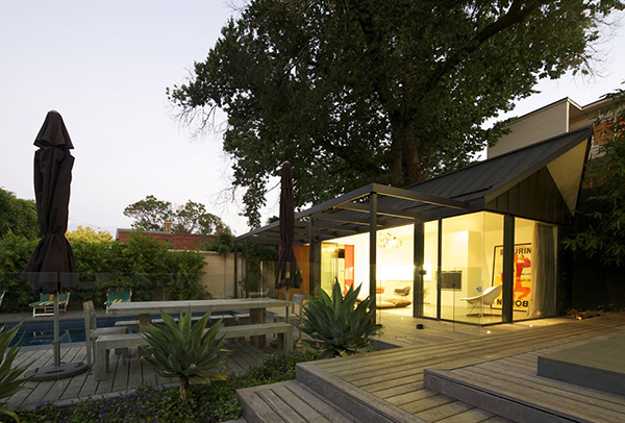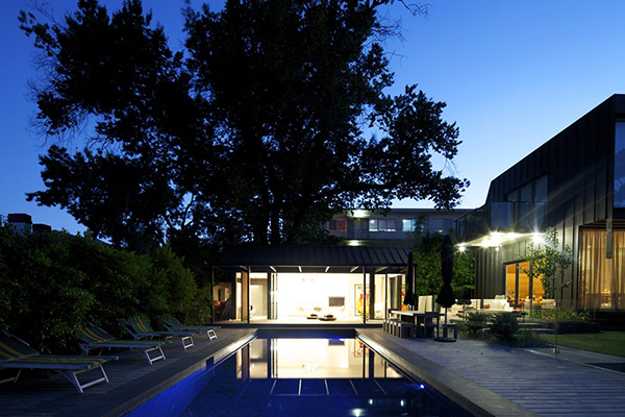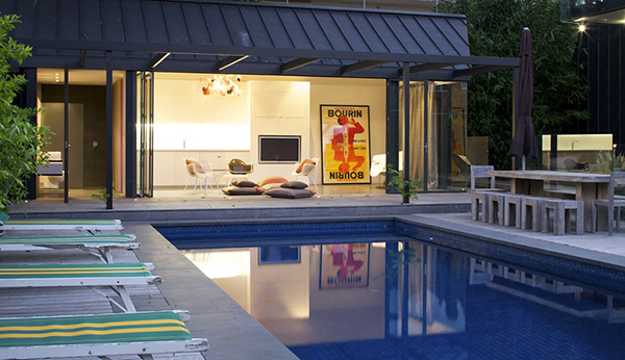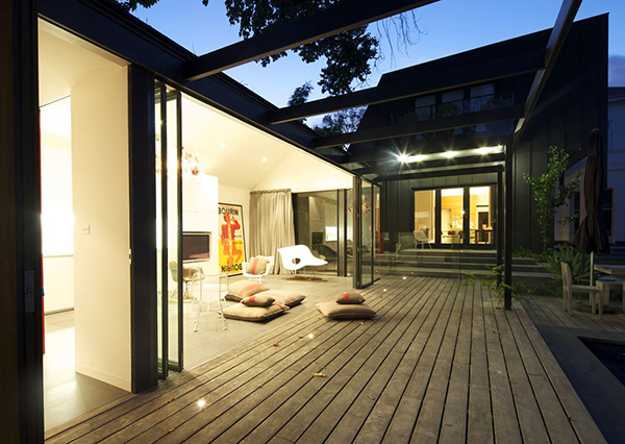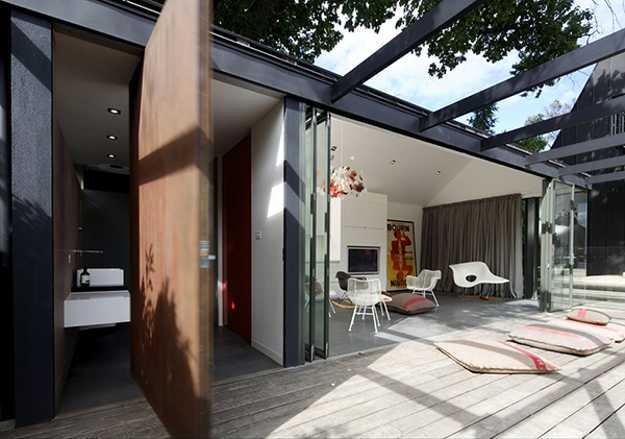 by Ena Russ
last updated: 07.06.2016