Glass Wall House Design, Leschi Residence in Seattle, Modern Houses
---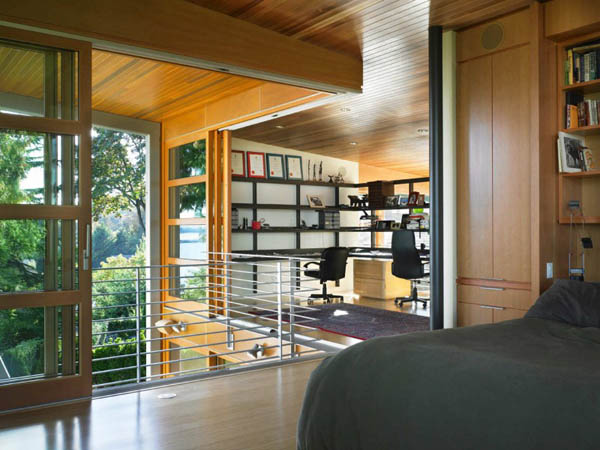 Home office and master bedroom, two story modern house design and home staging
The contemporary family home with unique house exterior design and spacious interiors is located in Seattle, USA. Leschi Residence is a two story house on the lake with large windows, beautiful views and spacious interior design.
Modern house design project from Seattle based studio Adams Mohler Ghillino Architects, www.adamsmohler.com/ is a contemporary home that features a sliding glass wall design and large windows, a contemporary home office on the second floor and large master bedroom with built-in wooden cabinets.
Glass and wood, steel and concrete create the calming color palette for modern house exterior, brightened up with green plants and grass. Warm wood floor and ceiling, modern furniture, decor accessories and lighting fixtures in rich colors add bright accents to stylish interior design and create pleasant atmosphere.
Home redesign ideas, House A Design, apartment ideas
Organic design and decor, modern kitchen and bathroom remodeling ideas
Decluttered and spacious home interiors look welcoming. Strategically places decorative accents, a kitchen towel, unique carved wood bowls and a fresh bouquet of roses bring the attention to the center of the house, modern kitchen design with a fabulous large dining table.
Simple and elegant interior decorating ideas, neutral and warm room colors, few stylish accents and lots of natural light that create a universal appeal are ideal for home staging that emphasizes the architectural features and welcome potential buyers.
Modern house design description from the architects
The 3300 SF residence occupies an irregularly shaped, sloping urban lot overlooking Lake Washington with diagonal views of the Cascade Mountain Range to the Northeast and Southeast.
The program includes an open living/dining/kitchen space, master bedroom and study, children's bedrooms and bath and garage and pantry space. The client also requested a semi-detached guest quarters and a covered, outdoor living space that would not block natural light to the main floor of the house.
The house responds to its site through a play of solid and open corners and a transformation of scale from the street to the rear yard. It is comprised of three parts – a cast-in-place concrete garage, the three-story block of the main house and the single-story, semi-detached guest quarters.
The garage anchors the house to the northwest corner of the site while the semi-detached guest quarters is perched above, cantilevering out to create a covered walk to the entry. The main block occupies the opposing corner of the site. Its southeast corner has been entirely removed and replaced with a thirty-foot tall tube steel bracket that supports the sheltering roof above.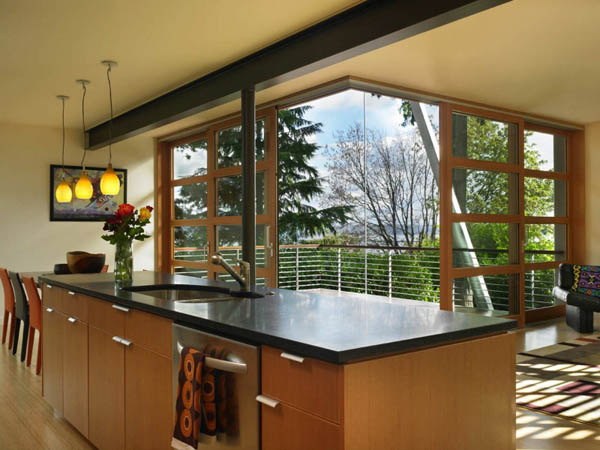 A steel and wood framed deck is literally suspended from the bracket by a 1″ diameter steel rod. The main and upper levels open to the resulting two-story space with 14 foot wide lift & glide glass doors allowing the house to spatially expand and contract in response to the seasons.
The southwest corner of the lot forms a garden adjacent to the entry walk. The corner of the house facing this garden is also glazed and contains an open riser steel stair that 'floats' within it, providing the sense of passing through the garden as one ascends and descends. The entry garden and modest scale of the garage and quest quarters are an appropriate response to the scale of the street and in dramatic contrast to the spaces beyond where one lives 'in the trees.'
Modern houses and interior decorating ideas for home staging
Modern houses and interior design ideas, Kennedy Residence Boulder
Canadian house designs, Mosewich house
Photos via Adams Mohler Ghillino Architects
by Ena Russ
last updated: 21.02.2012