Modern House with Glass Walls and Rooftop Terrace, House R Design by Roger Christ

Interior Design Ideas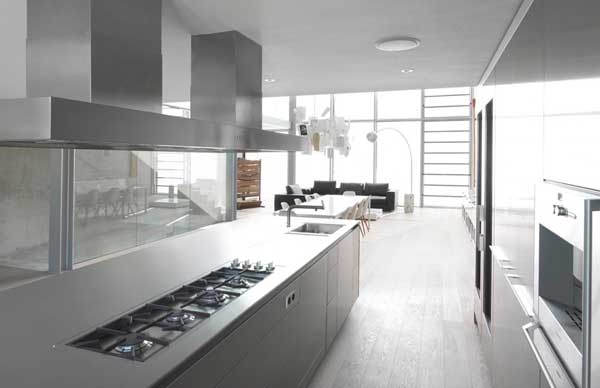 Contemporary kitchen design ad living room with glass wall
decorating with glass

House R is an elegant modern house with a rooftop terrace, providing ​​over 455 square meters of beautiful, comfortable and bright living spaces. This modern house is designed by German architect Roger Christ and built in Karlsruhe, Germany.
Contemporary house exterior design with a rooftop terrace and modern interior design ideas, including glass wall designs, are very attractive and inspiring, bringing stylish ideas for new house design or old home redesign. This modern house offers a pleasant blend of bright interior design, functionality and comfortable atmosphere that is wonderful for a family and guests.
The modern house design by architect Roger Christ, www.christ-christ.cc/ features an elevator, but also each floor is connected with staircases with glass walls, that add more charm to contemporary home interiors, creating airy living spaces with glass wall designs.
Canadian home with dramatic view terraces by Mark Boutin Architectural Collaborative
Glass house design with indoor garden by Ryue Nishizawa, green ideas for modern eco homes
Contemporary home with rooftop terrace and glass walls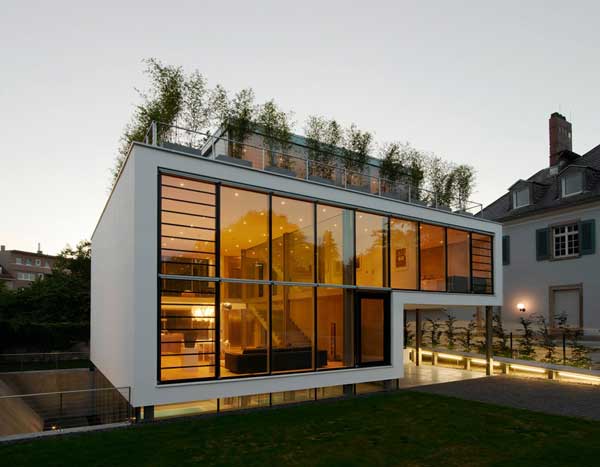 Excellent natural lighting design is achieved through a light shaft on the ground floor with an indoor pool and guest rooms. Large windows and double-height ceiling create bright and spacious modern interior design and offer welcoming and comfortable living room, kitchen, dining room, study and bathroom.
The attic floor with a flat roof and floor to ceiling windows is a private living space that overlooks the three sides. This floor with a large terrace is perfect for a fabulous master bedroom with a bed, sink, bathtub, shower and dressing room.
Contemporary kitchen design and living room with glass wall and double height ceiling
Gorgeous and luxurious modern house design offers a functional, contemporary and large living space for a family for stylish and comfortable country living lifestyle.
Modern house design and interior decorating ideas, Oikia Panorama Voulas in Athens
Super modern house design, contemporary chalet in French Alps
Attic bedroom with large rooftop terrace and glass wall designs

Modern house design in Japanese style celebrates the functionality and elegance of minimalism. Airy, bright rooms look inviting and comfortable. Natural...
and enjoy free articles sent to your inbox