Pirate Ship Play House Design Adding Fun to Kids Backyard Ideas

Decorating Ideas

Fun Rooms

Outdoor Living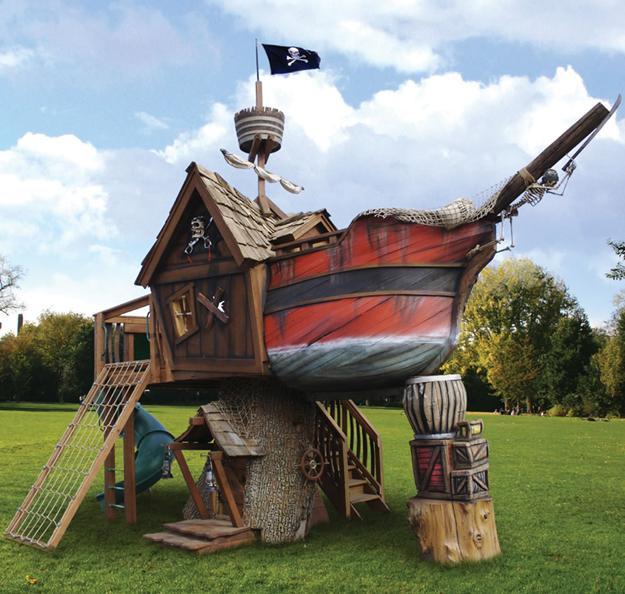 Creative kids backyard ideas, the Pirate Ship playground design
kids playroom ideas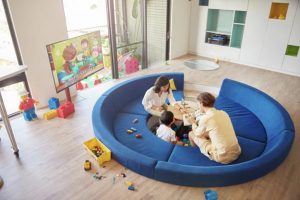 Creative kids playroom ideas can inspire wonderful play house designs and add more interest to backyards in summer. The Pirate Ship play house design offers a wonderful play area right on your lawn, adding more joy to summer fun. Little kids will love the Pirate Ship playhouse from Hammacher Schlemmer, www.hammacher.com/ which make a fantastic addition to backyard designs and gives a great inspiration for your own backyard ideas and playful decorating themes.
The play house design features classic Pirate themed decor. The towering ship house looks like a tree house with a bow and a balcony, inviting to play and have fun. A corkscrew slide and a fireman pole add extra excitement of having a Pirate ship in your backyard. Fir wood framing and non-toxic paint help to craft the Pirate Ship into a playful, interesting and unique yard decoration.
The wooden play house design is 23′ high. Made of cedar and redwood exterior design looks classic with pirate-age decorations, – a cutlass-bearing skeleton lashed to the bowsprit, a boarded-over cannonball hole, crossed bones that form a window pane, and a crow's nest with Calico Jack Rackam's Jolly Roger flag.
The Pirate Ship play house design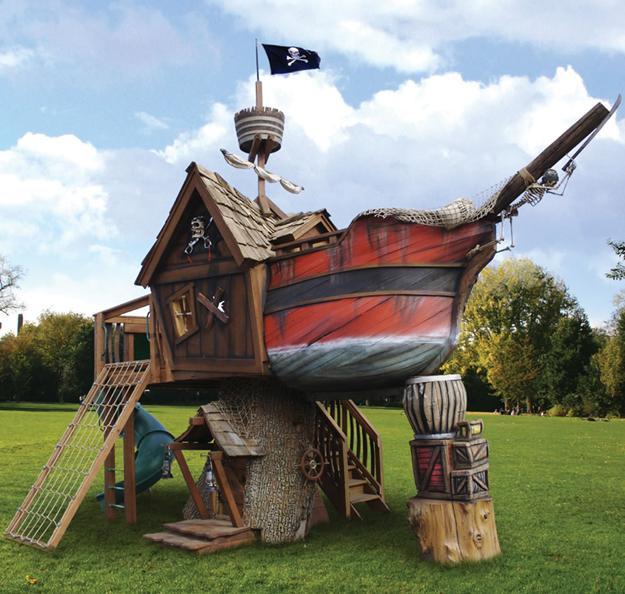 The Pirate Ship costs $27,000 and the high price can spark some creativity for your own, less expensive version for your backyard design, turning your outdoor living spaces into a kid-friendly, stimulating imagination and inspiring places.
The playhouse rests on a real hollowed-out 5′ diameter tree trunk equipped with a ladder. A climbing net and a staircase offer other ways to get aboard this ship. Once aboard, the ship's bow, ship's castle, and the balcony all serve as play areas.
Castle like treehouse design featuring charming vintage decor
DIY tree house design ideas allowing to watch nesting birds, great backyard ideas
All interior areas are framed in fir wood. A corkscrew tunnel slide extends from the balcony affixed to the stern and a fireman's pole extends from the bow, facilitating easy ship abandonment. Decorated in non-toxic paint that withstands exuberant play and harsh weather for years the play house design is 26′ L x 11′ W x 23′ H and weighs 12,000 lbs.
DIY Pirate Ship play house designs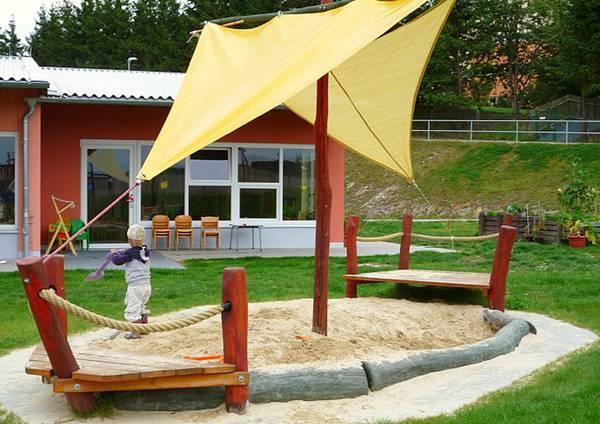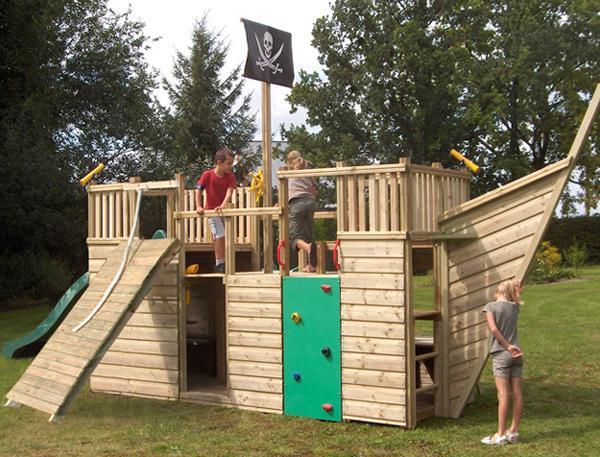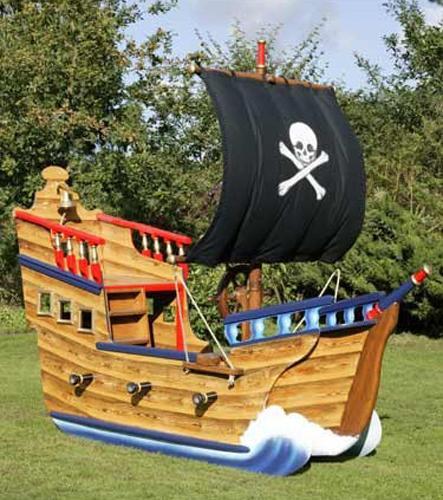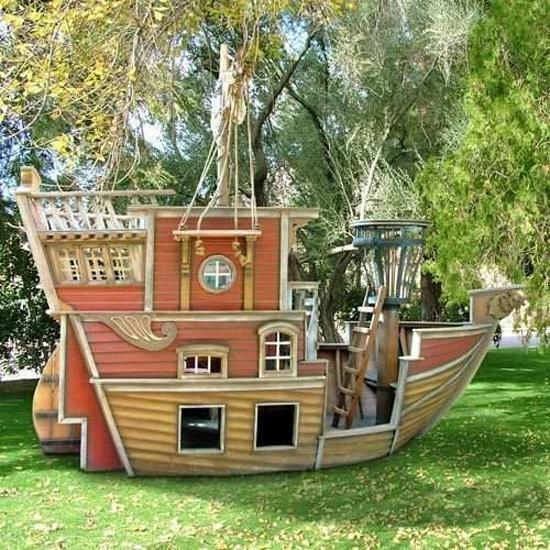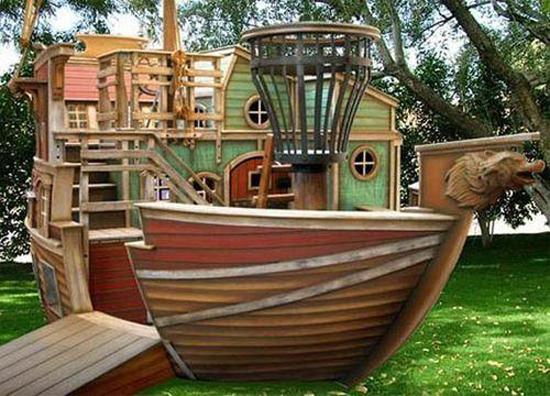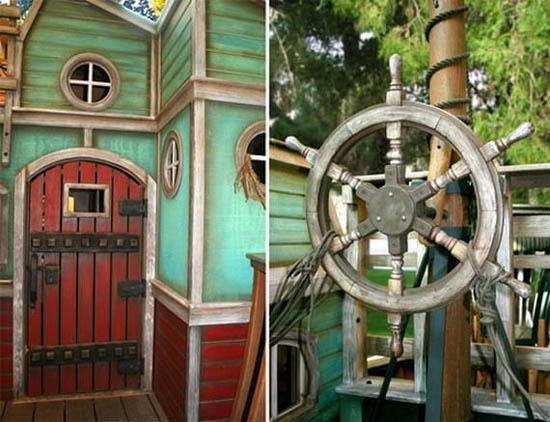 Colorful handmade birdhouse designs look beautiful on green branches and garden posts. Creative painting ideas turn wooden birdhouses into bright yard...
and enjoy free articles sent to your inbox