Optimistic Kids Room Design for Two Boys by Geometrix Design Studio

Decorating Ideas

Interior Design Ideas

Kids Rooms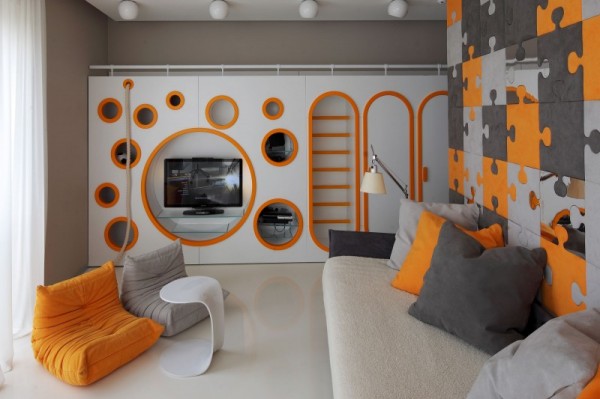 Playful and bright kids room design ideas
kids playroom ideas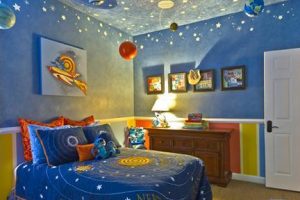 Kids room design ideas, developed by Russian architectural studio Geometrix Design are creative and bright, blending innovative kids room decorating solutions, bold and sunny interior decor accents, modern lighting, glossy paint, mirrored surfaces and playful furniture with comfortable furnishings, neutral colors and traditional kids room decor.
Kids room design feels dynamic, optimistic and engaging. Various functional and playful elements of this kids room design encourage children to climb and jump, adding lots of fun to kids room decorating ideas. Wall decoration with puzzle pieces looks interesting and stimulating also.
These functional, cheerful and very decorative kids room design ideas will be appreciated by two boys, sharing this living space. Rich yellowish orange color accents, playful puzzle decoration pattern, attractive lighting fixtures and lots of day light make kids room design feel cheerful and energetic.
Kids room design, 5 basic decorating principles
Kids room decor, playful furniture design for children
Two boys bedroom decorating ideas
Playful and bright kids room design ideas
Unusual storage spaces and shelves are created in rounded wall niches. Playground equipment is attractively incorporated into kids room design. Puzzle pieces on walls, decorative pillows and details in wonderful yellowish orange color look gorgeous in the combination with fresh white and classy gray color tones.
The vertical ladder, hidden in the closet, is the most playful and attractive element of this kids room design. The vertical ladder is a perfect item for exercising and an exciting toy that makes games more fun. Painted bright and warm yellow-orange color, the ladder attracts the attention, setting the playful mood in the room.
Optimistic yellow-orange color for boys bedroom decorating
Interesting and creative kids room design features the TV watching  and game playing area with two comfortable modern chairs, perfect for kids room decorating, two cosy places for reading and sleeping, and the studying zone, ergonomically located near the large window.
African decorating theme, 20 kids room decorating ideas
Modern furniture for kids, top 15 creative tables for kids rooms
Few elements of wall decoration are made of mirrored glass to bring more light inside and increase the size of the kids room visually and create playful reflects. Although the glass decor items are not the safest idea for kids rooms, the wall decoration with mirrored, orange and gray puzzle pieces look attractive, bright and unique.
Two boys bedroom decorating in gray and orange colors
Positive and energetic yellowish orange color is ideal for kids room decor accents. Combined with white and various shades of gray colors, puzzle pieces construct unusual and beautiful wall design.
Modern kids furniture, playful kids room decorating ideas
Kids bedroom ideas for two, pink and blue color schemes
A mirrored puzzle pieces catch and reflect light and every movement, adding energy and dynamics to kids room design. When the boys grow up, some of puzzle pieces can be removed and replaced with different wall decor items they like, giving more personality to boys room design.
Bright two boys bedroom decorating and creative storage ideas
Geometrix Design Studio, www.geometrix.ru/ projects start from a cup of coffee or tea and a discussion of their clients preferences. Creating very personal, comfortable and unique room design and paying the attention to detail are the motto of the team of two young designers from Russia.

Here are great ideas for kids toys storage and wall decoration with small cars that everyone would love. DIY organizers, like...
and enjoy free articles sent to your inbox