New Italian Kitchen Design Personalizes and Declutters Modern Kitchens
---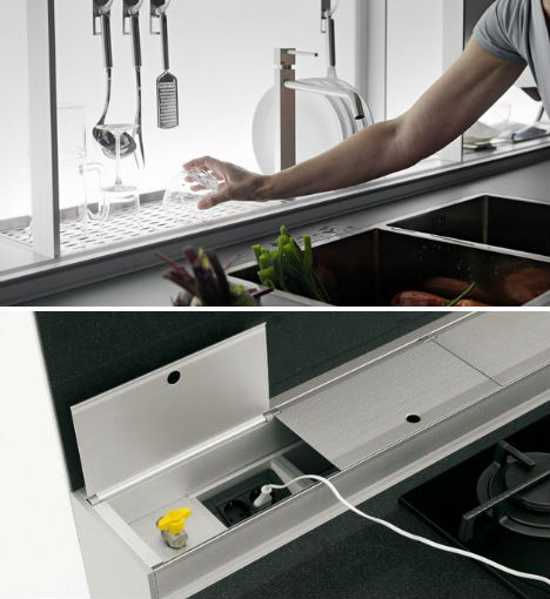 Glass kitchen shelves and unique storage spaces
New Italian kitchen design offers comfortable contemporary kitchen storage, perfect for organizing everything you need in a kitchen. Beautiful look add charm to convenient kitchen shelves that allow personalize and declutter kitchen design, creating attractive contemporary kitchen interiors with appliances and cooking tools and kitchen accessories at your fingertips.
Italian kitchen design in contemporary style provides efficient storage and organization that let you hide all utensils and appliances quickly out of sight, improving a small kitchen design with multifunctional surfaces and convenient storage spaces. The Logica Kitchen System by Italian kitchen design company Valcucine offers a multifunctional working place for absolutely any cooking task you can think of. Sliding electrical cord systems for small appliances, juicers, blenders, toasters and mixers, make small kitchen design even more convenient.
Valcucine kitchen design demonstrates contemporary ways of interaction with kitchen cabinets and shelves, designed for extra comfort and functionality, and determining the best possible layout for optimal convenience and organization.
Contemporary kitchen design with unique storage and organization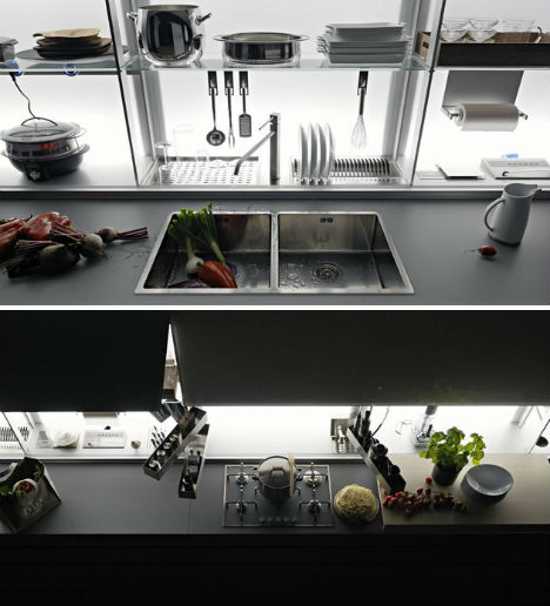 The new kitchen design ideas include work surfaces with sinks and burners, equipped with additional sections for kitchen storage. Placed against the wall or used in an island, these kitchen shelves and organizers look wonderful and contemporary.
These back sections is fitted with convenient kitchen shelves for pots and plates, knife and bottle racks, hooks for utensils. Contemporary storage spaces with glass kitchen shelves are suitable for all modern kitchens in any style.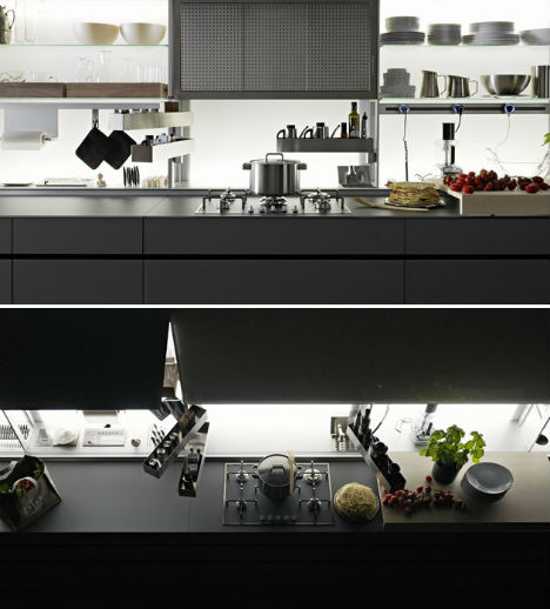 Well designed and thoughtfully organized, these small kitchen shelves and storage compartments hold all necessary items like spices and utensils. When you are not using the kitchen for cooking, you can simply pull down the sliding kitchen cabinets doors and create a clean look of contemporary kitchen that brings a n organized and clutter-free feel to your home.
Italian kitchen design, contemporary kitchen HD23 by Massimo Castagna
Contemporary kitchens, 5 models Skyline from Snaidero
Contemporary kitchen design, innovative storage furniture from Neuland
This new Italian kitchen design boast units that are personalizes, special, comfortable and stylish. Wall units and those with coplanar, sliding doors are inspired by and designed following the concept of lightness and functionality, and offer a revolutionary interpretation of contemporary kitchen design ergonomics.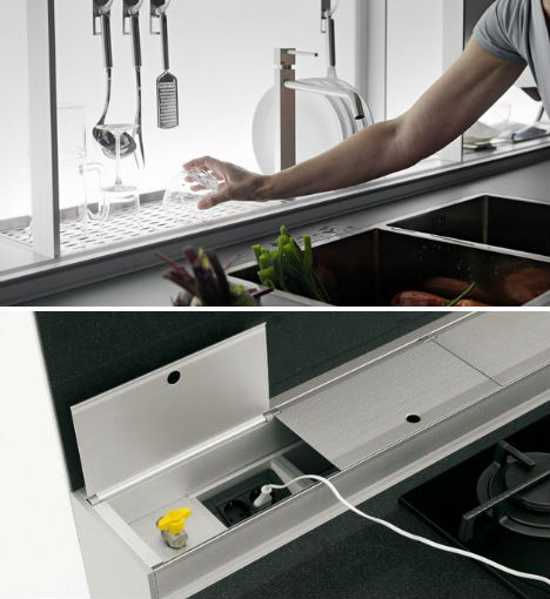 Beautiful Italian kitchen design makes it possible to harmonize the living spaces, merging small kitchen interiors with living rooms and dining areas. It is easy to personalize and make your kitchen design unique by thoughtful and artistic kitchen shelves and creative organizers.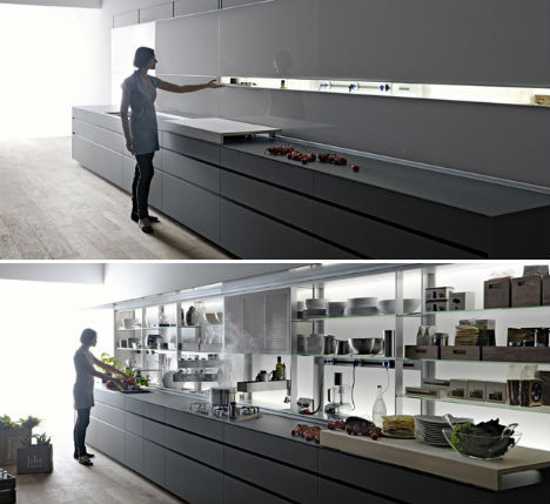 More from modern kitchens

Golden colors are the symbols of expensive, warm, beautiful designs. Golden kitchen cabinets and backsplash designs look glamorous and high-end. Yellow...