Modern Interior Design and Decor Personalized by DIY Furniture and Original Artwork

Decorating Ideas

Furniture Accessories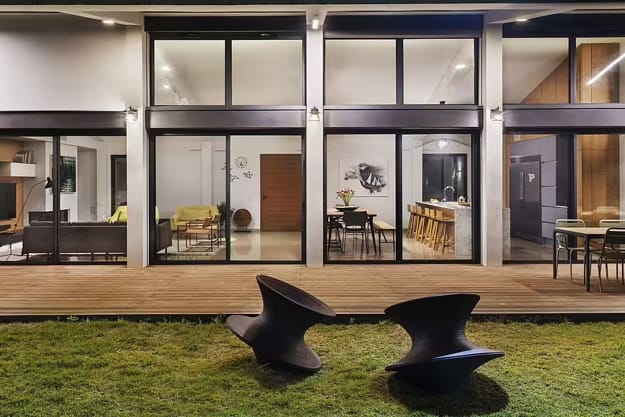 Wooden deck and contemporary yard decorations
wall decorations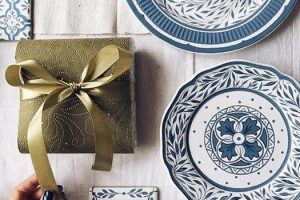 Modern interiors and beautiful outdoors make living in the countryside a fairy tale. Interior designer Keren Gans weaved elegant contemporary design, natural materials, and spaciousness with luxurious room furniture and artwork, turning this home into a gorgeous dwelling for a family of five. Imported from Europe, modern furniture and lighting fixtures organically blend with art pieces by local Israeli artists and items handmade by the property owner. The exciting mix creates unique and contemporary interiors with views of olive groves surrounding the property.
The challenge faced by interior designer Keren Gans was to create a comfortable, spacious, and contemporary home with an earthly connection. Natural interior design and decor materials, a pleasant color palette, and functionality of the bright living spaces work together to give a unique character to the modern house.
DIY furniture, 20 design ideas for your home
Recycling wood pallets for DIY furniture and home decorations
Handmade furniture to personalize modern interiors and outdoor spaces
Modern interior design and decor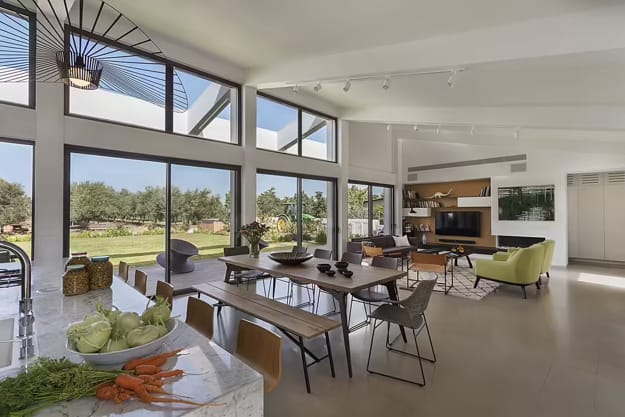 An ample space divided into three distinct areas includes the living room and kitchen with the dining area. Glass wall designs provide an endless view of olive trees and invite plenty of natural light inside. Two green sofas and one eggplant-colored sofa create a comfortable seating area with two minimal leather armchairs. Two long, narrow iron coffee tables and a neutral floor rug combine the whole look.
Benefits of adding spectacular glass elements to modern interior design
Glass-walled garage, modern interiors
Bright and modern interiors, glass floor, space-saving ideas
The minimalist dining table and bench are beautiful oak wood furniture pieces, and minimalist lighting fixtures installed in the high-sloping ceiling in the central space look gorgeous. An informal long sofa in the TV room has colorful cushions adding a vibrant touch to the functional and modern interior design. A heavy wooden desk, handmade by the owner, an iron lamp, and hexagon-shaped shelves give character to the home office.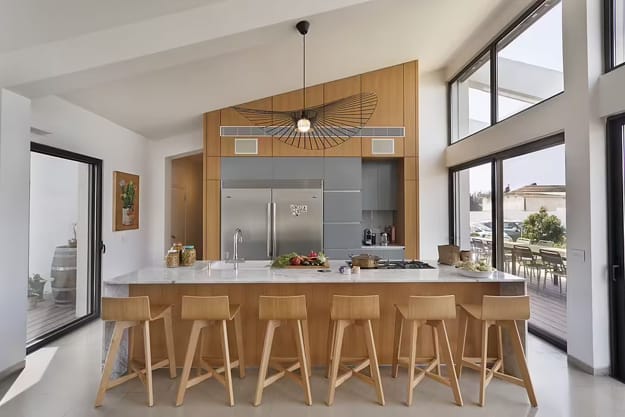 The owner's grandfather was a shoemaker, so the interior designer hung some of his old workshop tools on the home office wall, using them as meaningful and original wall decorations.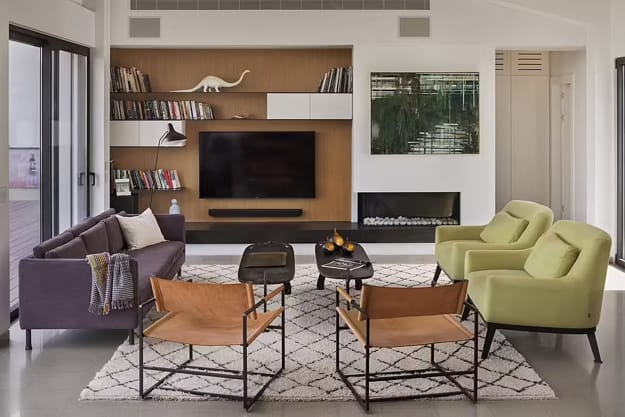 The backyard features a bamboo deck that stretches along the garden. Two long tables surrounded by mint-colored chairs pop against the neutral deck background and complement the homey feel of the outdoor seating area. Contemporary yard decorations add a fresh touch to the backyard designs and delight views with their shape and contrast.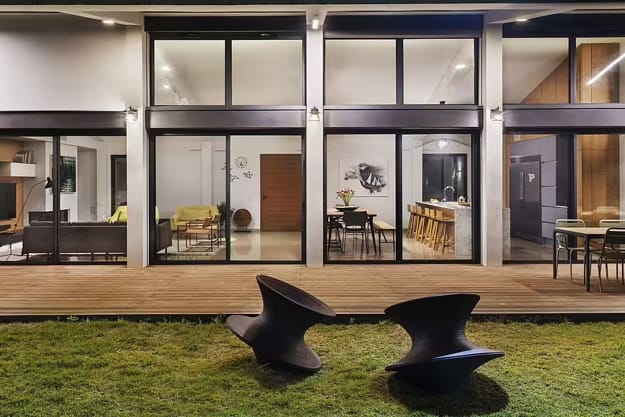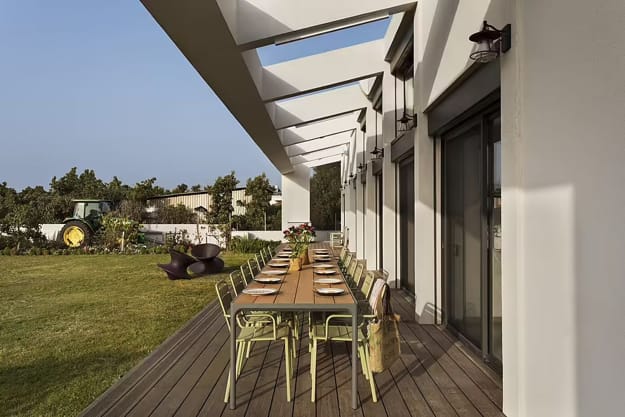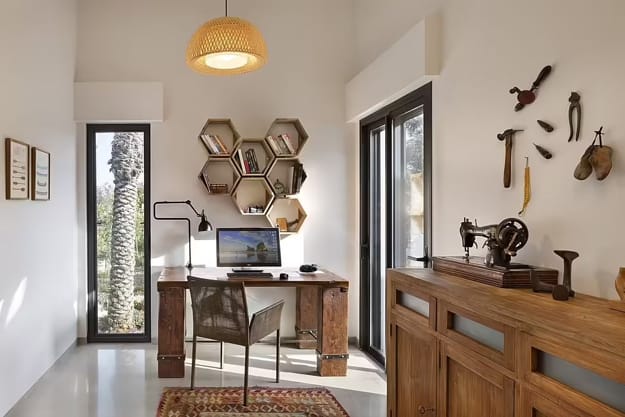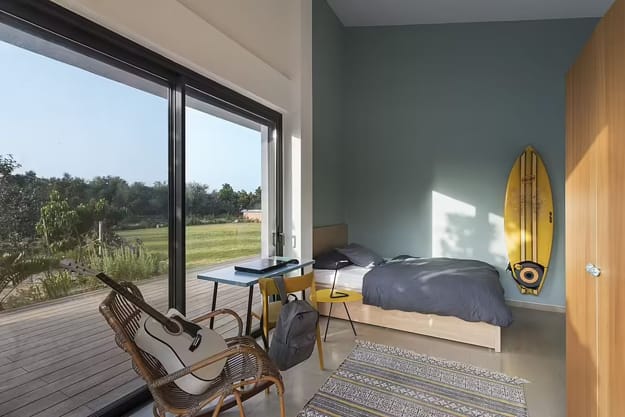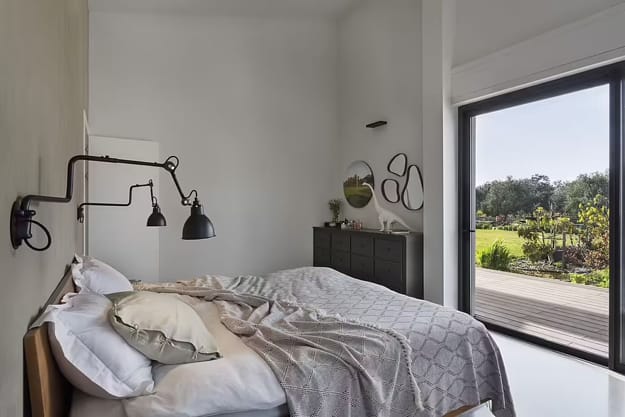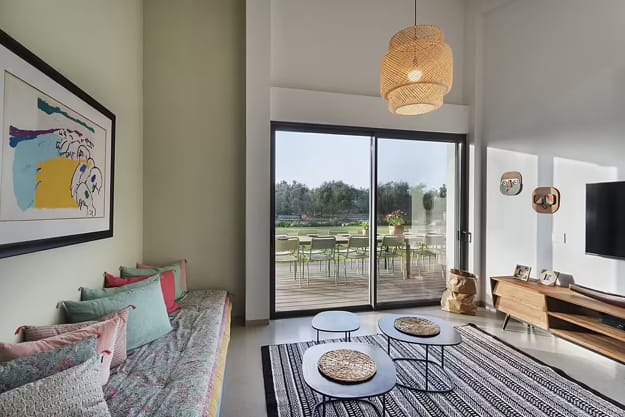 Photography by Assaf Pinchuk
More from room decorating

Throw pillows in various colors, designs, and patterns are one of the easiest ways to refresh your room design and inject...
and enjoy free articles sent to your inbox