LED Ceiling Panels for Modern Interior Design, Blue Sky Ceiling Designs

Blue Room

Interior Design Ideas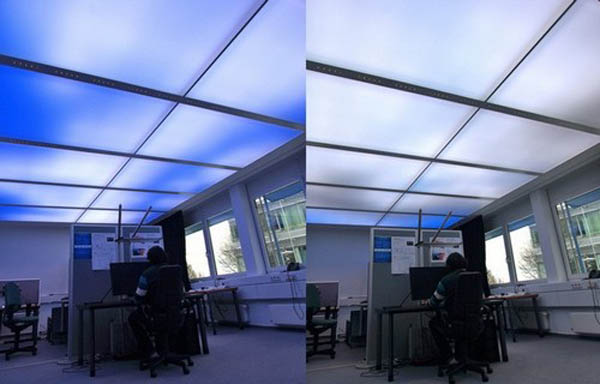 Led ceiling panels for modern interior design, green technology for ceiling lighting design
3d design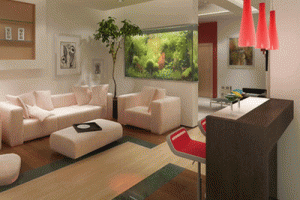 LED ceiling panels create beautiful blue sky ceiling designs, adding depth to modern interior design and creating an airy atmosphere. New LED ceiling panels, the blend of the green technology and research by Fraunhofer Institute, allow people to enjoy the blue sky without leaving the building.
LED ceiling panels are a way to create modern interior design with outdoor rooms charm. People can work in offices with ceiling designs that look like blue skies with beautiful clouds and sun. Led ceiling panels from the German institute create these wonderful and pleasant visual illusions.
Small LED ceiling panels are 50 x 50 inches. These ceiling panels can be  fixed to the ceiling, creating beautiful ceiling designs with blue sky illusion. Red, blue, green and white LED ceiling light can be combined to design LED ceiling panels that mimic daylight sky or evening skies.
Modern ceiling designs with decorative stretch ceiling film
Modern interior design ideas, natural rope ceiling design and reclaimed barn wood
LED ceiling panels for modern interior design, green technology for ceiling lighting design
Clear skies and gorgeous light clouds can be added to LED ceiling panels for amazing ceiling designs and spacious feel to modern interior design ideas. It is possible to add heavy clouds which will move across the sky at different speeds and create stunning ceiling designs.
The designers say that, according to their experiments and research, LED ceiling panels greatly increase the efficiency of staff in offices with installed LED ceiling panels. The artificial sky, developed by designers from the Fraunhofer Institute, people unconsciously perceive the ceiling designs as the real clouds and sun, which have a positive effect on their mood, mood, improving the ability to concentrate on the task.
New green technology for modern interior design, energy saving LED ceiling panels and lights
Artificial ceiling designs with beautiful LED ceiling panels produce a dramatic change in lighting design in the office, that people do not notice, and make people more efficient and happy.
3d drop ceiling panels, contemporary false ceiling design trends
Ceiling design ideas from Lightboys, rooftop ceiling lights for modern interior design
LED ceiling panels are especially useful for creating naturally looking ceiling designs with blue skies in winter, when people experience the lack of natural day light. The new energy saving green technology can be used for modern interior design and decorating spaces without windows, offices and rooms in the basement.
More from lighting fixtures

Modern lighting fixtures are functional and beautiful elements of room decorating. Creative or traditional lights can make or break your space...
and enjoy free articles sent to your inbox