Kid Friendly Bathroom Design Ideas Creating Safe Rooms

Bathroom Ideas

Interior Design Ideas

Kids Rooms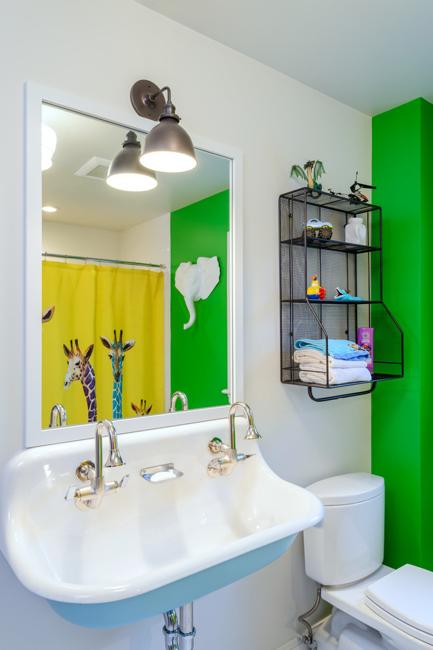 Yellow and green colors, a double sink, modern bathroom design
bathroom remodeling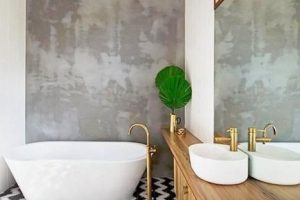 Safety is a critical factor in kids' designs. No matter how stylish and beautiful their rooms look, safety and comfort are the first things to consider when designing and decorating a bathroom for your child. Kids' safety is also essential when all family members share one bathroom. Here are tips for kids' bathroom design that experts provide to create a safe and comfortable room for children.
Non-slip flooring ideas, light interior design, proper plumbing, warm floors, non-slip floor rugs, socket covers, a stable low bench, a nightlight, and wooden or metal bath accessories – these requirements increase safety in the bathroom.
20 modern ideas for kids' room design and decorating
Child-friendly kitchen design ideas
Kids' bathroom design ideas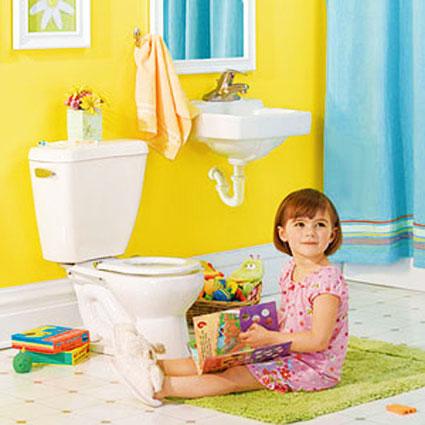 A bathroom designed with the utmost care and love for young children is a nice, warm, comfortable, and well-illuminated space. Think of kids' bathroom functionality first and use every design and decorating idea to improve the environment to make it safe. Then add vibrant colors and bright decorations. Safe and colorful are two things essential for beautiful and modern kids' bathroom design.
Bright kids bathroom design ideas
Playful, safe bathroom design ideas for kids
Colorful kids bathroom fixtures and furniture
Flooring ideas
Kids play anywhere they come. The right floor design and decoration reduce the risk of serious injury in the kids' bathroom. If you choose floor tiles, go for a matte finish and textured tile designs. If you prefer to use laminate or wood flooring, choose a rough texture and high-quality materials for kids' bathroom design.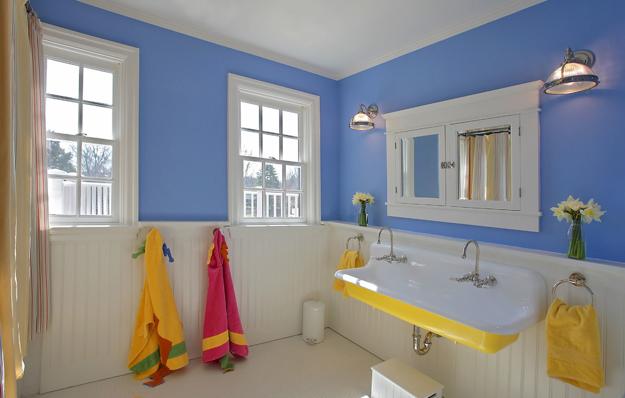 Light interior design
Heavy bathroom furniture, unstable objects, flimsy shelves, or tall cabinets are dangerous ideas for small children. It is better to have light shelves attached low enough so children could easily reach them. Stable cabinets are fine, especially models with massive bases instead of legs.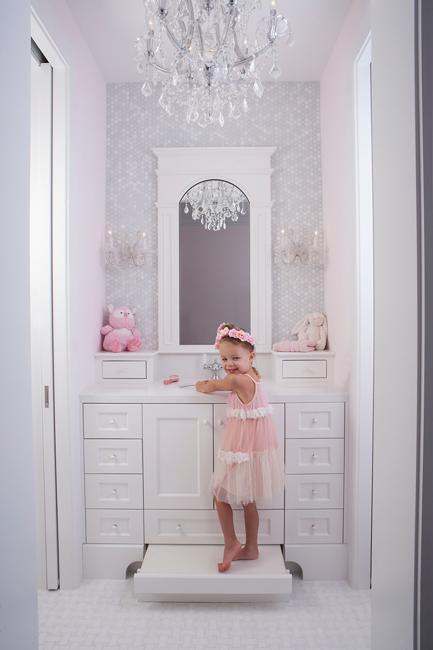 Small sinks
Shallow bathtubs, small sinks, and a child's toilet are perfect for creating safe and comfortable bathroom designs for children. A low toilet, the height is less than 1 ft, is preferable for young kids.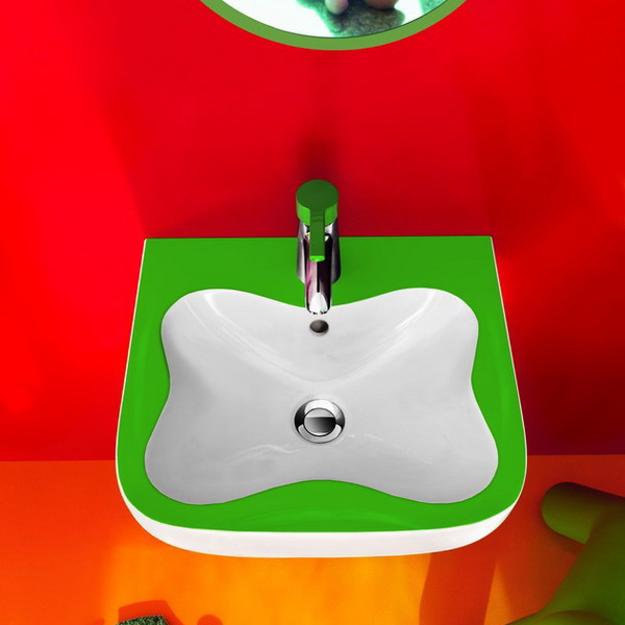 Warm floors
A floor heating system is an excellent solution, but soft rubberized rugs near the bathtub and sink work well also. Bath rugs protect children's feet from cold and make visiting their bathrooms pleasant and fun.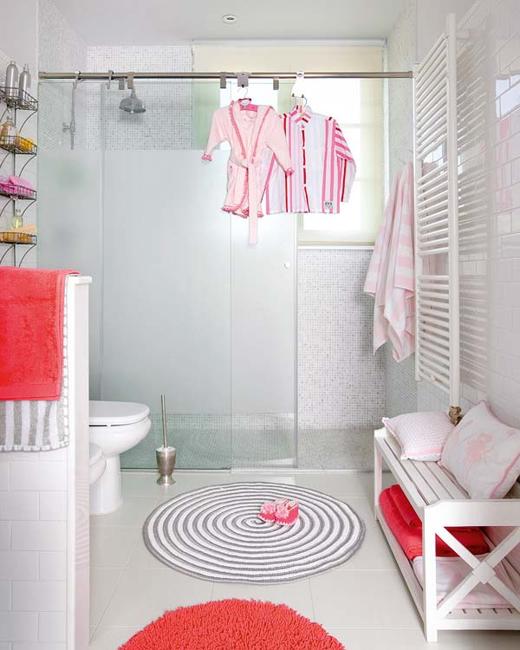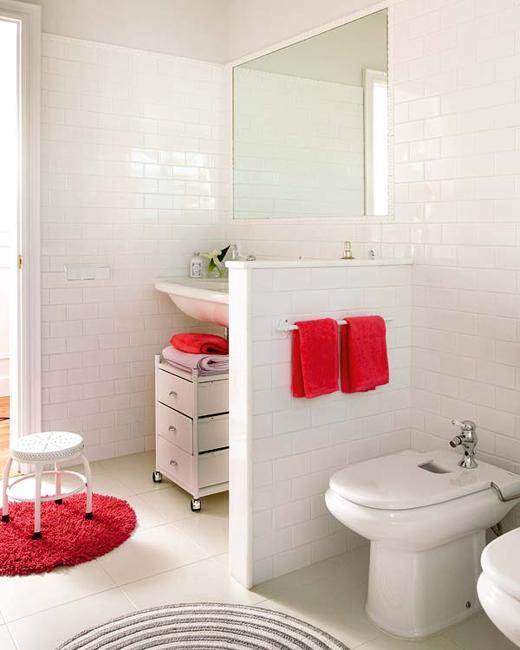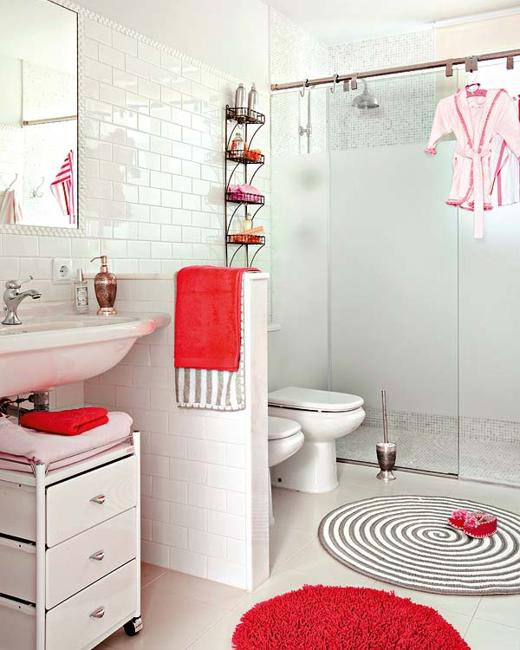 Sockets
Kids' bathroom without socket is the safest. Existing sockets should be covered, hidden to protect small children.  It is a great idea to keep switches outside the bathroom.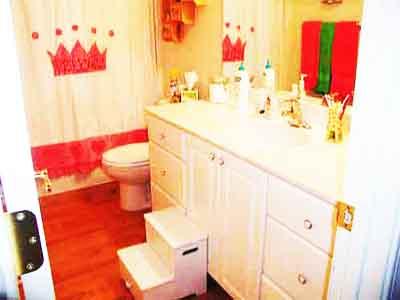 Step bench
A small, durable bench or a stable pedestal helps a child reach a sink mounted at a standard height. Even better if you can use an adjustable pipe system to mount a sink until your kid reaches a certain age. A cabinet built into the structure under the sink and moving out on casters is another great idea for kids' bathroom design. Using an ordinary chair near a sink in the kids' bathroom is unsafe. 6 – 10 inches bench or stool with widely spaced legs is suitable.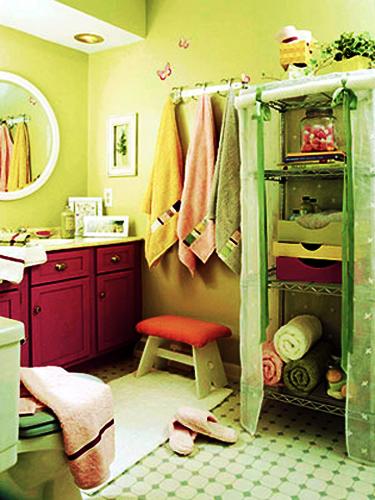 Nightlight
A simple light source can illuminate the bathroom at night. Bathroom lighting with shades and a nightlight create a comfortable and safe environment for kids in the bathroom.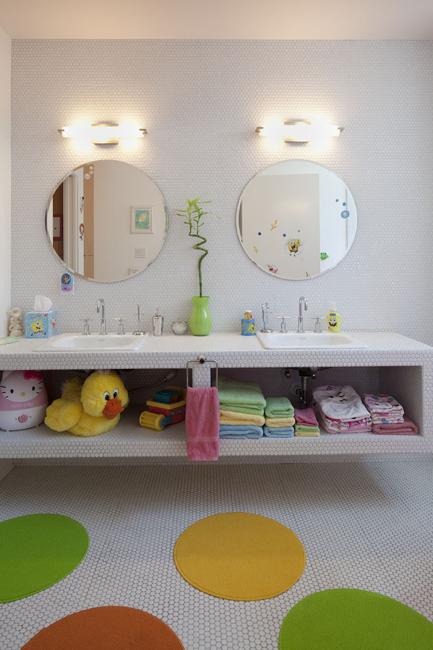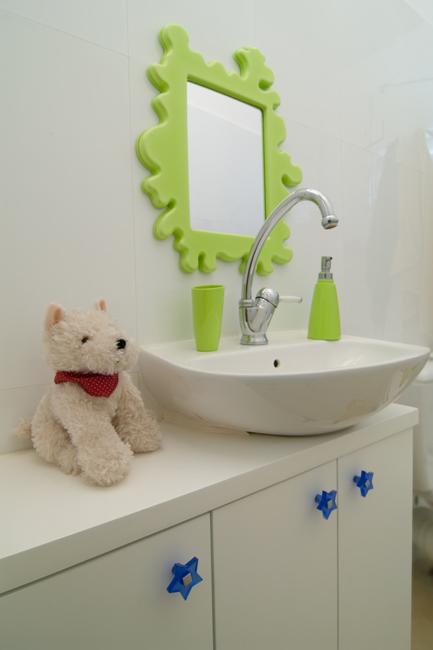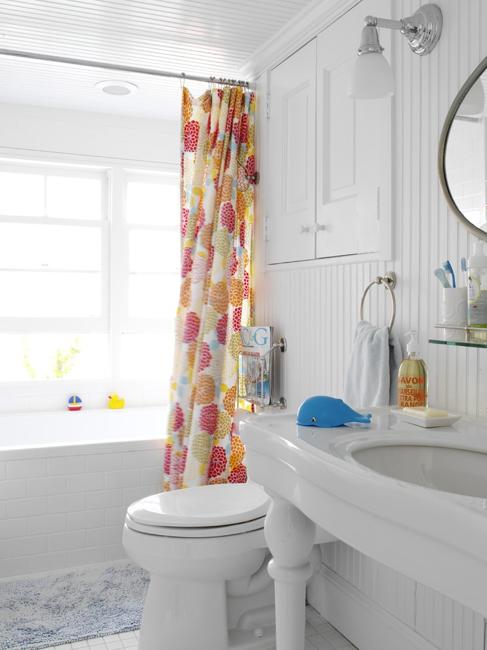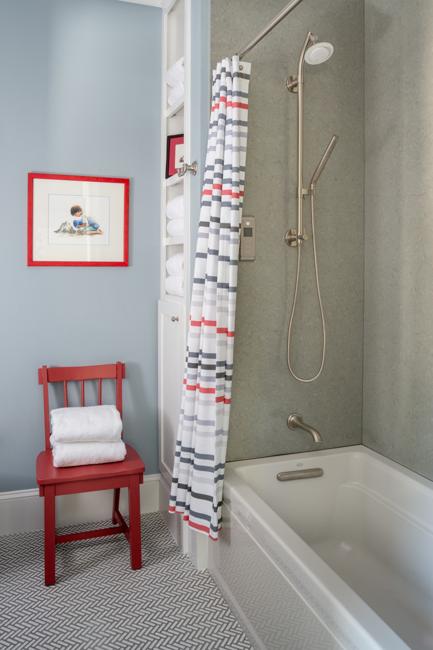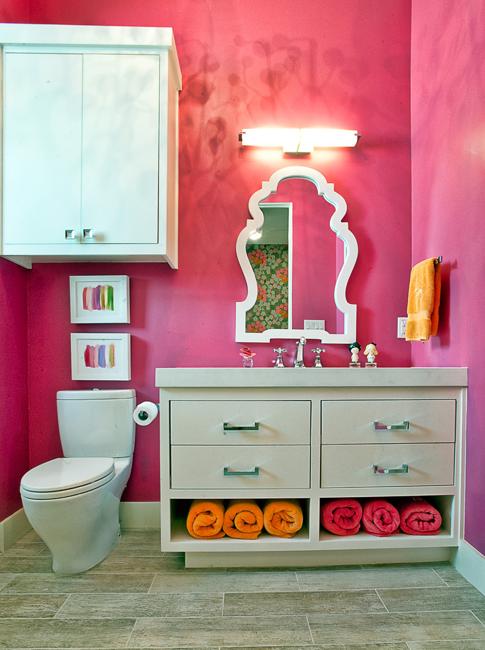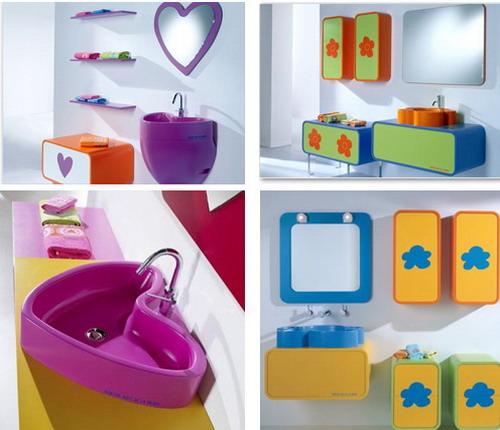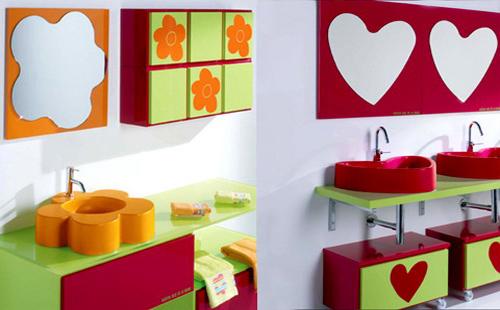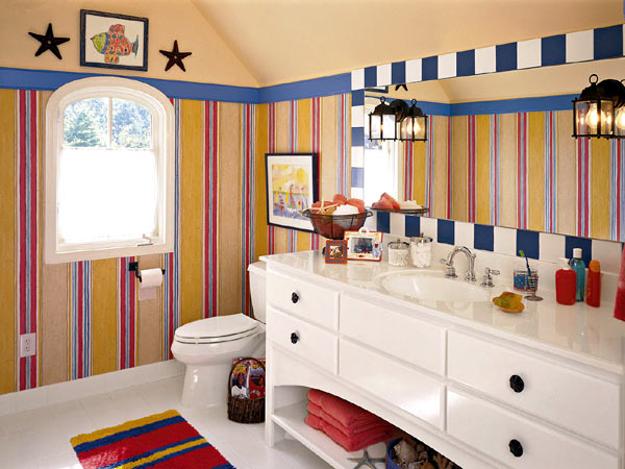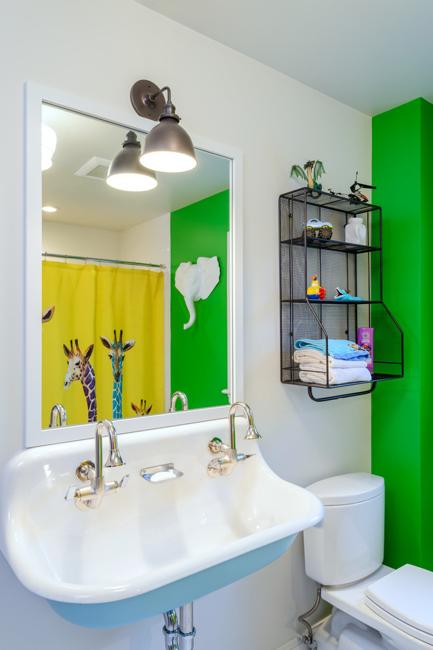 More from modern bathroom

Remodeling bathroom interiors is an essential part of creating a modern home. A beautiful, functional, well-planed, and modern bathroom design affects...
and enjoy free articles sent to your inbox