---
Glass Wall and Ceiling Designs Offering Beautiful Views from Charming Open Terrace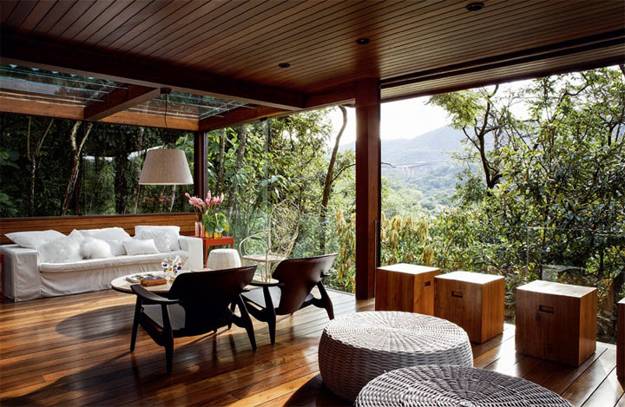 Room design with glass walls
An open terrace with wooden floor and glass wall and ceiling designs looks beautiful. Spectacular unobstructed views of green hills, blue skies and lush vegetation enhance the terrace and house design, bringing beauty and chic into the home. Glass wall design ideas and glass ceiling designs are interesting, functional and stylish latest trends in home decorating which help connect home interiors with the nature.
The open terrace with glass wall and ceiling designs is fully furnished with comfortable furniture and attractive decor accessories, and creates a nice place to relax and enjoy the picturesque surroundings. It is a pleasure to spend time on the terrace during hot summer days, or entertain with guests surprising them with such a wonderful retreat.
The terrace is decorated in accordance with the home decorating style, boundlessly merging with rooms and the natural surroundings, bringing balance and harmony into house design and adding fantastic outdoor seating areas which are as comfortable as home interiors. This spacious terrace is warm and welcoming, functional and elegant. Lushome presents this beautiful and romantic terrace that gives a great inspiration for outdoor room design.
Glass block wall design ideas adding unique accents to eco homes
25 glass floor and ceiling designs to open and enhance modern home interiors
Open terrace with glass wall and ceiling designs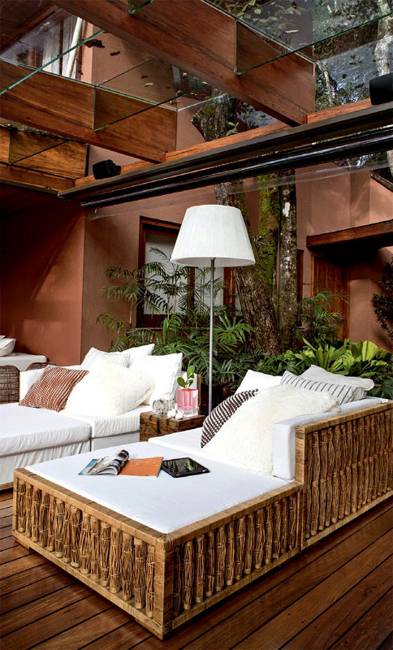 Glass wall design provides a gorgeous panoramic view of the mountain landscape with tropical plants. Glass wall design makes the terrace unique and charming, blending practical functionality with elegant look and luxury feel. Large picture windows, floor-to-ceiling glass wall design ideas are modern trends in home decorating. These architectural features allow to enjoy the nature in style without going out of the house, sitting on a soft cozy couch and enjoying a refreshing drink.
Glass wall and ceiling designs invite the nature inside and create an amazing relaxing atmosphere that charms residents and guests. Decorating ideas in eco style, natural materials and functional simplicity of the terrace furnishing look in harmony with plants, wood and glass, and create spacious and cozy place to enjoy good and bad weather.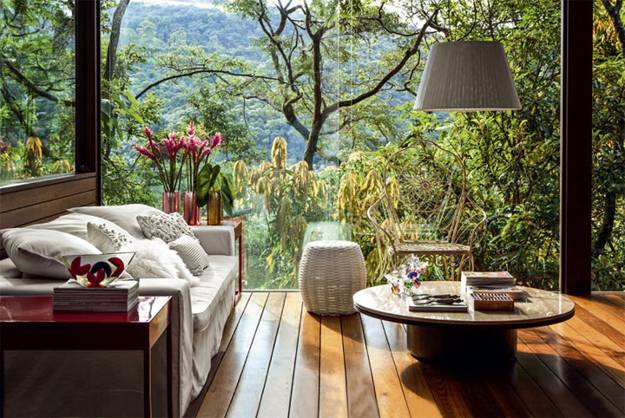 Natural wood, used for the floor, walls and ceiling designs, glass wall design and glass ceiling, natural fabrics and white decorating ideas are beautifully blended into this quiet, pleasant and modern place allowing to dine, read or dream in elegant and chic style. House plants look harmoniously with wooden furniture and natural fabrics, bringing a natural feel into room decorating.
Suspended glass tub sphere brings innovative design into modern interiors
Modern house design with glass walls, modern interiors and panoramic ocean views
Huge rattan ottomans with steel frames highlight the luxury and ultimate comfort of this spacious terrace and modern outdoor seating area. Natural and eco friendly decor accessories, woven decoration patterns, the open feel that glass wall and ceiling designs create transform a wooden deck into this romantic terrace that connect the wooden home interiors and green surroundings.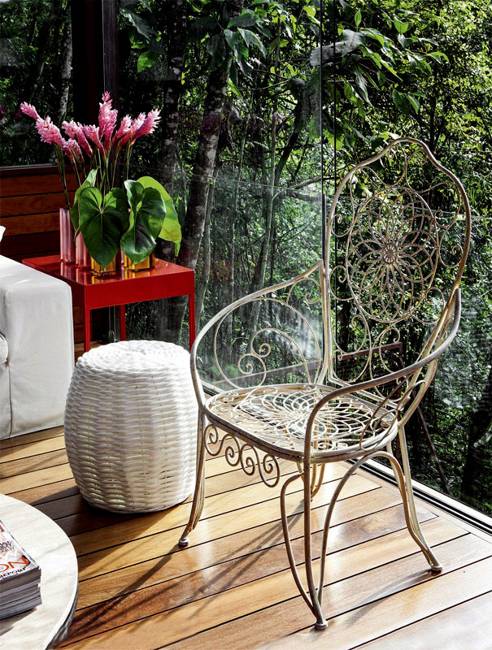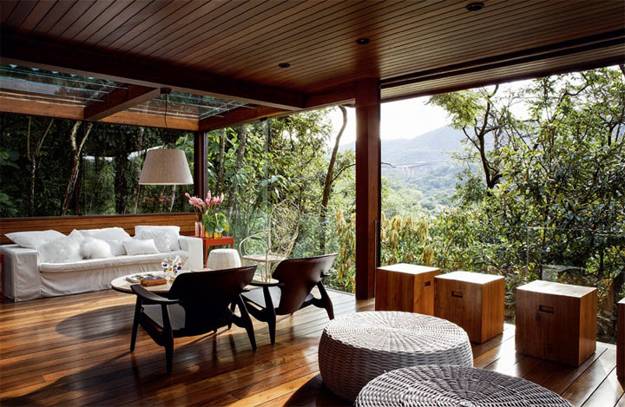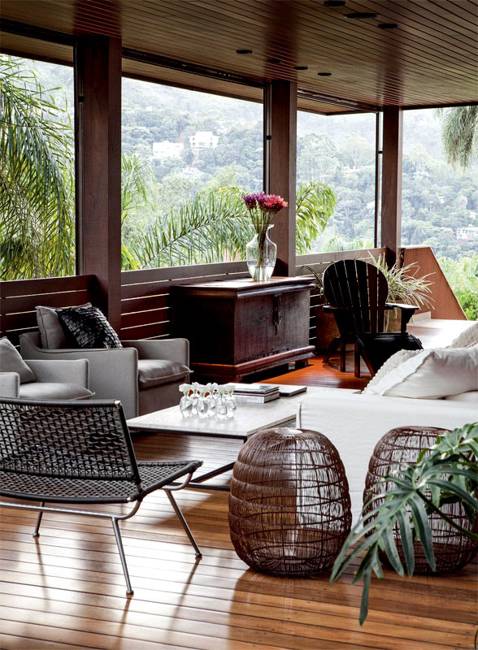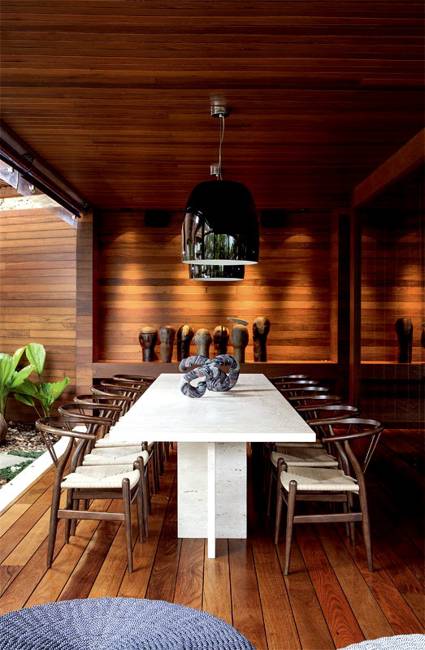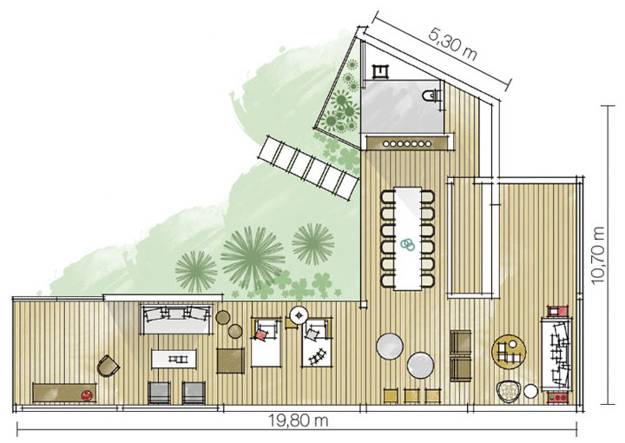 by Ena Russ
last updated: 10.06.2014