Glass Top Tables Magnifying Beautiful Dining Room Design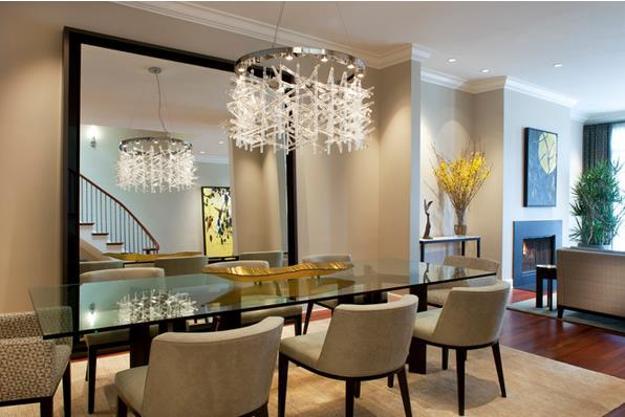 Glass top dining table, contemporary chandelier and upholstered dining chairs
room design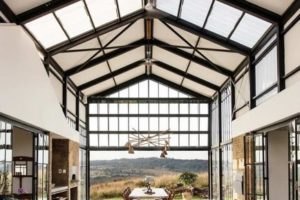 Glass top tables look great in all dining rooms. Glass top dining tables feature versatile design that bring more reflected light into homes and allow creatively decorate dining rooms, blending transparency and elegance of glass materials. Glass top tables can be easily decorated while creating welcoming and impressive centerpieces and personalizing your dining room design.
Glass is very easy to carve for someone who has the appropriate tools, and you can customize your dining table top with unique designs. A glass table top is transparent and allows to see other beautiful room design details. Also glass top tables are practical and easy to clean. They can be decorated with vases, fruit bowls, candles or floral arrangements. Candles centerpieces look exceptionally beautiful in glass table tops. The reflections add more charm to dining room decorating and create spectacular displays in the glass table tops.
The dining table is an important element of dining room design. The dining table and chairs create comfortable and relaxing dining environment. Glass top dining tables bring different shapes and fabulous shiny surfaces into modern interior design. These dining furniture pieces come in various sizes, designs and material combinations, perfect for contemporary, traditional and country home room decorating.
Modern dining tables from IL LOFT, unique furniture for dining room decorating
Good Feng Shui tips for your dining room decorating with accents in red colors
Glass top tables for beautiful dining room design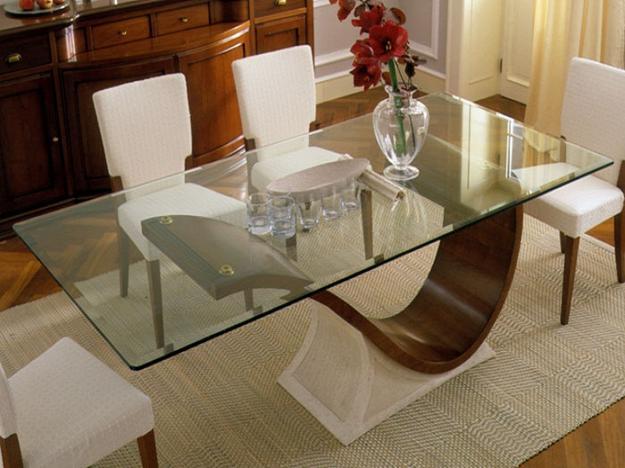 Glass top tables in the rectangular shape is the most popular choice. The rectangular shape provides large and comfortable space for meal serving activities. Oval shaped and round glass top dining tables are beautiful and practical also. These dining furniture pieces are ideal for good Feng Shui and bringing harmony into dining room design.
The glass table top is made from either pure clear glass or glossy shredded with decoration patterns. The glass table top is supported and strengthen by good quality base that add an additional beautiful element to dining room design. The table base can be made from wood, rattan, marble, concrete, wrought iron, aluminum or stainless steel and creates a gorgeous contrast with glass table top.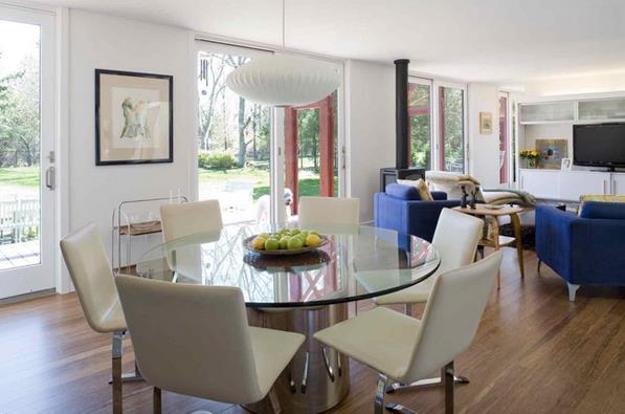 Glass top table decorating ideas
Stylish stools and dining chairs, 9 dining furniture design trends
Good Feng Shui tips for decorating your dining room
An attractive vase with flowers will give a wonderful warm feeling to your dining room design with the glass top table.  Candles centerpieces and bowls with fruits are beautiful dining room decorating ideas for good Feng Shui. Tall white candles and charming candle holders bring chine and glow into dining room design.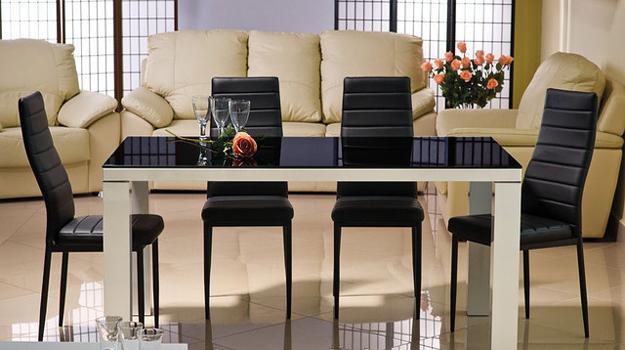 Glass top tables with candles centerpieces are perfect for setting a romantic mood and creating special dinning experience. Silver decorations, as well as silver candle holders, work well with glass, magnifying your bright and luxurious dining room decorating.
20 gorgeous dining room decorating ideas showcasing fantastic compositions
25 ideas for dining room decorating with yellow and green colors
Colorful fruits in a wooden, ceramic or metal bowls make wonderful table centerpieces. Glass table tops work well with all materials, reflecting and multiplying beautiful decorations. These simple and elegant decor items will give a festive look and a happy family feeling to your dining room decorating and create a welcoming place for family and friends.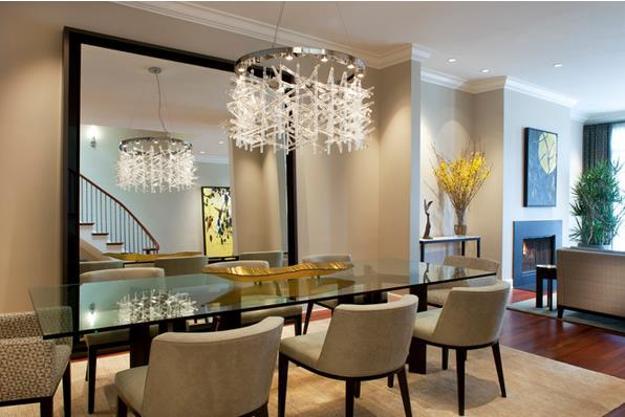 Glass top dining tables are spectacular furniture pieces, and selecting complimenting table centerpieces is very important for creating that warm, elegant and modern atmosphere you are looking for.
How to create perfect dining room design with modern furniture, accessories and lighting fixtures
30 modern ideas for dining room design in classic style
Glass top tables are versatile dining furniture pieces that allow to personalize room design and transform dining room decorating ideas in accordance with your needs.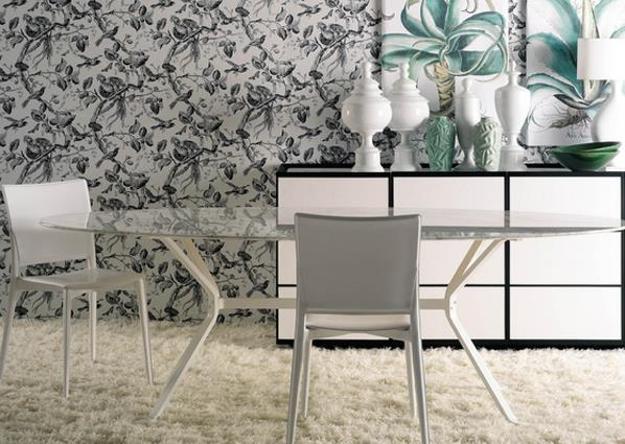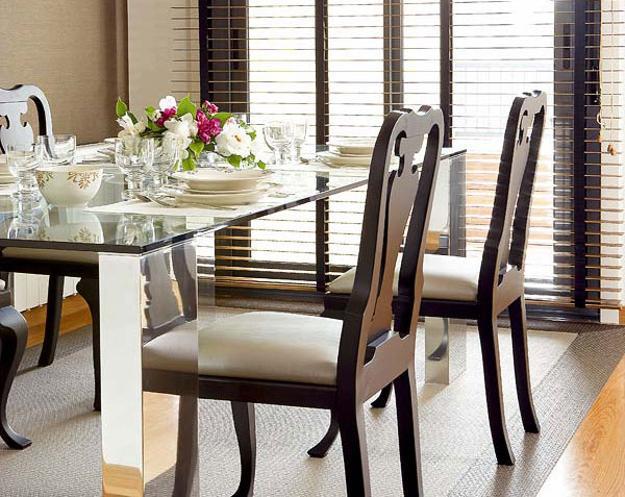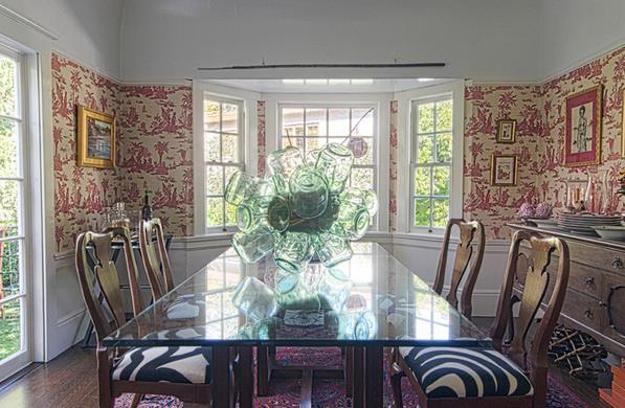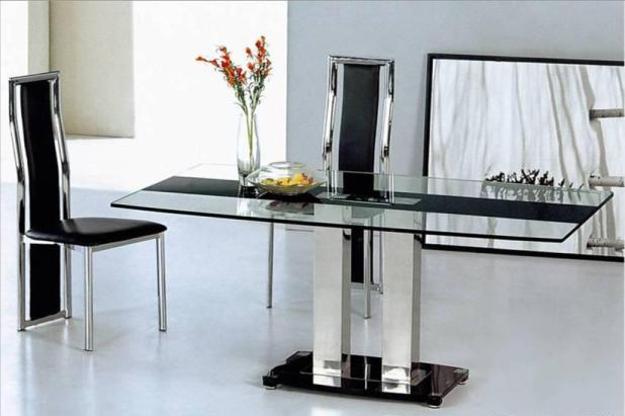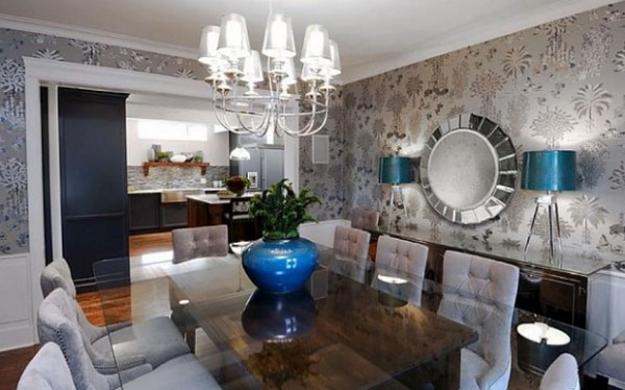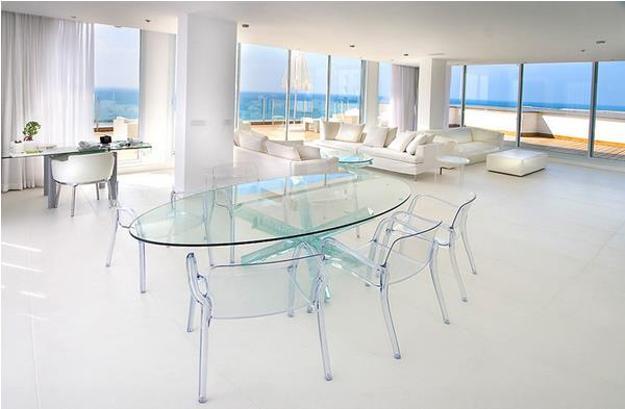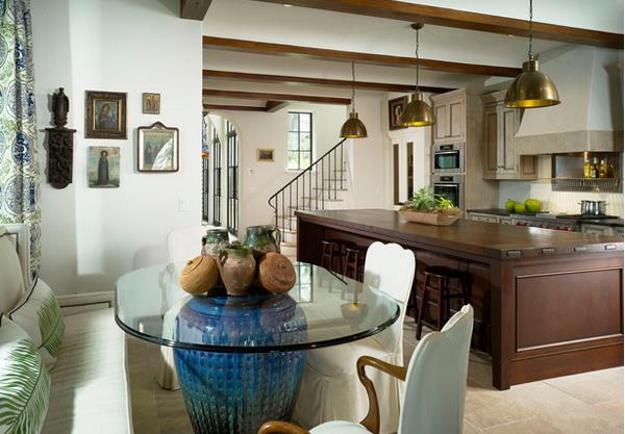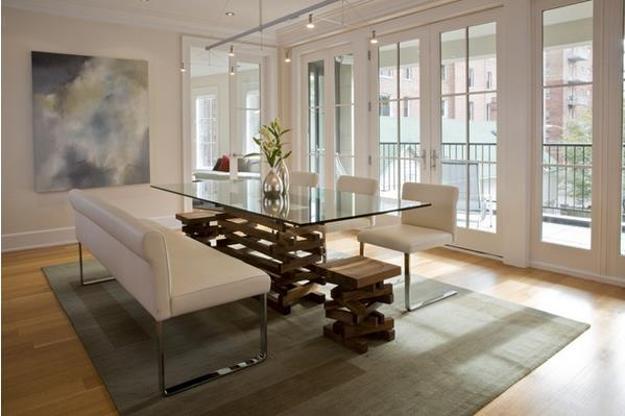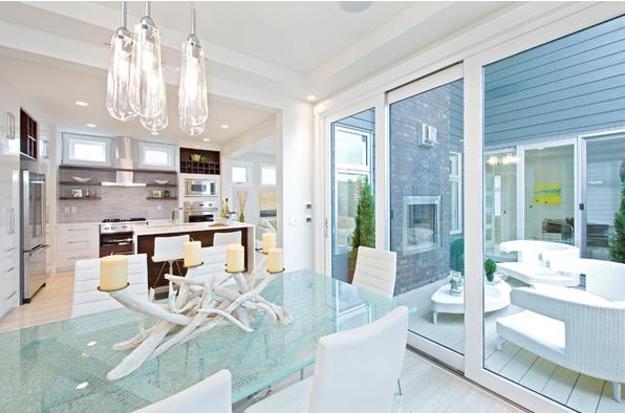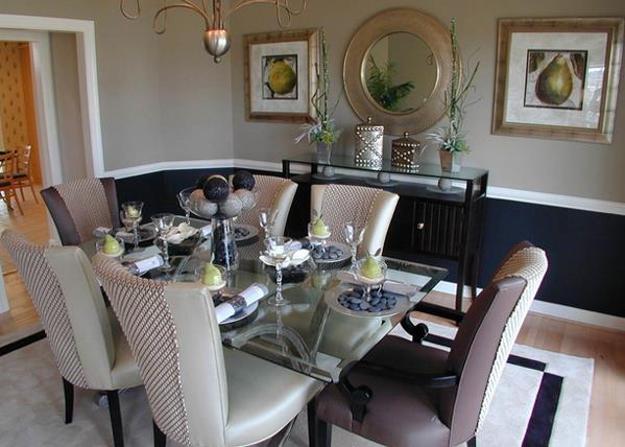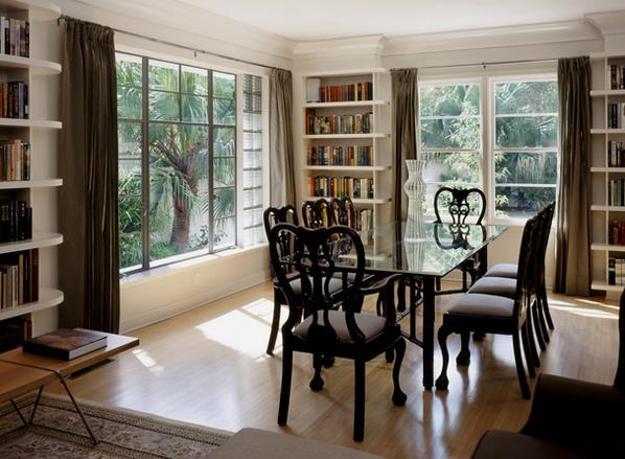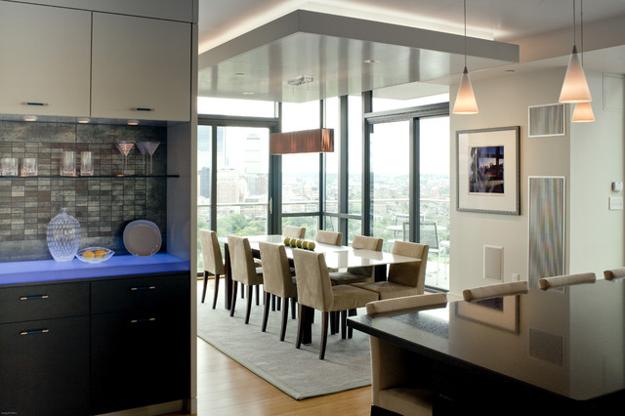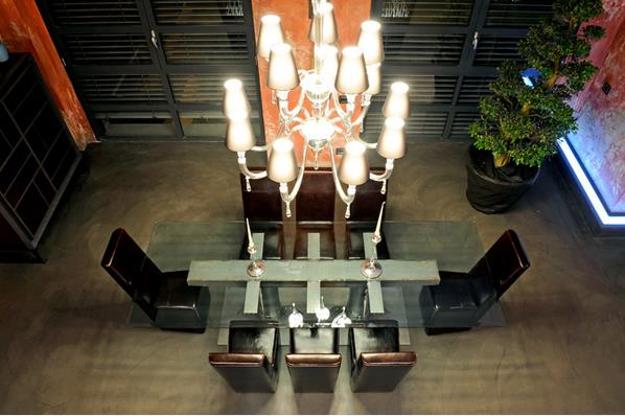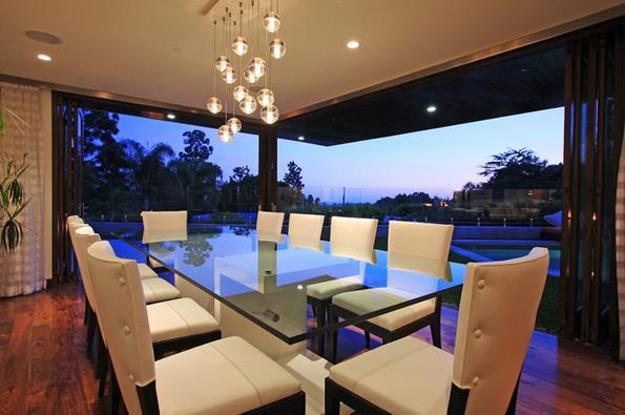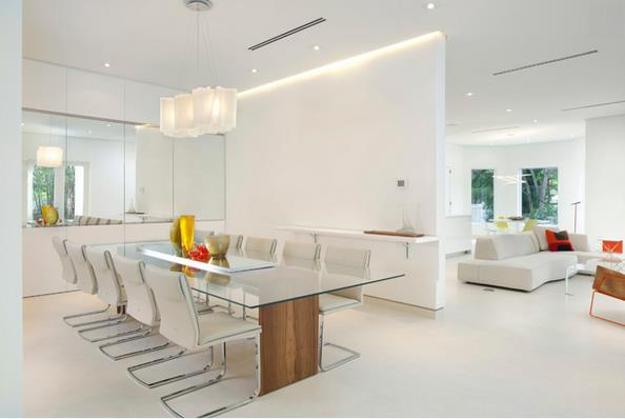 More from modern furniture

Weave furniture design blends traditional techniques and modern trends in decorating with handmade items. Using natural ropes and twines, you can...
and enjoy free articles sent to your inbox