Ergonomic Office Chairs with Unique Sound Screen Design

Furniture Accessories

Home Office

home office designs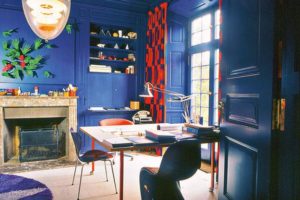 The fans of quiet places and silence will appreciate an interesting and effective contemporary concept, developed by a product designer from University of Hertfordshire Natalia Romanova. Ergonomic office chairs with clever sound screen system design are a great solution for working in loud public places and creating a quiet interior space in a modern office. (Ergonomic office chair designs)
Light and efficient sound screen system, fixed on office chairs help people hide from background noises in the Cocoon, while reading, relaxing or working on a computer in the office, library or cafeteria. A contemporary device, that is a part of an office chairs back support design, consists of two retractable plates.
These small plates produce a special sound-proof cocoon around a man's head, creating quiet and healthy environment for work. (15 interior design tips to stay healthy in home office) Small size and elegant design of the sound screen system allows to fold and carry the cocoon device with you to work and public places.
Sound screen system design for ergonomic chairs, modern office  chairs design
Modern ergonomics, office chairs, contemporary office design ideas
The top plate is generating sound waves, that are evenly distributed over the entire range of sound frequencies, so called 'white noise'. White noise, that creates the effect of relaxing silence for a person sitting on a chair, is the most important element of unique ergonomic chairs design. (Home office furniture, ergonomic elegance)
The sound screen design, combined with ergonomic office chairs, will help create more productive atmosphere and healthier environment in large loud offices. Phone calls, conversations and background noises do not allow people to concentrate on work and create psychological problems, making office workers tired and angry at the end of the day.
Also the cocoon can be used as a player for listening your favorite music while working in home office or relaxing in a cafeteria. Sonic cocoon is powered by internal rechargeable batteries, which can be charged from USB.
Ergonomic office chairs and modern office design ideas:
Contemporary home office design, big concepts for small spaces
Large bookcase, sliding bookcases and shelves
Urban home book shelves design, office decorating ideas
Contemporary office chairs design with a sound screen system, healthy office design ideas

Here are great ideas for kids toys storage and wall decoration with small cars that everyone would love. DIY organizers, like...
and enjoy free articles sent to your inbox