Entry Decorating Ideas to Welcome Trick-or-Treat Guests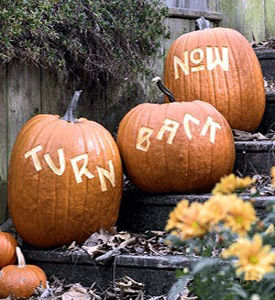 Pumpkins on stairs, friendly home entry decorating ideas, simple homemade Halloween decorations
Decorating the front door and the entry to welcome trick-or-treating guests at night is one of Halloween holiday traditions that delight kids and adults. Trick-or-treating kids, dressed in costumes and masks, come to neighbors and ask for treats. Creatively decorated front yard, stairs, front door and entry make trick-or-treating experience more enjoyable and interesting.
Welcoming Halloween decorating ideas help shy kids to enjoy the holiday trick-or-treating and make excited kids happier. When kids  see inviting home entry decorating ideas and beautiful or funny Halloween decorations, they will smile before saying 'trick-or-treat!' Everybody have more fun, if the entry decorating ideas help kids relax and talk. (Look at cute home decorating ideas, Halloween ghosts and bats.)
The history of Halloween traditions goes back to ancient Celtic holiday and beliefs of the Celts. Pumpkin lights are associated with bonfires and sacred flame that Celts brought into their homes after the harvest and holiday in fall. Masks, costumes and front yard Halloween decorations are associated with ghosts and fairies which came to the living people's world and did whatever they wished during that holiday night.
Pumpkins on stairs, friendly home entry decorating ideas, simple homemade Halloween decorations
Simple homemade Halloween decorations, funny welcoming entry decorating ideas, fall yard
Fairies liked to pretend beggars and walked from house to house begging for alms.
They rewarded those people who treated them well. For those who failed to honor them, they made life miserable.
Porch and entry decorating ideas, pumpkin Halloween decorations, fall ideas
In old days trick-or-treating guests, especially students, could ask not only for sweets or apples, but for alcohol also. Today trick-or-treating is activities for children.
Funny house decorating ideas, simple homemade Halloween decorations, apples and pumpkins
Friendly Halloween decorations, especially cute pumpkins and pumpkin lights are welcoming entry decorating ideas that create special kids holiday atmosphere, help relax and have fun.
Recommended:
Fruit theme, decorations, ideas and functional accessories
Pumpkin flower centerpieces, fall table decorations
Green home decor miniatures
House decorating ideas for trick-or-trick guests, simple welcoming entry decorating, stairs with pumpkin lights
Funny entry decorating ideas, homemade Halloween decorations, fall ideas with pumpkins
More from door and decoration

Door decoration with bright color and unique details are beautiful ways to personalize mid-century modern homes. Also, door handles can give...