DIY Lighting Fixtures with Raw Linen Lamp Shades, Craft Ideas for Interior Decorating

Decorating Ideas

Lights Appliances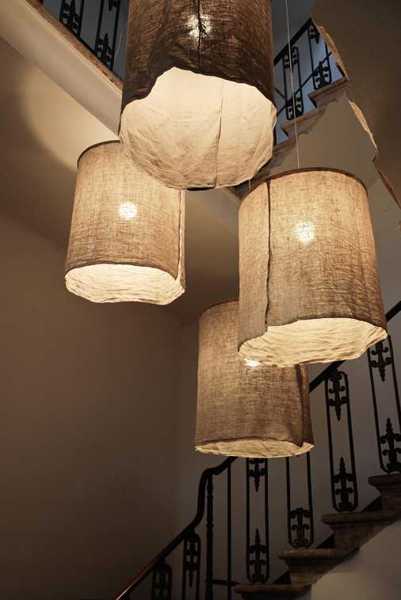 recycled crafts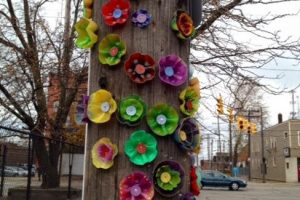 Handmade lighting fixtures that look like lanterns make wonderful home decorations. Raw linen fabric lamp shades add a rustic feel and unusual look to modern interior decorating, bringing creative design into modern homes. They can be grouped to create a fantastic display, that make a large space appear dramatic and interesting.
Oversized lighting fixtures from Italian designer Orietta Marcon feature handmade raw linen lamp shades and look like traditional lanterns. Simple and elegant, these lanterns offer great craft ideas for your interior decorating project. Any burlap fabric pieces and linen fabric bags can be recycled for stylish lamp shades.
The Lampade Bigger is made from hand-finished linen fabric and available from her company Civico Quattro, www.civicoquattro.it/. These original, stylish and easy to take care of lighting fixtures can add fabulous accents to your home interior decorating.
Handmade lighting fixtures with linen fabric lamp shades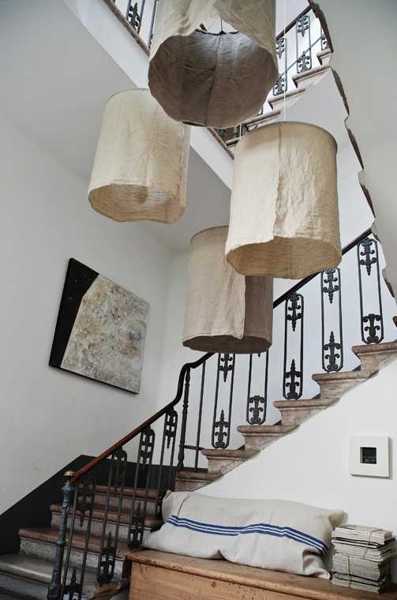 Raw linen lamp shades are excellent interior decorating ideas for eco homes. If you want to make these decorations for your home or prepare a special gift for Mothers Day, simple instructions for making 20-inch lantern give you an idea how to make these lanterns or table lamp shades.
What you need to make these decorations
– 60 inches of thick, silver wire, wire cutters, pliers and a strong tape;
– 2 yards of rough, organic linen fabric;
– sturdy cotton thread;
–  white or black electric cord set, a bulb;
– cotton string.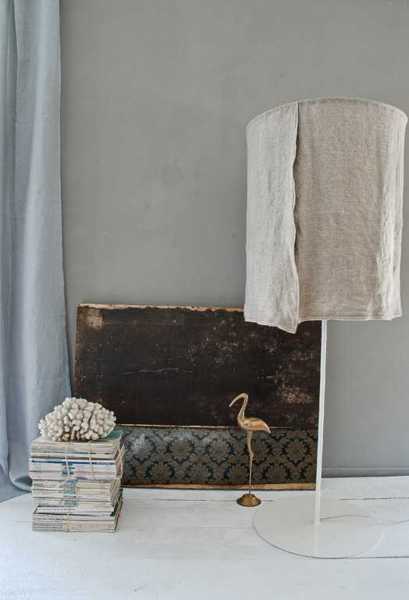 Handmade lanterns recycling old paper for charming lighting design
Cotton rope hanging lamps Acorn, modern lighting fixtures
How to make lanterns
1. Cut the length of wire to 60 inches, make a circle by overlapping the ends just a bit and taping them together.
2. From your 2 yards of linen, you will need about 64 inches, – 60 to 61 inches to cover the circumference, and 2 to 3 inches for a healthy seam allowance. Moving slowly around the wire, hand-stitch the fabric until the two ends meet up.
3. Using a sewing machine, sew the hem (using the red thread) down the side. You can go with a French seam if you are savvy with sewing, leaving about an inch open at the bottom for a little movement. Then finish the bottom of your fabric with another red hem.
4. Center your pendant cord and tie your string from the cord through the diameter of the circle, attaching on both sides. Hang the cord from a ceiling hook or as desired.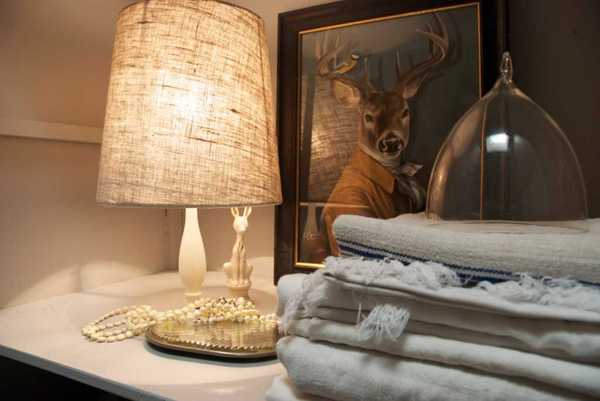 More from make decorations

Creative Easter ideas offer many quick and easy techniques for spring eggs decoration. Instead of dyeing eggs, try decoupage turning Easter...
and enjoy free articles sent to your inbox