COG Table Lamp by Otto Polefko, Unique Lighting Design Idea
---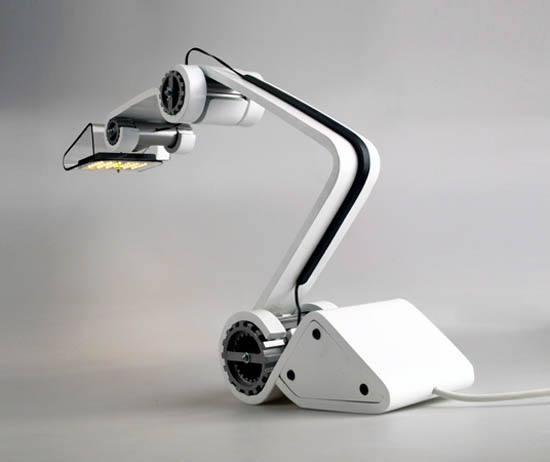 Robot-like table lamp in white color, modern lighting design idea
Robot-like table lamp COG is a unique lighting fixture designed by Otto Polefko looks like a toy and make a beautiful home decoration for kids room, teenage bedroom or home office. White color is perfect choice to match any interior decorating color palette.
The unique lighting shape adds a futuristic flavor to this table lamp, blending the familiar kids toys theme with robotic aesthetic and innovative design idea, and creating nostalgic and playful mood in the room.
Designed by Otto Polefko from Hungary, COG table lamp can instantly transform the way kids room, teenage bedroom or home office look and feel, adding an attractive home decoration in industrial, but soft and playful style.
Recycling old plane windows for contemporary lighting design
Crane Light by Charlie Davidson, unique lighting design idea
Robot-like table lamp design
Robot-like table lamp in white color for kids room, teenage bedroom or home office decorating
The quirky lighting design was inspired by the designer's hometown of Miskolc, Hungary, which used to be an industrial center in the 1980s.
The table lamp is very elegant and practical, a great item for bringing more fun and joy into modern homes and spicing up functional room decorating.
Robot-like table lamp in white color, modern lighting design idea
Unique lighting design ideas
Recycling used brass musical instruments for unique lighting, Music Lights
Mona Table lamps from Koso Lamp, unique lighting design ideas

by Ena Russ
last updated: 07.10.2016