Mona Table Lamps From Koso Lamp, Unique Lighting Fixture Design Ideas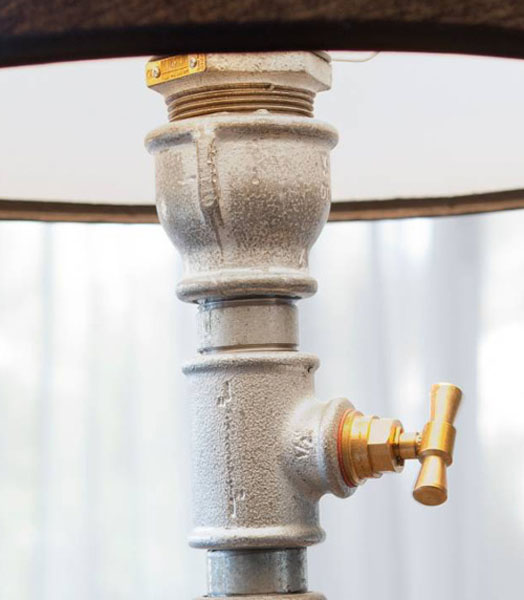 Mona table lamps from UK company Koso Lamp can add a vintage industrial flavor to your room decor. Fat Mona and Little Mona are unique lighting fixtures with unusual base made of galvanized iron pipes, fittings and a faucet handle that remind of steampunk design style.
Industrial pipes and table lamp shade in retro style create an innovative table lamp design with on-off switch made of a golden faucet handle to add an eye catching decorative accent to your room decor.
Wall lights and table lamps from the British company Kozo Lamp, www.kozo-lamp.com gave a new life to industrial galvanized iron pipes, fittings and faucet handles, offering unique lighting design that looks like artworks in steampunk style.
Eye catching table lamps, contemporary lighting design in steampunk style
Creative table lamps, visual comfort and aroma lamps
Unexpected and creative table lamps in innovative and authentic vintage industrial style are expensive, but the striking look is worth it. Fat Mona table lamps costs about $800 and Little Mona table lamp costs $400.
Industrial chic desk lamps with a touch of modern design and various lamp shades create a more complex dialogue. Perfect as a bedside lamp, desk lamp or decorative table lamp, Mona lighting fixtures are functional and very interesting.
The lamp shades come in blue, yellow, orange, red, light green, turquoise, black and white cream colors. The base is padded to keep your furniture surfaces scratch free and make it easy to move these lamps on desks and tables.
Wall lights and table lamps, 6 modern lighting design trends
Recycling tripods and washing macine drums for contemporary floor lamps

Here is a new design concept of Ibis Hotel in Sao Paulo, Brazil. The contemporary and original interior design invites everyone...