Chips Lighting Design Idea from Monica Graffeo, European Designs for Modern Interiors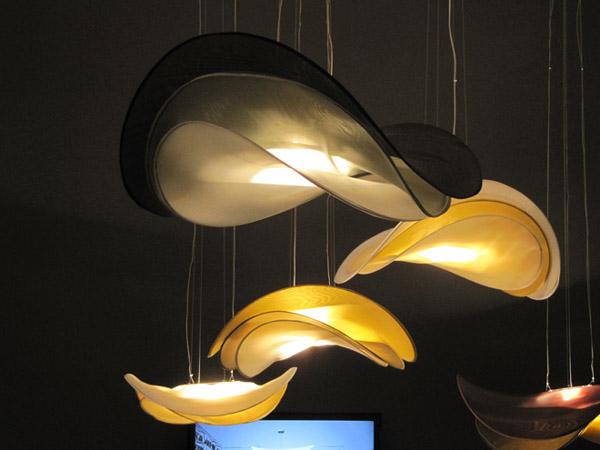 Large contemporary lighting fixtures for modern interior design, ceiling light Chips from Italian designer
Chips lighting design idea from Italian design Monica Graffeo and Italian company Italamp brings familiar images of potato chips and tasty American food flavor into modern interior design and decorating. Chips lighting design looks gorgeous and ultra modern, simple and impressive.
Elegant, floating in the air lighting fixture concept is simple, surprising and very attractive. Designer Monica Graffeo combined creative contemporary lighting design with new technology, using high tech material for almost weightless lighting fixtures.
Two types of lighting fixtures, – contemporary floor lamp and ceiling light, are excellent items for unique, whimsical, inspiring and modern interior decorating. Chip lighting evokes pleasant feelings and remind of favorite snack food.
Home decorating with custom made eco lamps
Pendant lighting fixtures, modern interior design trends
Chip ceiling lights
Large contemporary lighting fixtures for modern interior decorating, ceiling light Chips from Italian designer
Large wavy lighting fixtures add impressive design and warm glow to room decorating, creating unique and stylish interiors.
Ultra-thin, almost transparent, floating in the air contemporary lighting fixtures provide soft light, enhancing modern interiors and making rooms feel interesting and welcoming.
Chips inspired contemporary ceiling light, European designs for interior decorating
Modern chandelier design trends
Chips lighting fixtures are available in various colors and sizes, which increases the appetite for decorating and creating stunning, cozy and modern interior design with the seducing American food flavor.
More from modern interior design

Modern interior design trends come and go, and it is impossible to change your home interiors fast enough following them. To...