Bright Kitchen Design in Rich Blue Color

Blue Room

Interior Design Ideas

Kitchen Ideas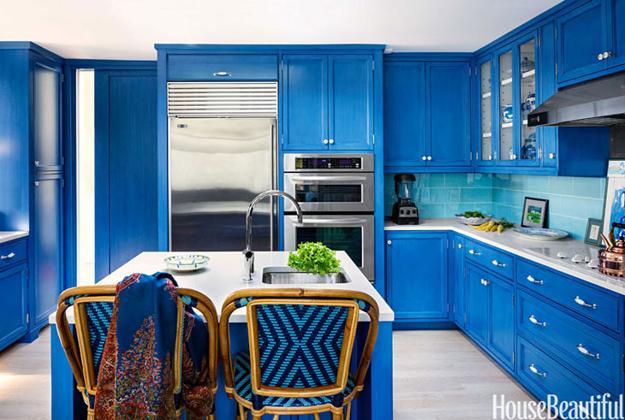 Blue paint for wooden kitchen cabinets and dining furniture
furniture decoration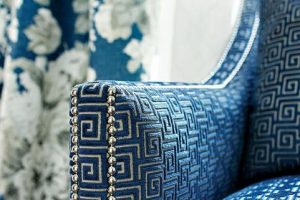 This kitchen design and decor is tremendously enhanced with bright blue color, creating a fabulous, stylish and beautiful space. Interior design in rich blue color is associated with the water, ocean waves, gorgeous blue flowers and warm southern nights. Modern kitchen design in blue color feels bright and peaceful.
Blue kitchen design and decor create beneficial effects, help to loose weight and relax. Modern kitchen design in bright blue color brings tranquility and trendy shades into modern homes, calming and reducing appetite while providing an attractive place for coking and entertaining.
Kitchen design and decor in vivid blue color is timelessly elegant and attractive. Blue color brings a sense of comfort into modern interior design and add pleasant accents to home decorating. Blue kitchen cabinets, painted window frames, dining furniture and wall decor in bright light and dark blue colors look interesting, fresh and modern.
Blue kitchen design and decor ideas
Blue kitchen design and decor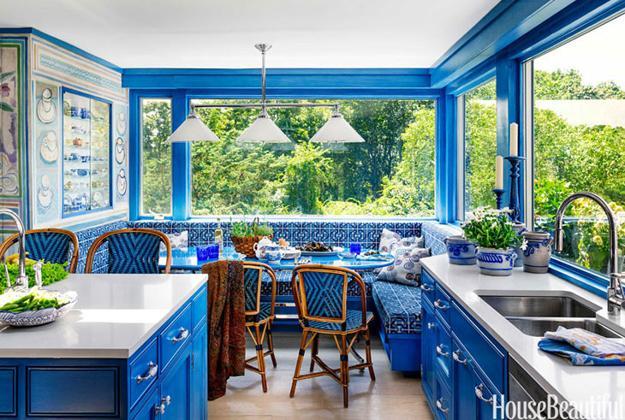 The combination of light and blue color shades add depth to kitchen design and create very decorative color contrasts that enrich this kitchen interior. Adding white makes kitchen design appear more spacious and airy. A touch of orange, purple and green colors soften blue kitchen design.
Creamy white, orange, yellow, purple and green colors look harmonious and beautiful with light and dark blue color shades. Glossy paint, shiny tableware and metal kitchen fixtures help create bright interior design that looks festive and classy.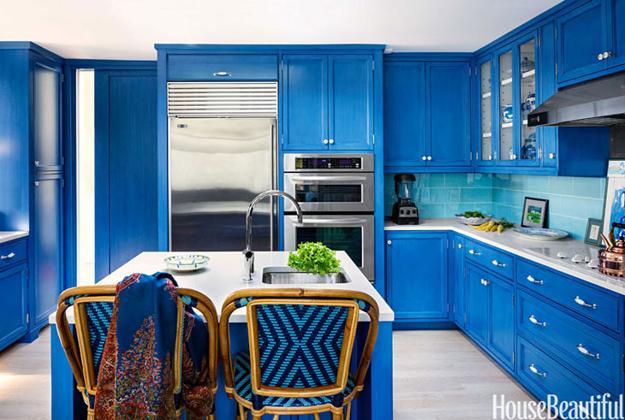 Blue kitchen design and decor ideas are versatile and suitable for traditional or contemporary materials. Blue painted wood cabinets, kitchen island and dining furniture in blue color add charm and character to this stunning kitchen design.
Royal blue kitchen design with carved wood kitchen cabinets
Modern kitchen paint colors, cool blue paint for wood kitchen cabinets and walls
Wooden chairs with natural wood finish add warm accents to calm and cool blue kitchen design. Wood brings comfort and coziness into this kitchen, creating a welcoming place for a family to enjoy meals.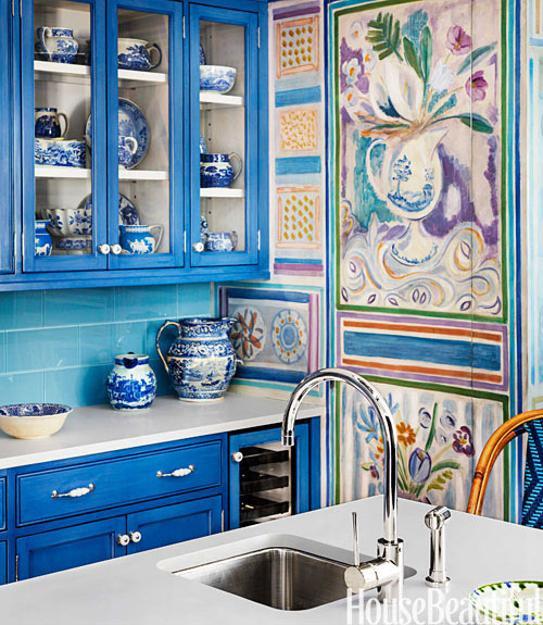 Rich blue color shades, combined with creamy white and sky blue hue and pure create a fantastic effect, enhancing this kitchen design with youthful energy and freshness. The large windows invite lots of natural light, connecting this beautiful, comfortable and modern kitchen interior with the nature, allowing the spectacular view of mature trees surrounding the house.
Modern kitchen and bedroom color schemes with light blue paint colors
Contemporary kitchen design trends unite new materials, natural colors and integrated appliances
Large windows are great architectural features of this kitchen design. They expand the space, boundlessly merging interior design with beautiful surroundings, adding character and unique charm to this bright, rich and modern kitchen interior with spectacular views.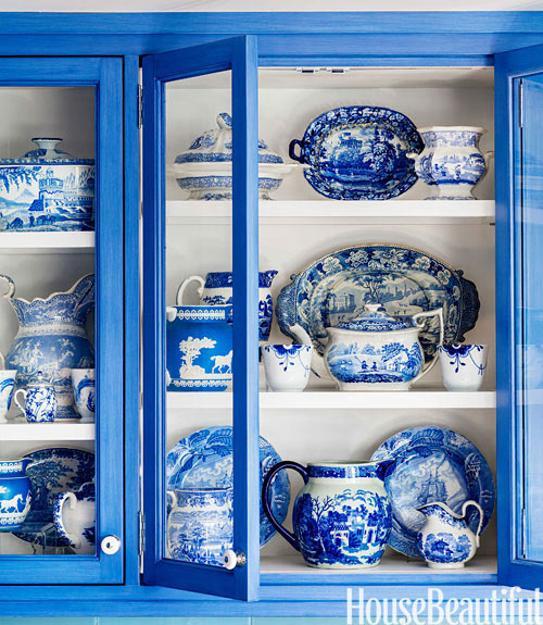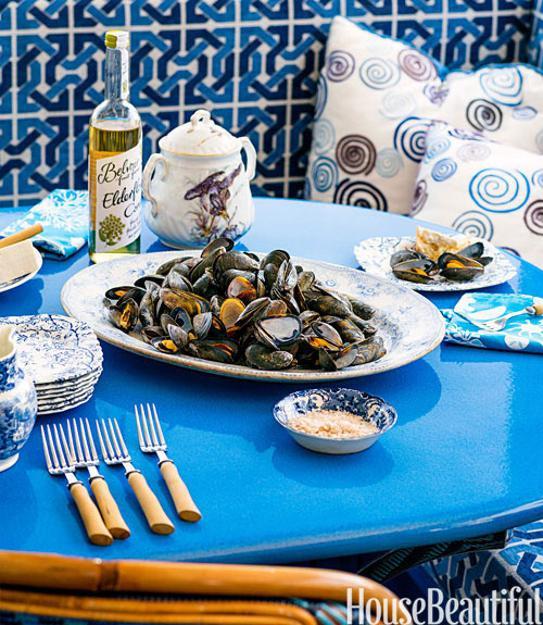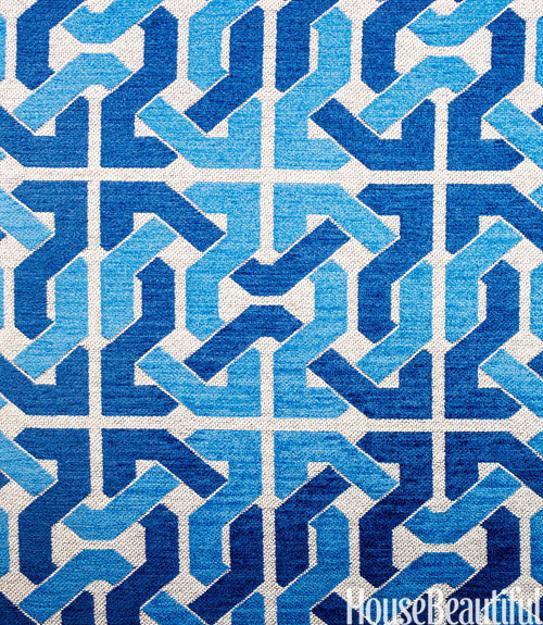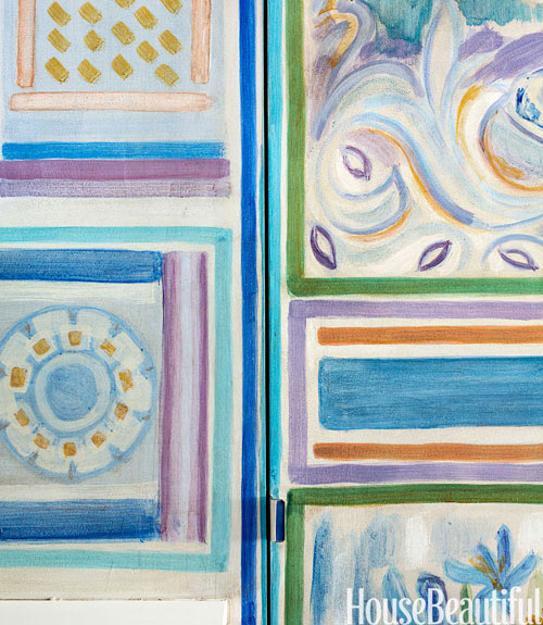 Wooden shelves are unique kitchen storage ideas that require good organization. Nobody wants to see the mess inside of the cabinets,...
and enjoy free articles sent to your inbox