Bookcases and Shelves, Wall Shelving Unit Designs made of Stacked Wooden Tables and Boxes

Decorating Ideas

Furniture Accessories
Purple shelving unit made of stacked wooden tables, diy bookcases and shelves
bookcases and shelves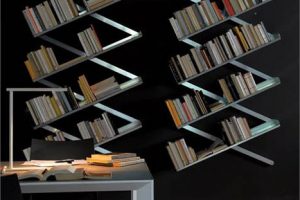 Bookcases and shelves made of wooden tables and cupboard boxes look unusual and interesting, offering modern shelving unit designs that dramatically transform interior decorating, add a splash of color, surprising shapes and unique character to room design.
Bookcases and shelves, created with split apart and painted tables and repurposed boxes give the quirky look to wall decoration, creating a striking focal point and functional furniture pieces to make interior decorating comfortable and unusual.
A brightly colored shelving unit is from Camilla at Home . Two other shelving unit designs Storyteller are created by designer Isabel Quiroga and spotted on Treehugger. Biblioteca Bookshelf designs by Matt Carr repurposed wooden tables and shown on Desire to Inspire.
Modular shelving, wal decorating ideas
Modular shelving systems by Rodolfo Doldoni, modern wall decoration ideas
Creative wall shelving units designed with wooden tables and boxes
Purple shelving unit made of stacked wooden tables, diy bookcases and shelves
The best interior decorating ideas are often those that are easy to implement and inexpensive. Building bookcases and shelves with wooden tables and boxes are one of them.
All you need are few wooden tables or boxes, made of thick cardboard or plywood, glue or clips, paint and your imagination.
Red shelving init made of stacked wooden tables, creative modular shelving design
Bookcases and shelves made of stacked boxes are excellent storage ideas. You can use IKEA capboard or wooden boxes in various sizes, blending them into exciting shelving unit designs.
Adjustable shelves, modular shelving ideas and creative storage ideas for small spaces
Urban home book shelves design, office decorating ideas
Modular shelving unit made of plywood boxes, creative storage ideas and diy projects
Glue or clamps provide stability to the structure, allowing to change, disassemble and modify shelving unit designs.
Large bookcases, slidng bookcases and shelves
15 modern interior design ideas for decorating with book shelves

More from wall decoration

Ceramic tiles are beautiful elements of modern kitchens which are not just functional interiors for cooking, but the open living spaces...
and enjoy free articles sent to your inbox