Best American Modern Bathroom Designs 2013 in Different Styles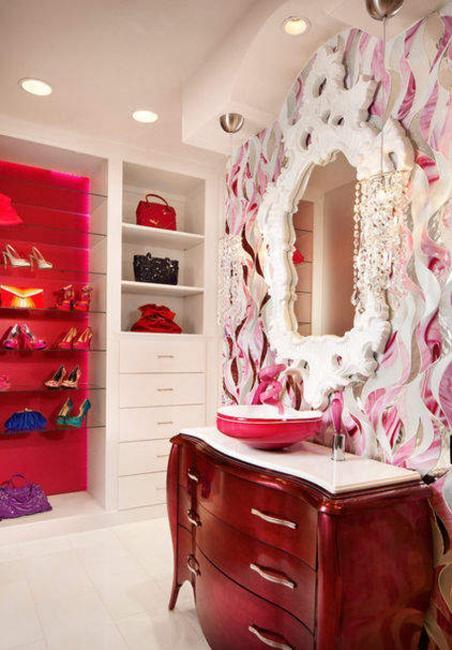 Wall mirror frame on glass wall and bathroom vanity in Baroque style
Modern bathroom design creates functional and very relaxing, pleasant and stylish rooms, perfect for complete relaxation. Modern bathroom design ideas blend traditional and contemporary materials and textures, looking for the best ways to expressing  the owners personality.
These are the best American modern kitchen designs, the winners of the bath design competition 2013 in New Orleans. Modern bathroom design brings rich colors and luxurious materials into large and small rooms, using bold accents, original or exotic decorations to spruce up the functional interiors and create stylish and beautiful rooms.
Shea Pumarejo of Younique Designs in Helotes, Texas, earned the Best Bath Award for her Baroque style room featuring a hand-cut glass wall, and red hand-blown glass faucet and sink. The bathroom design ideas are inspired by a client collection of handbags and shoes that looks impressive as a boutique in Beverly Hills. Bold color accents, pinkish red, silver and white decoration pattern on a glass wall created by hand and add bohemian feel to this large bathroom design.
Modern bathroom designs for large and small rooms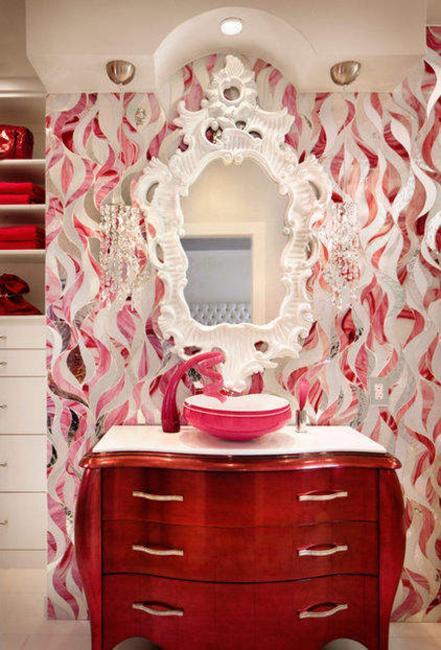 The bright red accent wall, spiral bathroom faucet, round bathroom sink and cabinet in pink and red colors compliment modern bathroom design with bright romantic atmosphere. The dressing table is custom made with fabulous metal finishes and Swarovski crystals.
The hanging lamp with Swarovski crystals is reflected in the white lacquered mirror in Baroque style, making this large bathroom bright and fantastic. The pinkish red accent wall design with glass shelves for shoes and bags features LED lights and create a spectacular display turning the bathroom into a dressing room.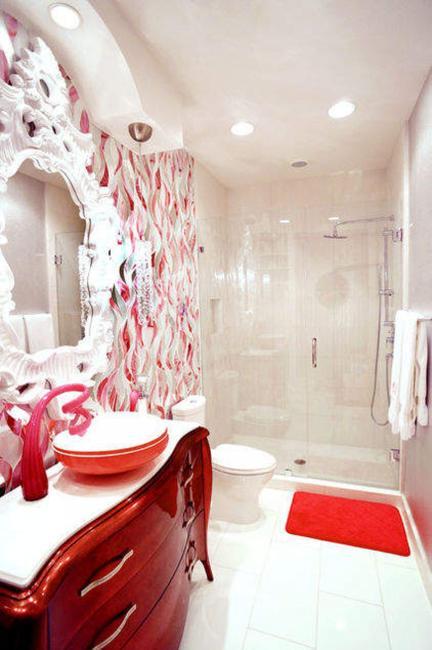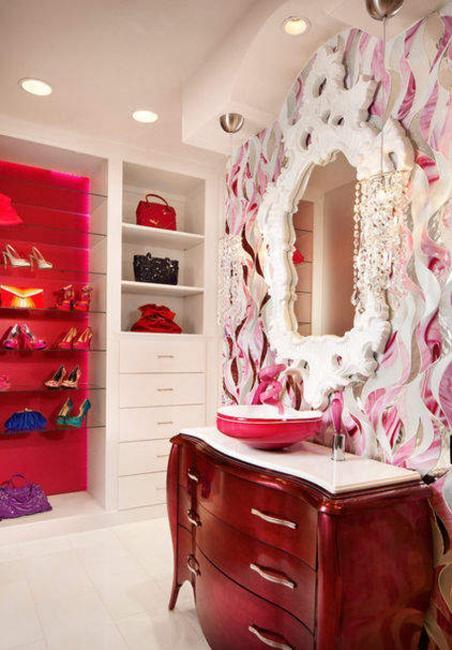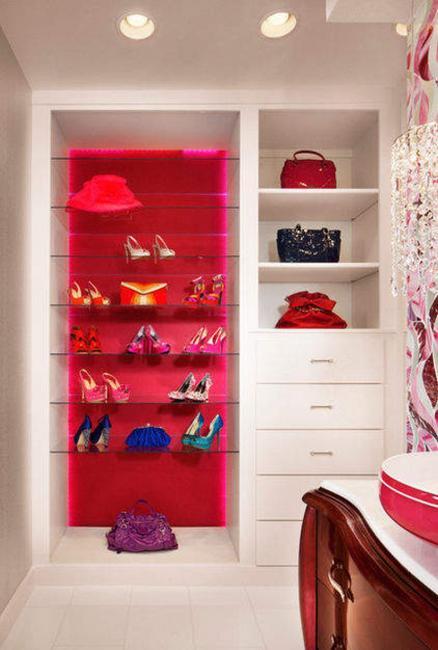 The best powder room  is designed by Elina Katsioula-Beall, CKD, Dewitt Designer Kitchens, Pasadena, California. The small powder room design is inspired by Africa. Natural materials, wooden walls and wood furniture are combined with leather and limestone, creating beautiful, exotic and modern bathroom design with African crafts and paintings.
Modern bathroom design ideas, clever lighting design
15 modern bathroom design trends 2013
Slate tile decorate the floor. Curvy lines of the table, trimmed with faux leather handles that are perfect as towel racks looks functional, chic and romantic, bringing the splendor of Baroque style into modern bathroom design.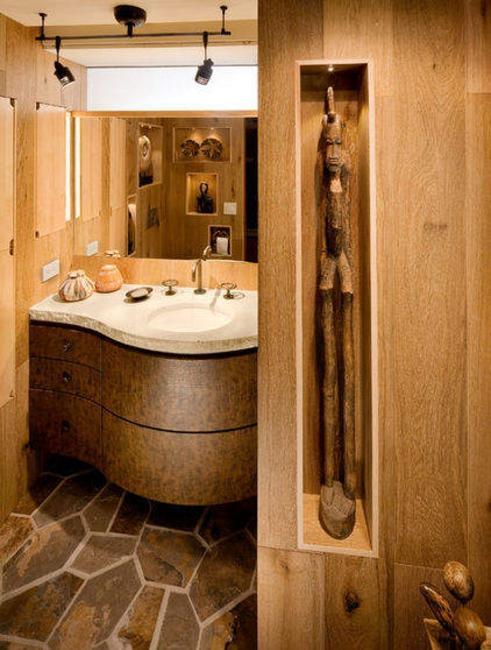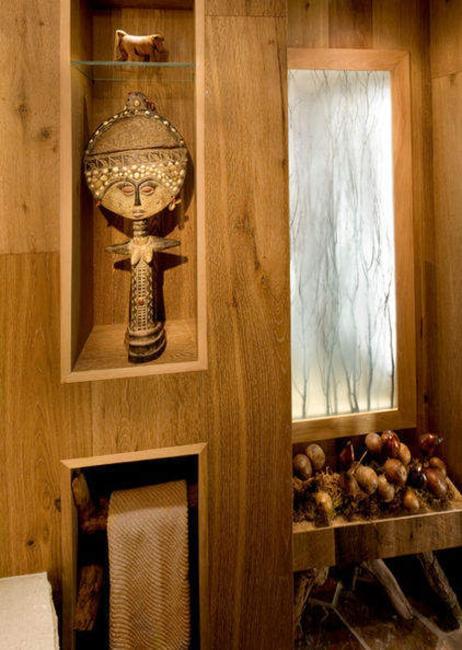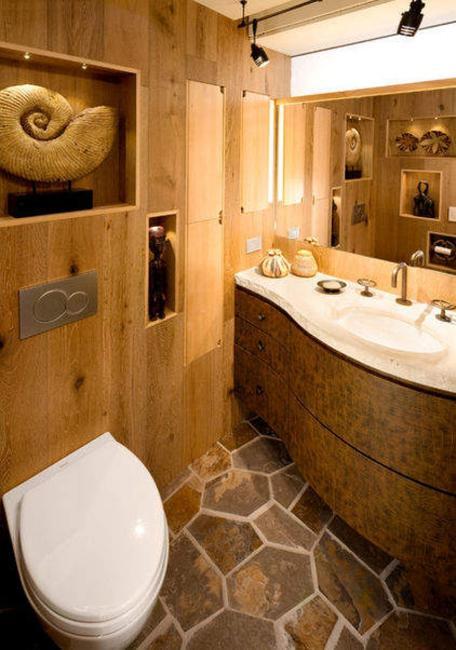 The best small bathroom design is created by Leslie Lamarre, CKD, CID, CGBP, TRG Architects, Burlingame, California. The elegant and classy small bathroom is ideal for a little girl. Pink walls, white cabinets, stone sink countertop and pink window seat cushion make this small bathroom design and decor look soft, light and feminine. Gray and black colors balanced the interior adding beautiful contrasts to the small bathroom design.
Modern bathroom designs, bathroom fixtures making la mode statement
Modern bathrooms, 8 bathroom design trends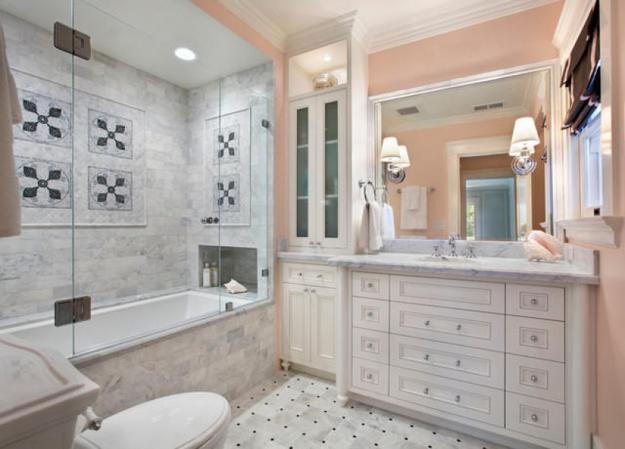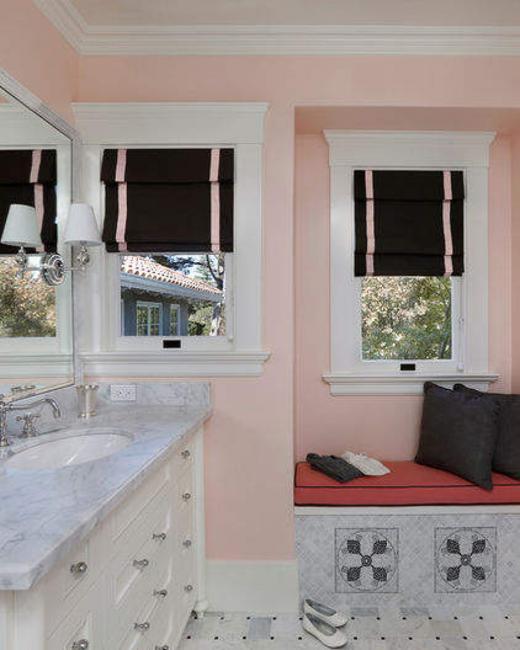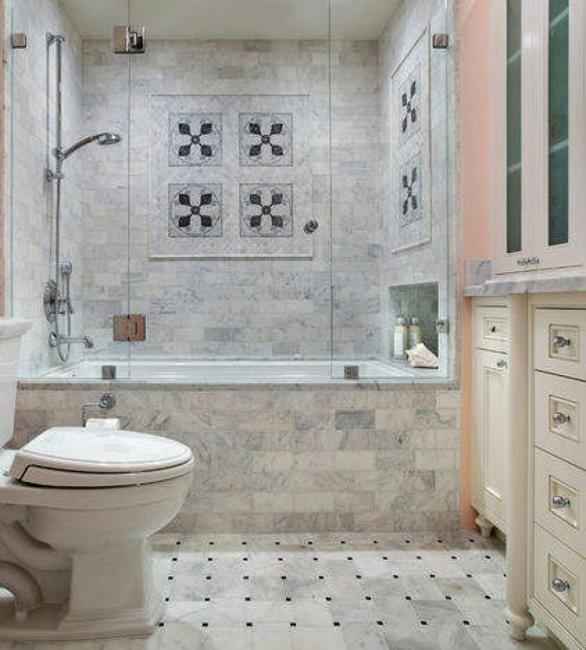 More from bathroom design

Bathroom design in eco style is challenging but ends up creating relaxing small spaces with a Zen-like spa vibe. Natural materials,...