Beautiful Balcony Decorating Ideas, 15 Green Balcony Designs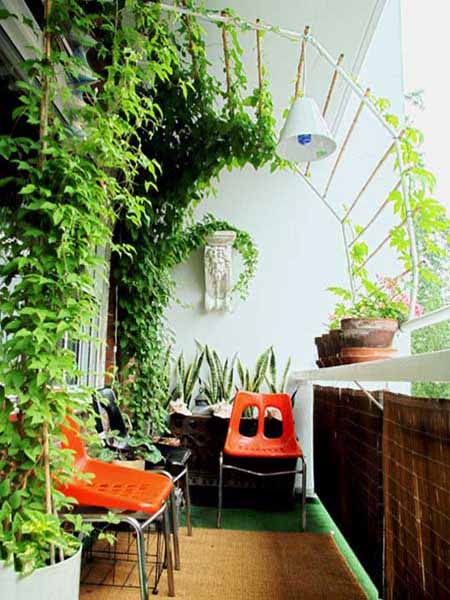 Balcony decorating is one of stylish ways to add a beautiful small outdoor room to your apartment or house. Decorating balconies and porches, decks and terraces, all outdoor rooms helps create wonderful additions to your home that allow to enjoy fresh air and natural beauty in peaceful atmosphere and comfort of your home.
Balcony decorating ideas are fun, even if you use your small balcony for storage. Bare balcony or terrace can be decorated with outdoor furniture, plants and lights, and even small balcony decorating with blooming flowers, lanterns and candle holders around your storage or a bike creates a pleasant outdoor room for rest and relaxation.
Decorating a balcony may seem difficult and useless, especially in a cold climate, but the simplest outdoor decor for a balcony, porch, deck or terrace and creative decorating ideas transform lacking any interest empty small spaces into comfortable and tranquil retreats.
15 green decorating ideas for small balcony, spring decorating
Creative home decorating with flowers and plants, Sky Planter design idea
Decorating balconies with outdoor furniture, plants and flowers
Traditional balcony decorating with flowers
Comfortable balcony designs give the opportunity to admire the beauty of green plants and flowers, feel their wonderful aroma and sit with a cup of tea, enjoying outdoor rooms decorated with green plants, flowers, lanterns and candles. Balcony designs with small outdoor gardens can provide edible herbs for cooking aso.
Traditional window boxes are charming balcony decorating ideas that add color to pleasant outdoor rooms and create pleasant additions to your apartment or house design. Beautiful porch, deck or balcony decorating ideas bring more comfort and joy into life, making kids and adults happier and more relaxing.
Apartment balcony decorating ideas, green plants ad white flowers for beautiful balcony designs
Gorgeous porches, decks and balcony designs with plants and flowers make your home look more attractive, showing your love for nature and a sense of style.
Magnetic Planter for fence decorating
Coffee can lanterns, charming DIY project to recycle cans for outdoor lights
Bright balcony designs catch the attention of passers-by, improving their mood and spreading beauty and love. People admire and respect your effort and get inspired by your balcony decorating ideas for bringing more plants and flowers into their life.
Traditional balcony design with wooden posts and beams, decorating with flowers
Outdoor rooms with comfortable furniture and flowers feel pleasant and inviting, creating wonderful atmosphere and changing the way your street looks.
Contemporary small garden design, creative yard landscaping ideas
Unusual planters for backyard decoration, 20 spring decorating ideas
You can decorate the balcony floor with planters and wooden boxes and hang green plants and flowers on the ceiling. Traditional window boxes and planters for fence decorating can be used for creating elegant and bright balcony designs.
Large terrace balcony design with dining furniture made of wood, ideas for decorating a balcony with green plants and flowers
Small balcony design with dining furniture
More from outdoor furniture

Outdoor rooms decorated in Spanish style are beautiful places filled with flowers, bright colors and comfortable furniture that enhance the relaxing...