Beautiful Backyard Ideas and Garden Design Blending Classic English and French Styles

Decorating Ideas

Outdoor Living

Plants and Flowers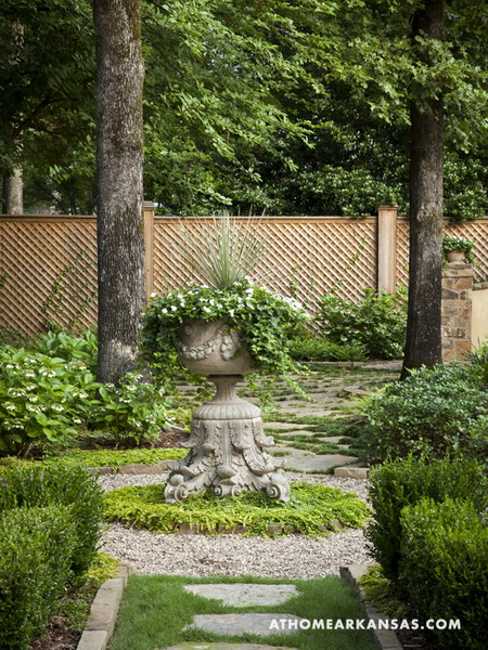 MODERN WALLPAPER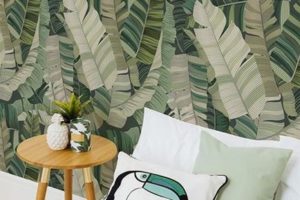 Beautiful backyard ideas and a garden design with a gorgeous outdoor furniture and decor showing a fusion of classic English and French styles give great inspirations for adding elegance and comfort to your outdoor rooms. English and French styles create garden design which demonstrates control of the growing plants and flowers, thoughtfully planned garden paths and outdoor living spaces.
Symmetry and geometry are the key to creating a classic garden that is luxurious and formal, inviting and impressive. The French garden design style was born in the gardens of the Palace de Versailles, created by Andre Le Notre. This beautiful and gracious garden design style was copied by nobility throughout France and can still be seen in many French chateaus.
The focus of the French formal garden design is the house, gazebo or a fountain, surrounded by paths that radiate out from this centerpiece. Paths are gravel and edged by clipped hedges and immaculately trimmed topiaries. Water features are an integral part of garden design in French style. Pools and long rectangular ponds with fountains or waterfalls add interest to classic French garden design and create relaxing and peaceful atmosphere.
Beautiful garden design with a gazebo, statues and a waterfall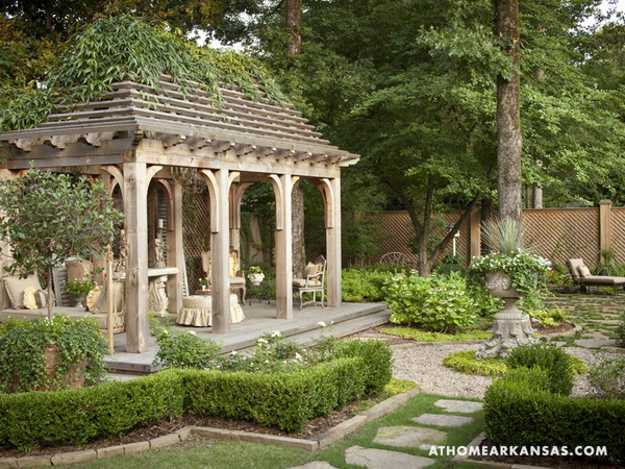 If you like French garden design ideas you can add these features to your backyard landscaping, creating a green oasis in elegant and charming style. Backyard ideas inspired by French garden design are about impressing the visitor and demonstration of wealth, while creating pleasant and cozy outdoor rooms. Here is a great collection of backyard ideas with a spectacular pavilion and garden paths inspired by classic French and English garden designs.
Edged paths with boxwood, lavender, rosemary and santolina plants are all suitable for your beautiful backyard design in French style. English ivy and roses can give an English touch to centerpieces for your garden design in European style. A small waterfall, stone statues and gravel paths attractively contrast with lush vegetation and blooming flowers, creating a romantic garden design in the 19th century style.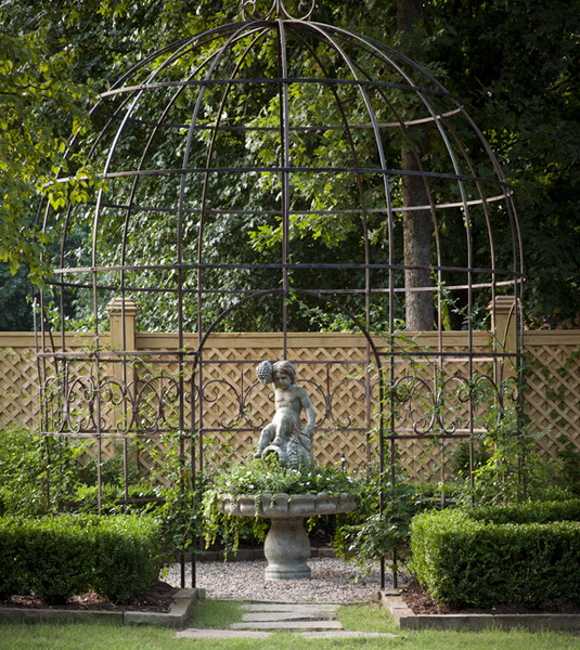 Today we all have the opportunity to build a gorgeous garden, adding style and color to backyard designs or apartment balcony decorating. Even a small backyard can look fabulous and rich, when your choose one of European garden design styles for your garden. New and old plants and flowers can be combined for creative backyard landscaping in the fusion of classic English and French style,  allowing to build beautiful gardens in smaller spaces, inspired by grand French and English gardens.
Top q0 trends in backyard landscaping, garden design and outdoor home decor 2013
11 Feng Shui garden design tips and backyard landscaping ideas
Your garden design can be infused with comfort by adding a pavilion or gazebo, functional outdoor furniture and luxurious decor. The garden design can be a riot of color, texture and fragrance, a beautiful and safe haven created with soft cushions and romantic outdoor fabric curtains that provide stylish rest from the everyday cares.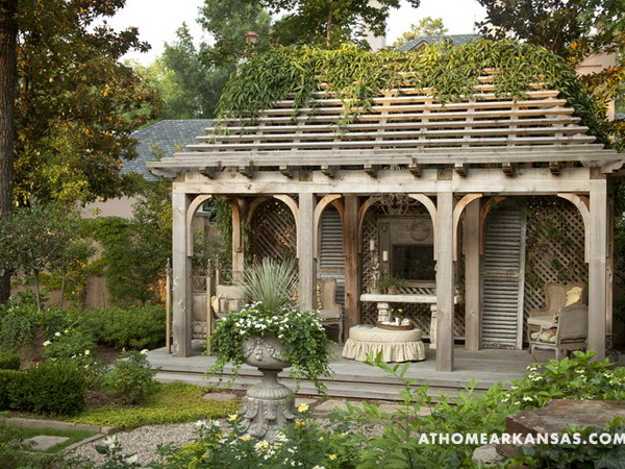 The English garden design style is associated with the gardens of the early 20th century created by Gertrude Jeckyll. English gardens, surrounding the charming cottages, designed by her friend, the architect Sir Edwin Lutyens are fabulous and welcoming. Green plants and flowers are a wonderful way to add more color and texture to your backyard landscaping ideas, creating a blooming paradise in well-controlled English garden style.
Painted rocks for artistic yard and garden designs, 40 cute rockpainting ideas
Creative handmade garden decorations, 20 recycling ideas for backyard decorating
Even small backyard designs can be transformed by the English cottage garden style into intimate and charming places. True cottage gardens were tiny spaces filled with fruit trees, vegetables and herbs that coexisted with decorative blooming plants. Beautiful flowers were something of an afterthought, but now, when we do not need to grow our own food, decorative plants and flowers can take over, adding French charm to English garden design and creating backyard designs only for aesthetic pleasure.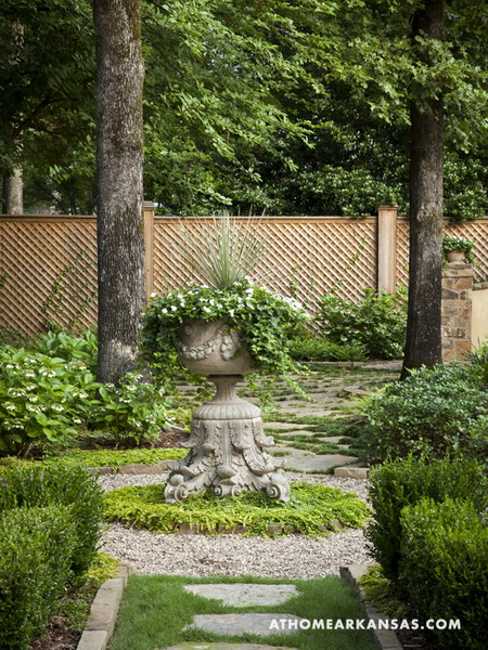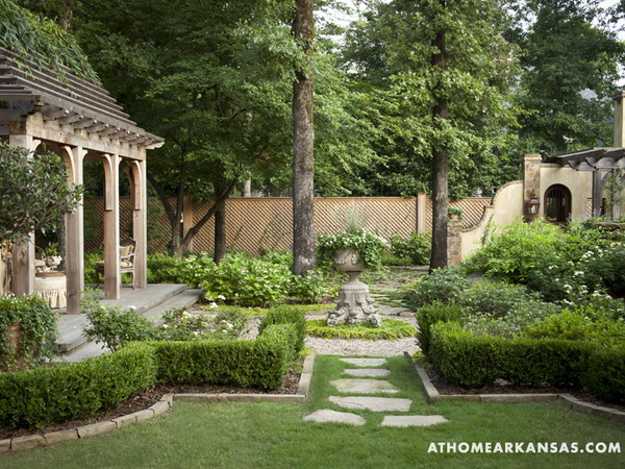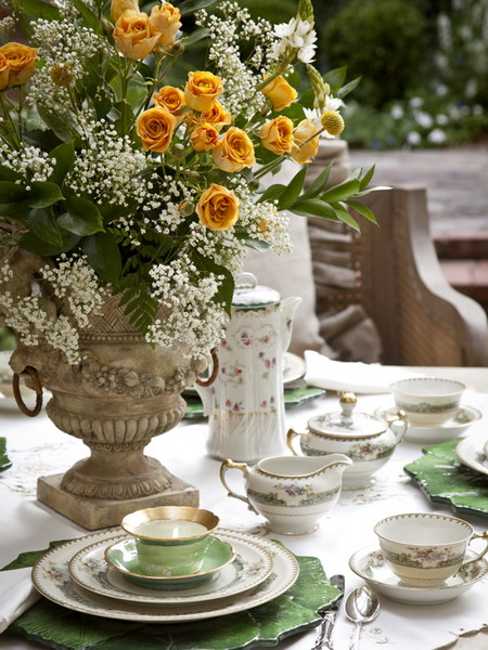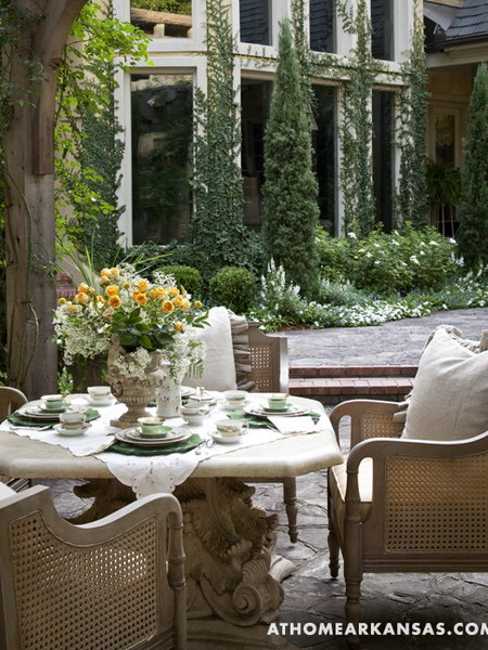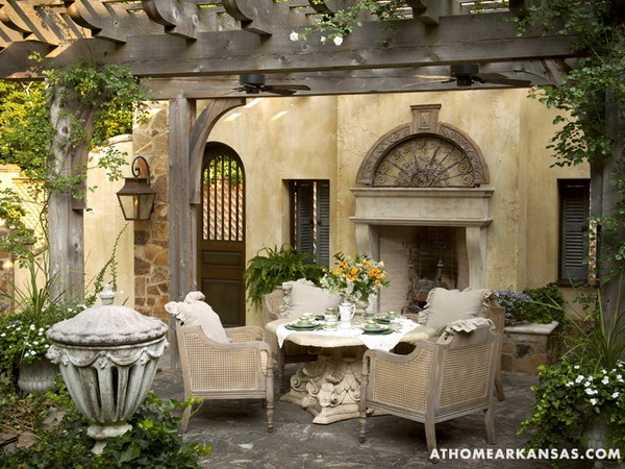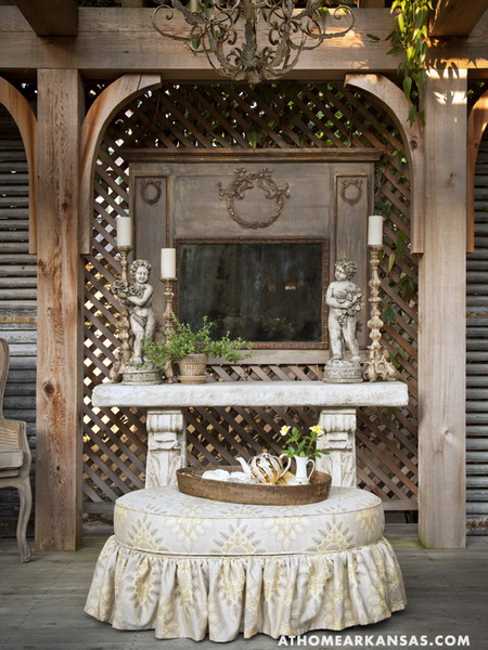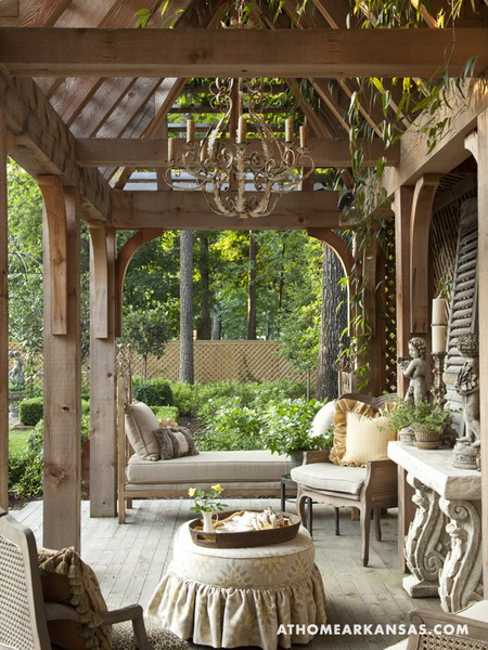 Outdoor rooms with fireplaces are a beautiful trend in creating comfortable outdoor living spaces that stretch home interiors, make houses feel...
and enjoy free articles sent to your inbox