Spacious Cottage in Czechia by Architect David Horava, Modern Houses
---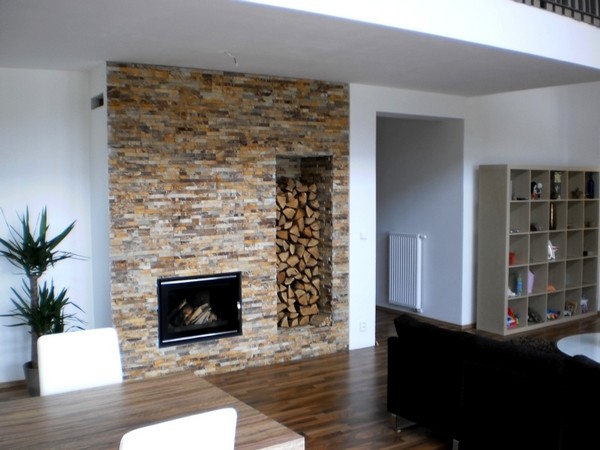 Natural stone fireplace with wood storage
This cottage in Czechia offers a modern home near Brno with comfortable interior design and beautiful outdoor rooms. Spacious and airy architectural interiors, light and modern interior design, pleasant decorating color palette and stylish furnishings are blended into a peaceful retreat.
The cottage is designed by architect David Horava. The cottage is located on the outskirts of the city of Brno, the second largest city in the Czech Republic and is directly adjacent to a beautiful park. Cottage construction cost is 430,000 euros.
Beautiful architectural interiors include the living room, kitchen and terrace, utility room, bathroom on the first floor and dressing room beside the indoor pool, sauna and hot tub. There are two bedrooms, study room, bathroom and large terrace on the second level.
Unique house design with roof opening , modern houses in eco style
Empty container house, cheap and durable modern house designs
Modern house design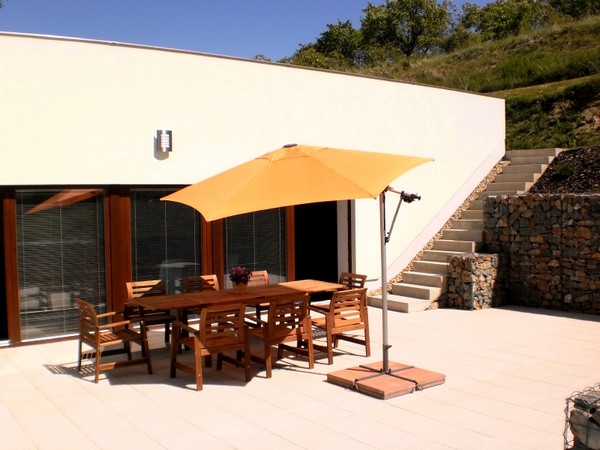 Colorful, stylish and comfortable furniture add charm to the patio design, creating pleasant and cozy atmosphere.
The vertical drop is attractively incorportated into modern house design, creating a convenient entrance to the terrace on the second floor without steps.
Modern house design with large patio and terrace, modern interior design and decor ideas that are welcoming and stylish
Modern home interiors, cottage-like modern house design with green wall
Sustainable home design from Canadian architects, modern houses for green living
Beautiful natural wood and stone combination, dynamic contrasts, created with white paint and black living room furniture,  large windows and interesting lighting fixtures, convenient storage ideas, unique decorative accessories and spacious house design create gorgeous architectural interiors and decor that feels welcoming.
Natural stone fireplace with wood storage
House design details

The modern house design creates a beautiful, spacious, functional, and elegant living spaces in a minimalist style. Crahay & Jamaigne architects...