Modern Tableware Art from Judith Montens, Creative Green and White Dinnerware Sets
---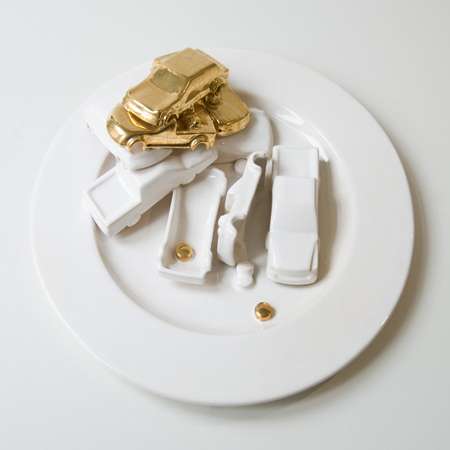 White dinnerware set with car crashes
Modern tableware artwork collection Five Stars Crockery from Judith Montens, Holland, includes unusual plates and small bowls, decorated with miniature cars. White dinnerware set is truly unique. The designer said she got inspired by antique cars and insects, creating extravagant white dinnerware for exclusive collections.
The collection of modern tableware from Dutch designer Judith Montens is stunning. WHite dinnerware, ceramic plates and small bowls, adorned with ceramic figurines of moving cars, crashed and broken cars or insects. Looking realistic insects and scenes of car accidents are surprizing modern tableware decoration ideas.
Titled Five Star Crockery, the collection from Amsterdam designer Judith Montens of Dutch collective Klad-Blok, comprises of cars and pile-ups made from crockery.
Modern dinnerware trends for contemporary table setting
The Five Star Crockery collection, according to the Dutch designer, is based on the car collections of American celebrities, like Jay Leno and Johnny Depp.
Modern tableware sets are a nice way to bring excitement to dinner table decor An unexpected artistic twist, added to white  dinnerware set of plates and small bowls make dining experience special and memorable.
Dining with friends and family members brings the joy of socialising and sharing opinions. Modern tableware designs with surprising motifs for plates and small bowls decoration accentuate the experience with impressive and whimsical images.
Red and white dinnerware with floral pattern
3 people coffee and tea set, playful white dinnerware set
Modern tableware designer stretched the creative forms and brought extravagant theme into white dinnerware design, trying to keep people entertained and amused.

Bright home interiors and amazing views of the ocean make this beach house a dream place. Large windows, light, neutral room...