Modern Interior Design Stretching Small Spaces with Optical Illusions
---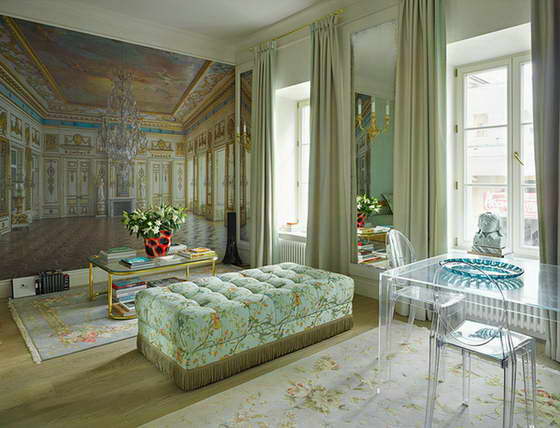 Stretching small rooms visually with modern wallpaper and optical illusions
Photo wallpapers are fantastic for small spaces. Lushome presents an interior design project by Svetlana Takkori showing how to use photo wallpapers for creating spacious, spectacular, and original rooms that surprise with optical illusions. Here are small apartment ideas that anyone can use to design striking accents walls and stretch small spaces visually.
The living area of 42 sqm looks bright and gorgeous. Magnificent photo wallpapers expand the small rooms while adding character and chic the modern interior design. A combination of two techniques: wall painting in vintage style and decorating with modern wallpapers turn the small rooms into magnificent and impressive.
Small rooms can be skillfully increased visually by using a photo wallpaper bringing the splendid beauty of the vintage style into the interior design and increasing the space with creative perspectives. Beautiful photo wallpapers give a fantastic look to the walls and transform the entire interior design. Here are the inspirations for attractive wall decoration, matching room colors, and blending various textures, contemporary furnishings, and images of a palace bringing the luxury of the classic style into the modern room.
25 small bathroom remodeling ideas increasing home values
Photo wallpaper for small spaces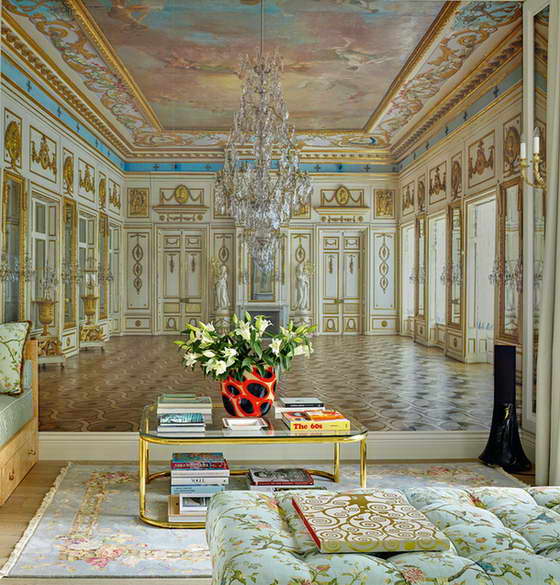 The built-in wardrobe, a day bed, and a beautiful ottoman create a functional seating area and make the small spaces comfortable and attractive. A wall niche is a space saving idea, perfect for decorating small apartments and homes. Wall lights create comfortable and sensual interior design while complementing the spectacular photo wallpaper. A creative mix of vintage furniture and modern pieces harmonize the interior with a wooden daybed and transparent plastic tables and chairs designed by Philippe Starck.
Golden accents and wooden colors bring warmth into the room while light turquoise blue color balance and energize the interior. The creative fusion of styles and the beautiful color combination make small rooms appear stylish, bright, and expensive.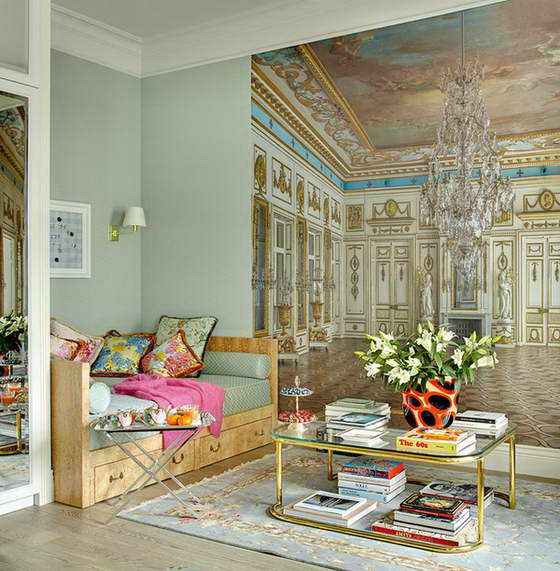 Large windows, old wood mirror frames, custom furniture pieces, bronze lighting fixtures and the fascinating photo wallpaper add gorgeous accents to the small room.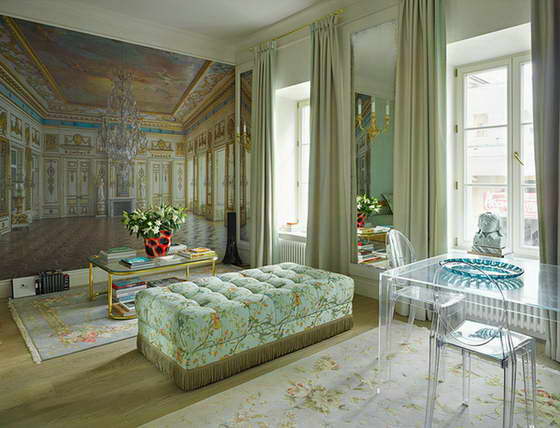 Decorating small apartments and homes with a touch of vintage style and allowing plenty of natural light to fill the rooms create luxurious and elegant interiors turning the small spaces into modern and cozy homes. Impressive and bright wallpapers that create pleasant illusions can turn small rooms into gorgeous living spaces.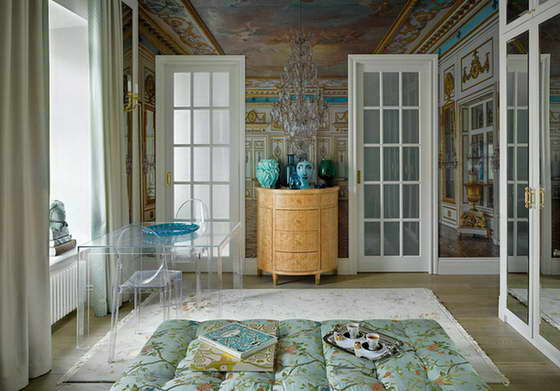 Inspiring small apartment ideas include sliding glass doors in the kitchen and bathroom, built-in furniture, striking accent wall design,  and plenty of light. Digital prints and photo wallpapers with images of open spaces are ideal for stretching small rooms visually and turning them into extraordinary interiors.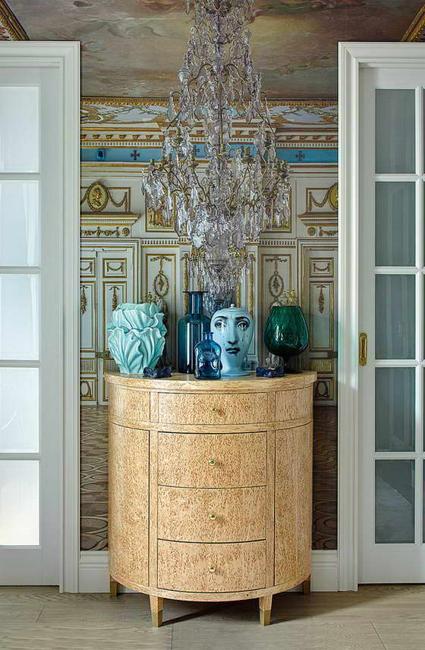 Humor, creativity, a sense of style, blended with light room colors and space-saving solutions,  add a comfortable and spacious feel to the modern interior design and decorate small rooms in elegant style.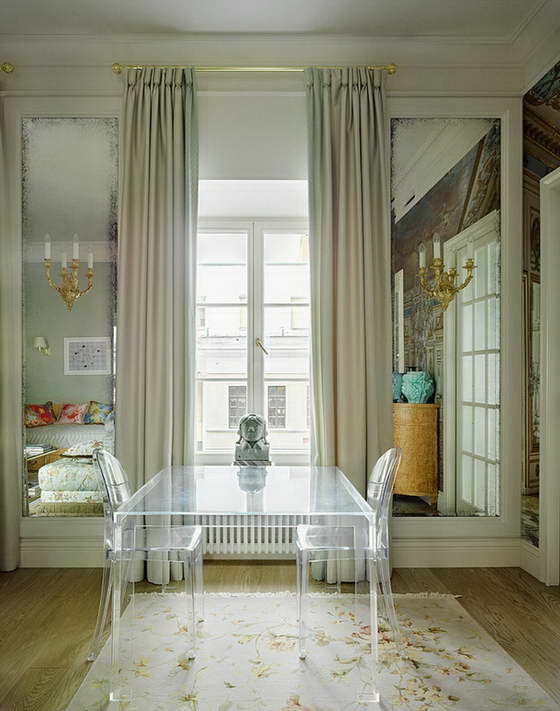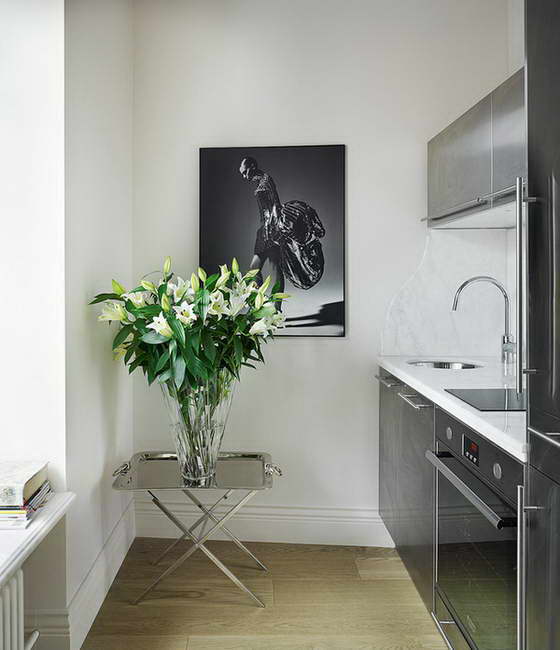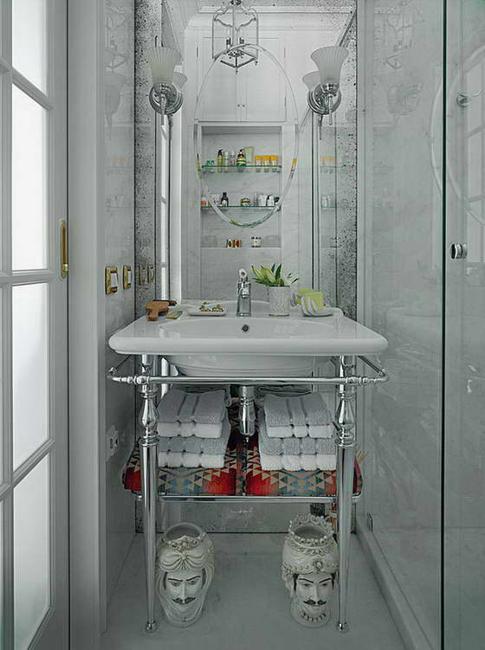 Red Creek House is built on the shores of the picturesque Peconic Bay in Long Island in California. The fabulous, luxurious...