Modern Interior Design Enriched by Vintage Furniture and Spectacular Outdoor Living Spaces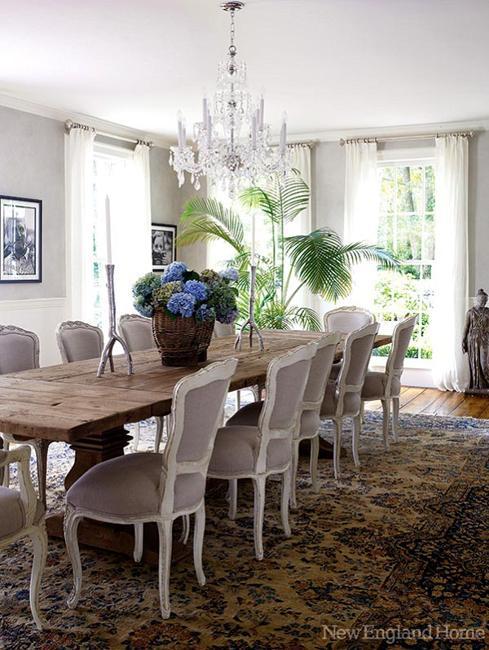 Rustic wood table and classic upholstered chairs for dining room decorating
This beautiful house design with spectacular exterior and front yard landscaping, antique furniture and modern interior design, decor and backyard garden that are inviting and elegant, makes a fantastic first impression. The beautiful driveway, front yard landscaping, entrance design and foyer decorating set a pleasant tone for experiencing home interiors and outdoor rooms. The luxurious  and elegant front yard and facade frame high expectations.
The house design and decorating project was developed by interior designer Carole Winer-Sorensen. The manor house with great curb appeal is located in Litchfield County and features a charming front yard and backyard garden design with rustic stone walls and the ivy cascading over the old trees and white-brick residence. The blend of timeless Old World elegance and modern interior design ideas turned this house into a comfortable and cozy, luxurious and beautiful home.
Modern interior design and decor combine classic house design and antique furniture with modern art and contemporary functionality. The foyer decorating emphasizes the beauty of limestone floors, walls of double-hung windows on two sides and a view through the living room to the formal garden. Several furniture items in Louis XVI style , – a center table with a marble top, a pair of chairs from the set in the dining room and a chalky white bench upholstered in zebra print created a formal look of a luxurious country home.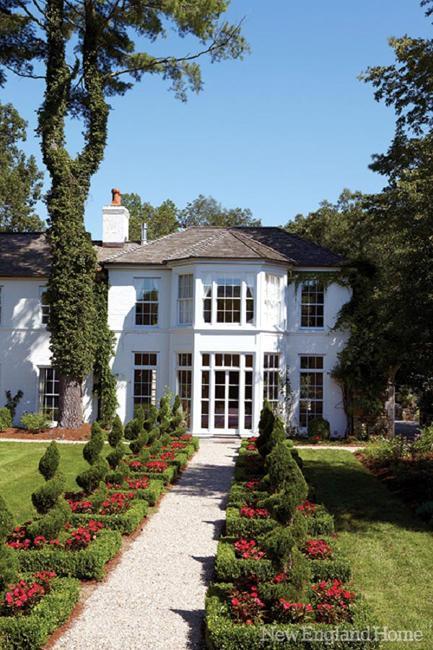 Modern interior design with vintage furniture
The living room design is breathtaking. Large windows without draperies five the space ambiance of a sun-room, creating spacious and bright interior design with decor that enhances the airy and pleasant look. The view to the garden is spectacular, and the half-hexagonal bay window makes you feel like you are in the garden.
The living room design is created around a custom made, floating banquette with carved maple legs and velvet upholstery fabric in tender lavender purple color. The banquette is a functional and comfortable furniture piece used for lounging while watching TV or for conversations during a cocktail party.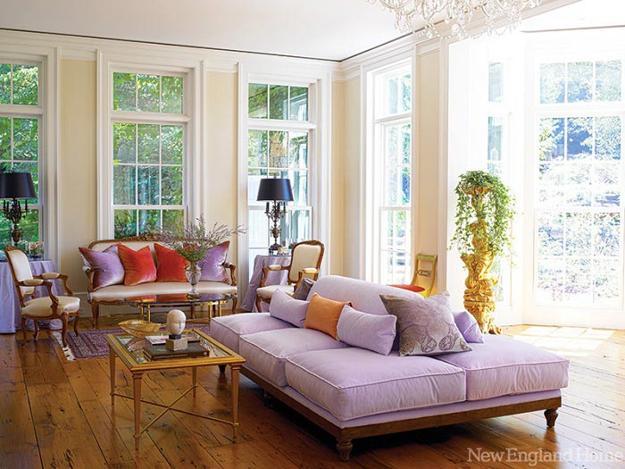 A pair of velvet upholstered chairs and settee in Louis XV style add light cream color and elegance to formal interior design. Antique bronze lamps with black lamp shades on the top of side tables bring contrasts into gorgeous living room design.
7 tips for beautiful house exterior and yard decorating with flowers and plants
House entrance and front door decoration ideas, 20 gorgeous house exterior designs
The fireplace with a pair of swan-armed Empire chairs flank a Napoleon settee. Beautiful furniture upholstery fabric in cream color and antique finished nail heads add chic and style to this living room design.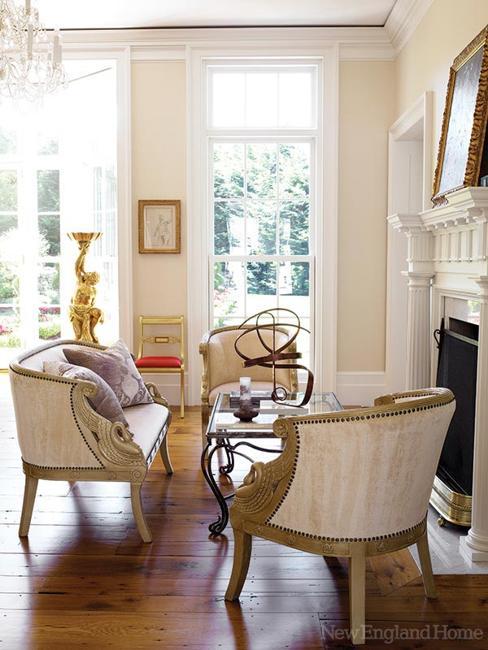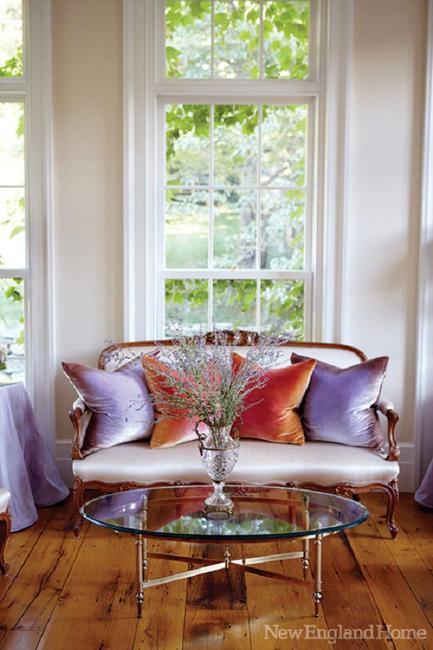 The fourteen-foot long rustic wood table and an enormous nineteenth-century blue-and-gray Persian rug, Louis XV style painted chairs covered in an elegant gray linen, unique fireplace accessories and candle holders, light gray wall paint color and black-n-white photography in vintage style create chic dining room decorating.
Breezy interior design with vintage furniture and white decorating in Scandinavian style
Charming country home driveways, natural driveway landscaping ideas
Charming and breezy voile curtains add a feminine touch to the dining room decorating ideas. Silver-plated rods and rings add shimmer, complementing the spectacular crystal chandelier and contemporary silver candle holders.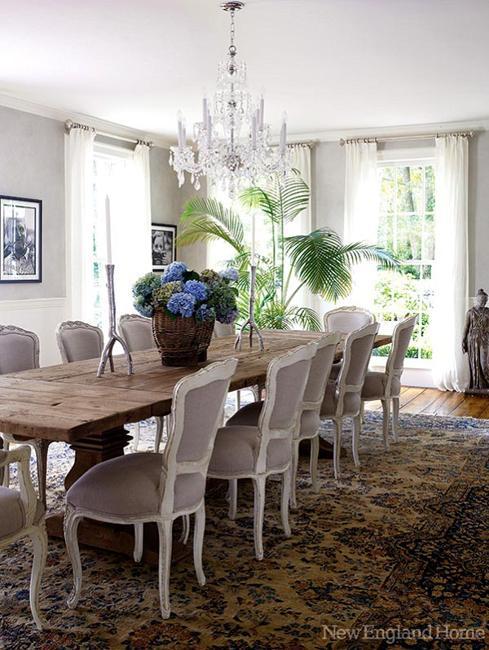 Modern kitchen design is glamorous and functional. A new custom brass and stainless steel kitchen hood is shaped like a traditional chimney, creating a beautiful focal point for specious, elegant and modern kitchen design in black-n-white colors. Black soapstone countertops, white kitchen cabinets with glass doors and brass hardware give an exotic Eastern touch to this beautiful kitchen design.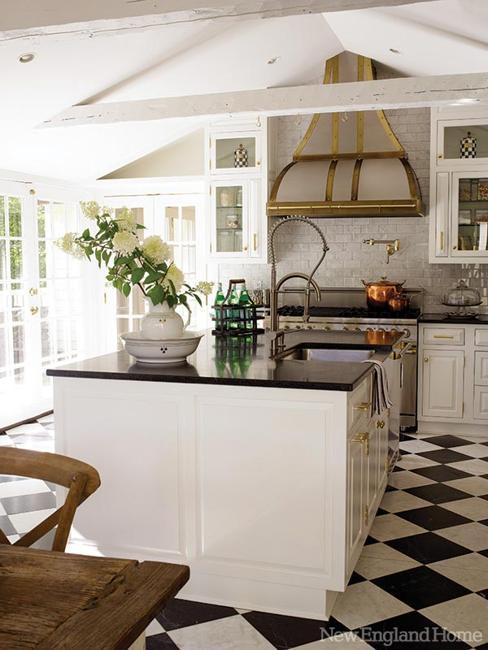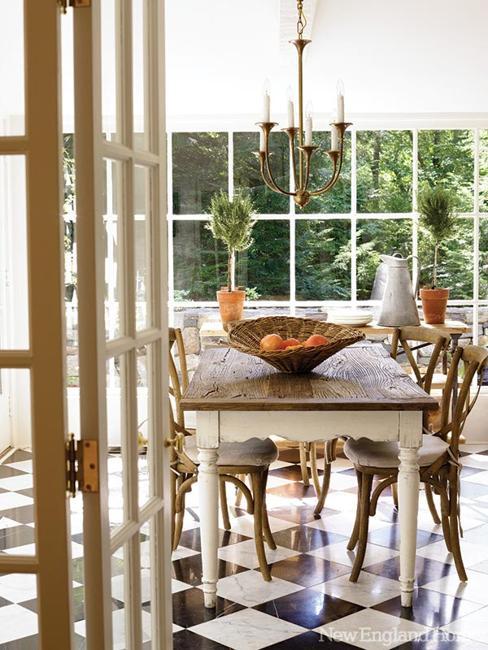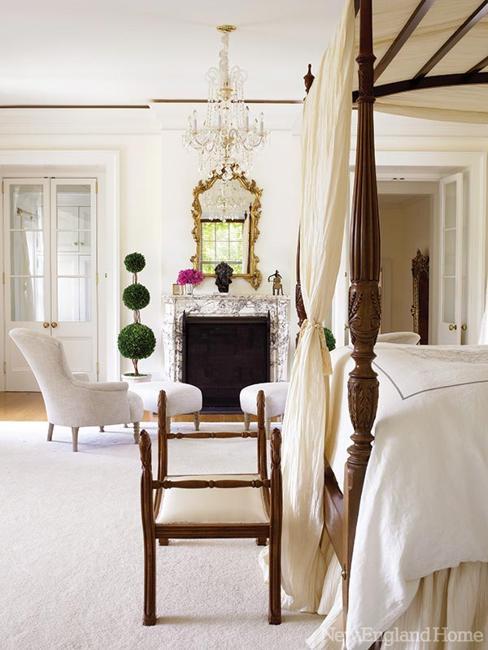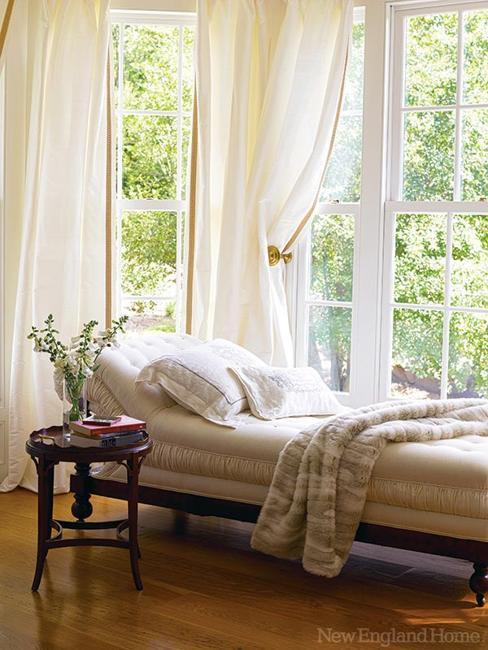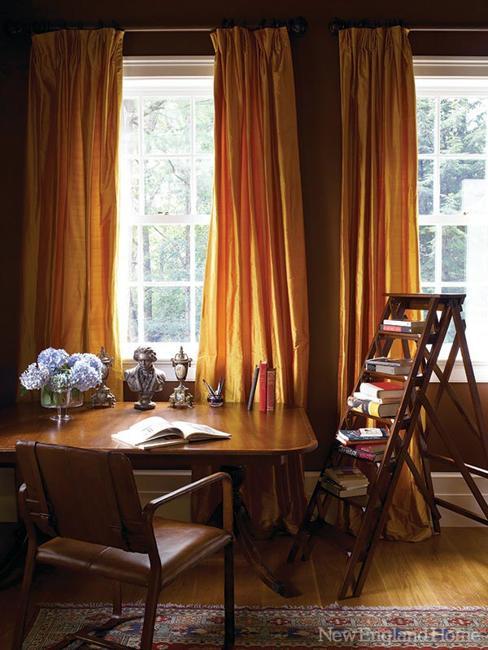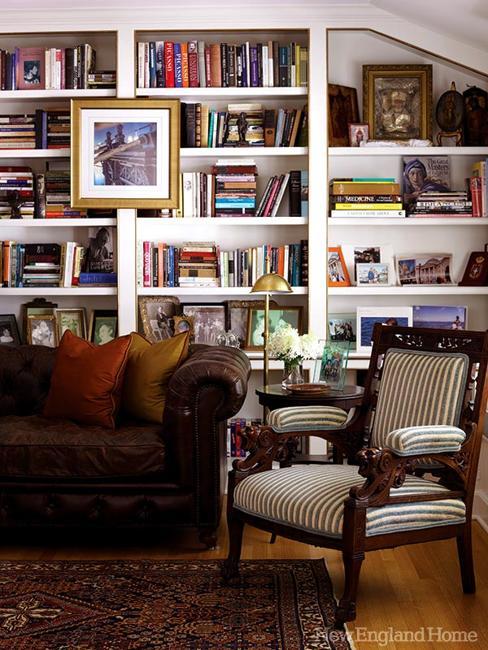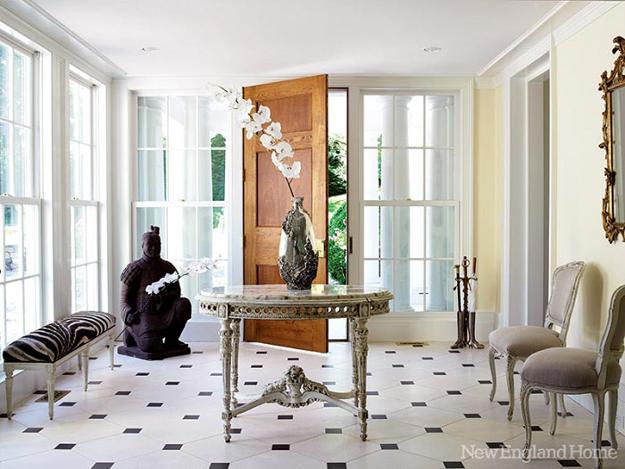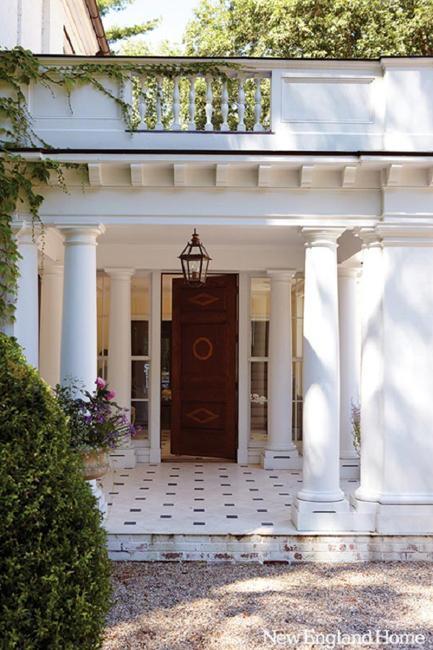 Yard landscaping ideas and formal garden design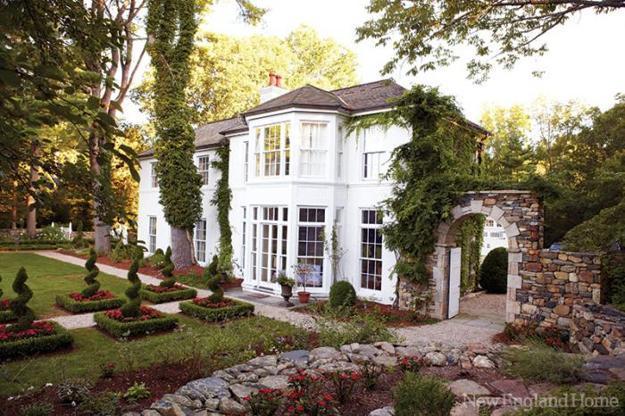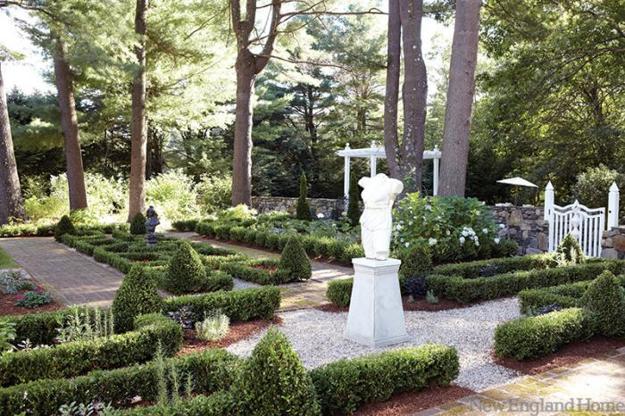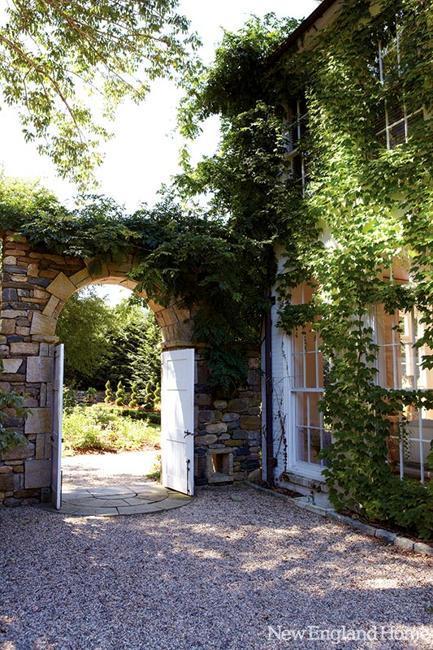 Interior design and decor by Carole Winer-Sorensen, Country Loft Antiques. Front yard landscaping ideas and garden design by Kurt Klimak, Klimak Horticultural Services.

Modern houses with original roofs look unique and spectacular. A roof is a functional architectural element that adds personality to a...